Kiwi Farms Owner Says Cloudflare Suspension Is 'Unclear' and 'Vague Notice'
Kiwi Farms owner Joshua "Null" Moon has spoken out about the Saturday announcement from Cloudflare that the cybersecurity company was cutting ties with the website.
The Kiwi Farms owner said that the decision was made by Cloudflare without any discussion with him, according to a Telegram post from Moon, shared by Buzzfeed reporter Ellie Hall on Twitter.
"The message I've received is a vague suspension notice. The message from [Cloudflare CEO] Matthew Prince is unclear. If there is any threat to life on the site, I have received no communication from any law enforcement," Moon wrote, promising to write more on Sunday morning.
Saturday afternoon, Prince shared "Blocking Kiwifarms" to the company's blog, announcing that the company had cut service to Kiwi Farms. Users who try to visit the site will be served a Cloudflare warning, reading "Due to an imminent and emergency threat to human life, the content of this site is blocked from being accessed through Cloudflare's infrastructure," along with a link to the post.
"Kiwifarms has frequently been host to revolting content. Revolting content alone does not create an emergency situation that necessitates the action we are taking today. Beginning approximately two weeks ago, a pressure campaign started with the goal to deplatform Kiwifarms. That pressure campaign targeted Cloudflare as well as other providers utilized by the site," Prince wrote.
He says that though Cloudflare had "empathy" for the "pressure campaign" organizers, the company is "committed as a security provider to protecting our customers even when they run deeply afoul of popular opinion or even our own morals."
Prince's post also cited other websites that Cloudflare cut ties with after pressure, including the neo-Nazi website Daily Stormer and 8chan, the forum tied with the QAnon conspiracy theory.
"Finally, we are aware and concerned that our action may only fan the flames of this emergency. Kiwifarms itself will most likely find other infrastructure that allows them to come back online, as the Daily Stormer and 8chan did themselves after we terminated them. And, even if they don't, the individuals that used the site to increasingly terrorize will feel even more isolated and attacked and may lash out further. There is real risk that by taking this action today we may have further heightened the emergency," he wrote, promising Cloudflare will "continue to work proactively with law enforcement."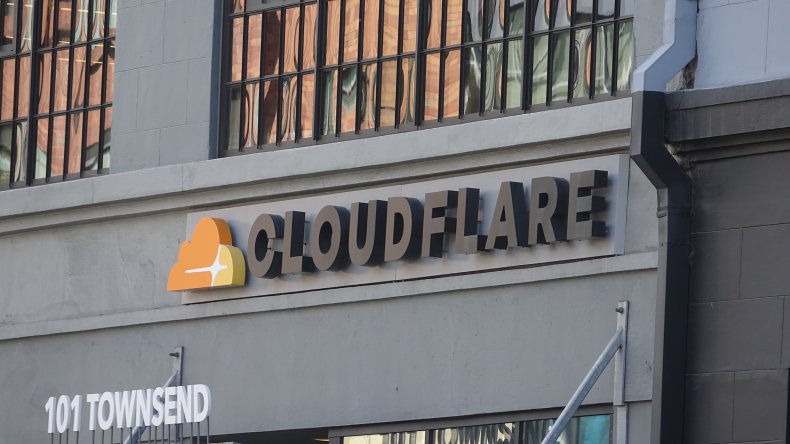 Kiwi Farms has been linked with the practice of "swatting," which is when a false report of a dangerous crime scene is called in to law enforcement, with the intent to get SWAT teams to swarm the target. A person claiming to be from Kiwi Farms recently swatted Representative Marjorie Taylor Greene (R-Ga.), according to police. The attack led Greene to condemn the forum.
"Isn't it concerning that such a website exists?" said Greene. "Like, why does that even exist? That website needs to be taken down. There should be no business or any kind of service where you can target your enemy. That's absolutely absurd and this is the type of lawlessness that Democrats want all over the country.
"It's also failure of our government and failure of our law enforcement to not take down a website like that," she added. "All of these types of groups need to be completely eradicated. They should not be allowed to exist. They should not be able to abuse police resources like that."
Transgender activist and streamer Clara "Keffals" Sorrenti, who was herself swatted in London, Ontario earlier this month, after her home address was shared on the site. She launched the "pressure campaign" Prince refers to, leading to the hashtags #DropKiwiFarms and #CloudflareProtectsTerrorists to trend on Twitter in August.
Kiwi Farms has also been linked to the deaths by suicides of transgender people harassed by members of the forum, according to USA Today. The site also was linked to the Christchurch shooting in New Zealand. Moon denied a request from New Zealand law enforcement to preserve posts and technical data linked to the accused shooter. In his statement denying the request, Moon wrote, "F**k you and f**k your s**thole country."
Newsweek reached out to Cloudflare for comment.