'The Kominsky Method' Season 3: What Happened to Norman?
Season 3 of The Kominsky Method is streaming now on Netflix, and it is without one of its main stars. Before the show's final season was released, it was announced that Alan Arkin was leaving as Norman Newlander. The show wasted no time in revealing exactly what had happened to the agent and long-time friend of Sandy Kominsky (played by Michael Douglas).
What happened to Norman in The Kominsky Method?
The Kominsky Method's third season kicks off with the funeral of Norman, with various characters from the show eulogizing Norman in their characteristic way.
Sandy, for example, jokes about his loving but bickering relationship with his irascible agent. Grandson Robby (Haley Joel Osment), meanwhile, gives a Scientologist eulogy–and later offers to audit Sandy to relieve him of his grief.
What the show does not reveal in this funeral is how exactly Norman died–especially as it was Sandy who has had brushes with cancer twice in the show so far.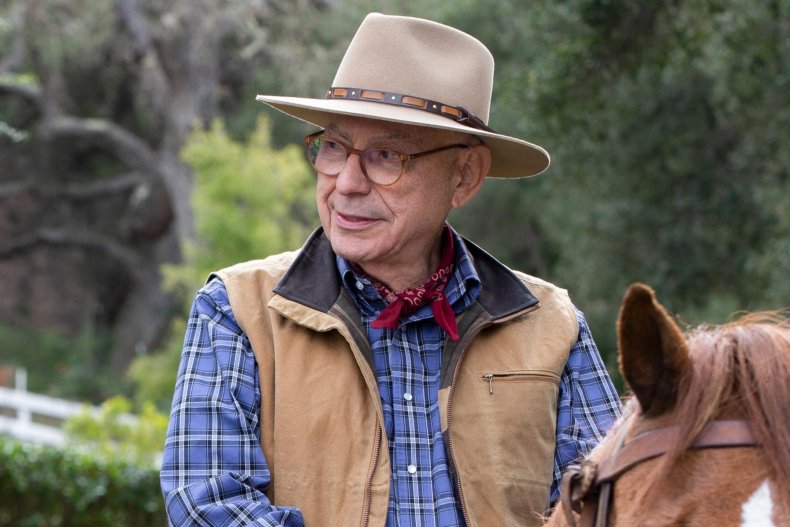 The Netflix show, however, does give us some hints. For one, we get a fairly explicit eulogy from Norman's girlfriend Madelyn (Jane Seymour), who gave the assorted mourners a frank run-through of a sex life that certainly would put strain on an old man's heart.
Though Arkin was announced to be leaving the show before Season 3, he actually does appear in the new episodes. In the season premiere, we get some final scenes between him and Sandy.
Speaking to Gold Derby, Kominsky Method creator Chuck Lorre said of Arkin leaving the series, "I really thought that the loss of Norman's character would throw a spotlight on Sandy's character. Give us an opportunity to explore how he continues without that life raft, that support system."
He added in a Deadline interview: "It was a really impactful way to start the final season with the loss of the primary relationship of the first two."
While Arkin is out of the show, Sandy finds support in Roz, his ex-wife played by Kathleen Turner, who previously starred alongside Douglas in movies The War of the Roses and Romancing the Stone.
Though the character may be dead in Season 3, his presence is central to the final season. In a last joke at the expense of his friend, he makes Sandy the executor of his will, leading to some awkward moments as some of Norman's more particular demands have to be acted out.
Arkin announced he was leaving the show in September 2020. At the time, The Hollywood Reporter announced Arkin had decided to leave the show just after Season 2 dropped onto Netflix, prior to the coronavirus pandemic.
The Kominsky Method Season 3 is streaming now on Netflix.