Kourtney Kardashian's Weight Remarks Are "Good Self-Awareness," Expert Says
Experts have weighed in on Kourtney Kardashian's comments about her weight.
On a recent episode of The Kardashians, the 43-year-old revealed that her "body's changed" since undergoing in vitro fertilization (IVF) treatments, a process that uses "a combination of medicines and surgical procedures to help sperm fertilize an egg," according to Planned Parenthood.
"Eight months of IVF treatment has definitely taken a toll on my body mentally and physically, and, you know, it's taken a lot to get me to the place of feeling really comfortable and happy with the changes," she told her stylist Dani Michelle on the episode.
The Poosh founder, who wed Blink-182 drummer Travis Barker in May, added that her new husband, 46, has been "so supportive."
"Every day, Travis is like, 'You're perfect,'" she said. "He's like, 'You're so fine, you've never been better,' and now I'm so into it."
Kardashian explained that his "compliments" have "helped me to really embrace the changes and actually to the point where I love the changes now."
The mom of three—who shares kids Mason, 12, Penelope, 10, and Reign, 7, with ex Scott Disick—said looking back on old photos of herself now is "cringey."
"When I was super skinny, it's like a time that I was super anxious, not about eating, not about staying at a certain weight, but just in like toxic relationships," Kardashian noted in a separate confessional. "I used to always say this, 'When I'm super skinny, just know that I'm not happy.'"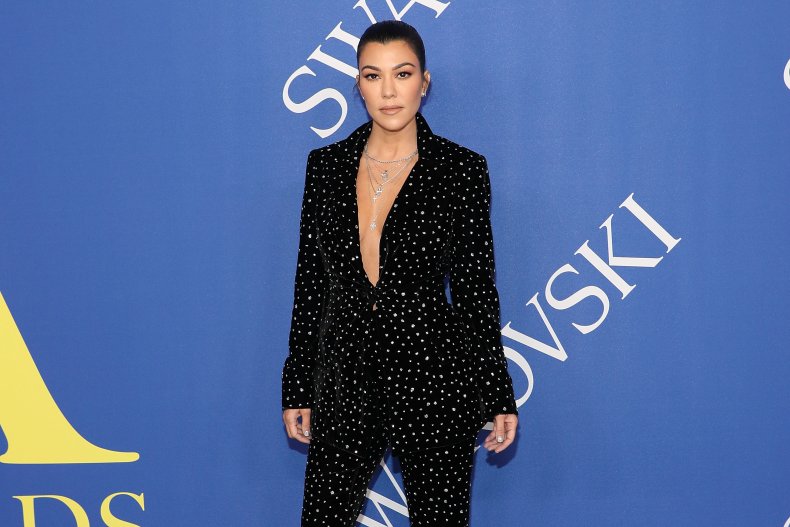 Jennifer Pereira, a Texas-based licensed professional counselor and registered dietitian who has worked with people suffering from eating disorders since 2005, told Newsweek that "stress can increase non-hunger eating for some people in some situations."
"For Kourt, it sounds like her lower weights are associated with something being wrong," Pereira, who has not worked with Kardashian, said. "This is good self-awareness, and it's good she is expressing this to loved ones so they can be supportive."
Elyse Resch, a California nutrition therapist specializing in eating disorders and co-author of Intuitive Eating, further elaborated on the subject.
"When we're stressed, we can have two distinct but different responses," Resch, who has also not treated Kardashian, told Newsweek. "The first involves our sympathetic nervous system, which responds to stressful situations by increasing blood pressure, contracting muscles, and releasing adrenaline to help the body deal with these situations."
Resch added: "Adrenaline can completely take away hunger, so Kourt might be saying that when she's super anxious, her appetite goes away, and she loses weight. Thus, super skinny means that she's been under a lot of stress and anxiety."
That being said, "the opposite reaction can also happen when we're stressed," noted Resch, explaining that sometimes people "seek food as a way of calming down the nervous system, blocking feelings and numbing oneself."
Jessica Jaeger, a registered dietitian who specializes in eating disorders and who has not treated the Keeping Up With the Kardashians alum, said Kardashian's comments are "a very important concept to acknowledge."
"Skinniest does not always mean healthiest," she said. "For many, people are only at their lowest weights if they are struggling with their physical or mental health, or engaging in disordered eating behaviors. In most cases, thinnest is not best."