Anti-Kremlin Activist Navalny Detained By Police After Criticising Putin on Live Radio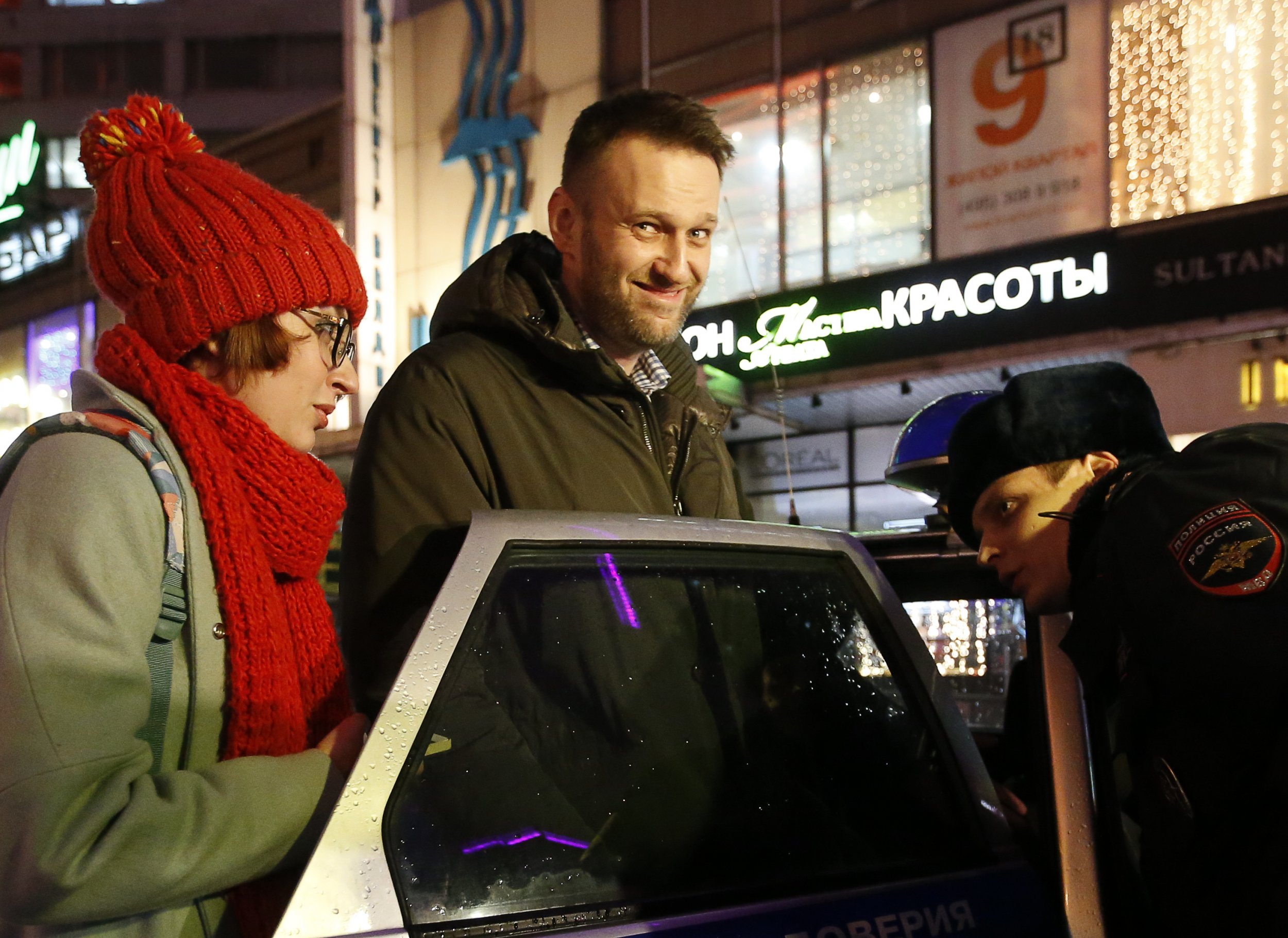 The Russian Kremlin-critic and opposition figure Alexei Navalny was detained by police yesterday after saying on a live radio show that Russian president Vladimir Putin "created problems for years to come" by annexing Crimea from Ukraine. Navalny was then met by security forces outside the building of the independent radio station Echo of Moscow in the Russian capital yesterday evening.
Both the host of the radio programme, Irina Vorbyeva and Navalny's press secretary, Kira Yarmysh posted photos of Navalny being apprehended by two men in uniform. According to both women the two policemen did not give a reason as to why they were detaining Navalny.
Less than an hour after he was was detained, Navalny announced on Twitter that the police had simply driven him home, writing on his blog that "even the policemen did not understand" why they were arresting him. He also tweeted: "I left the Echo to go home. They detained me, conferred with their superiors… and drove me home. What does that mean?"
When asked why they were detaining Navalny outside the radio station's headquarters, the police officers gave radio host Vorbyeva a cryptic reply, saying they did so "in order to clarify the circumstances".
His press secretary later joked that they must have "arrested him in order to identify him".
Navalny is currently under house arrest after he was handed a controversial suspended sentence of three and a half years for embezzlement in a snap trial in Moscow last month.
His brother Oleg was also drawn into the case and was sentenced to three and a half years in prison - a move which Navalny compared to keeping his brother hostage.
However, Navalny has refused to stay under house arrest as he insists there is no legal reason to keep him there now that he has recieved his sentence. He has said that he believes the trial and his and his brother's sentences are part of the Kremlin's attempts to intimidate him as he is a figure of opposition. Last week he reported having another unsettling incident when three men followed him to a shop near his home when he went to buy milk.
In the radio interview yesterday, after which he was detained, Navalny reiterated his belief that the only reason he is under such intense surveillance is because the Kremlin wish to
discourage him from continuing his political activity. "Putin has decided… to keep me in perpetual isolation," Navalny said.
When asked to explain why Putin still had such a high approval rating, with Russian polling organisation the Levada Center estimating it to be around 84%, Navalny replied: "These 84%, this is fiction which exists solely because they will not let anyone else stand."
"The only reason that Putin has his approval rating, that United Russia has the votes they have, it is because they do not not let us stand for election. I do not mean just myself," Navalny said, launching a scathing attack on Vladimir Putin and his political party.
"When I ran for mayor of Moscow, did I not win 30% of the vote? I did. I am confident that if our Progress Party were still running, instead of being attacked as we have been for many years, I am not saying we would beat United Russia straight away, but I do not doubt it for a second that United Russia would lose its majority," Navalny said.
As part of his sentence, Navalny will not be able to run for public office until 2020, despite the fact that the next presidential election in Russia will be held in 2018, after current President Vladimir Putin's third term runs out.
The European Parliament held a plenary meeting on human rights in Strasbourg on Thursday, where MEPs agreed that Alexei and Oleg Navalny's convictions were "based on unsubstantiated charges", accusing the Moscow prosecution of being "politically motivated". The parliament urged the case to be revisited and that it should be free of political interference.