Ukraine Could End War in a Day if Kyiv Surrenders: Kremlin
The Russia-Ukraine conflict will end as soon as Kyiv orders Ukrainian nationalists to surrender their weaponry, according to a Kremlin spokesperson.
As reported by the state-run TASS news outlet, Russian presidential spokesman Dmitry Peskov told reporters on Tuesday that the aggression could end almost instantly if Ukrainian President Volodymyr Zelensky orders fighters to "lay down their arms."
"The Ukrainian side can stop everything before the end of the current day," Peskov said, according to an English translation. "We need an order for nationalist units to lay down their arms, an order for the Ukrainian military to lay down their arms, and we need to fulfill the conditions of the Russian Federation. And everything can end before the end of the day....The rest is the thoughts of the head of the Ukrainian state."
The war has become one of attrition with neither side giving in. Russian higher-ups have stated that there was never any deadline associated with the initial invasion.
Peskov said the same thing Tuesday when asked if there was an approximate time frame to complete Russia's military operation in Ukraine, responding with a direct "no."
"We are guided solely by the statements of our President [Vladimir Putin that] the special military operation is going according to plan and achieving its goals," Peskov added, according to TASS.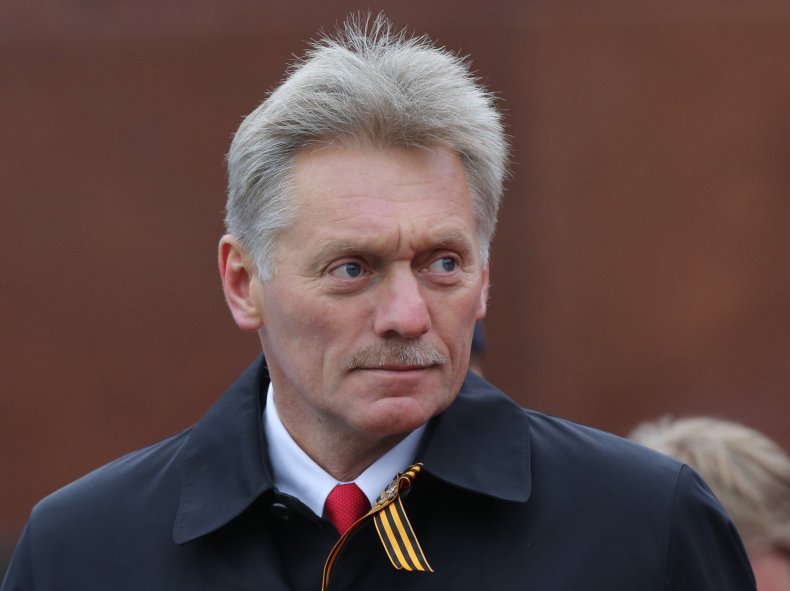 In addition to limited manpower and weaponry, Northwestern University political science professor William Reno told Newsweek that another factor working against Zelensky is the fact that his nation has to listen to the "diverse and often conflicting interests" of the 30 countries in NATO, whereas Putin answers to no one.
Last Friday, after a meeting with Jeyhun Bayramov, Azerbaijan's minister of foreign affairs, Russian Foreign Minister Sergey Lavrov said he believed that NATO and the European Union (EU) are building a coalition to possibly wage war with Russia.
He even made mention of Adolf Hitler in the context of the current Russia-Ukraine conflict, reportedly saying, "Hitler rallied a significant part, if not most, of the European nations under his banner for a war against the Soviet Union."
On Sunday, Zelensky urged Belarus to avoid getting entangled in the already monthslong conflict, telling the country that the Kremlin thinks their "lives are worthless."
"You are being drawn into the war. The Kremlin has already decided everything for you," Zelensky said during a video address on Sunday night. "But you are not slaves and cannon fodder. You don't have to die."
On Monday, following a Russian missile attack in Kremenchuk in central Ukraine that led to at least 15 deaths, world leaders at the Group of Seven (G7) Summit in Germany quickly condemned Russia's aggression.
"Indiscriminate attacks on innocent civilians constitute a war crime," the leaders said in a joint statement. "Russian President [Vladimir] Putin and those responsible will be held to account."
Newsweek reached out to the Kremlin for comment.