The Kremlin has said that new military weapons systems will be "cemented" to ensure "nuclear parity" with NATO.
"Russia has to be on alert and remains on alert," Kremlin spokesman Dmitry Peskov said Monday, The Moscow Times reported. "Parity is ensured by the invention of new weapons systems called to cement nuclear parity…Our armed forces and our military industrial complex are implementing all the necessary measures."
Peskov's warning came just before President Donald Trump's high-profile meeting with Russian President Vladimir Putin. At the outset of the summit, Trump told the Russian leader that the two nations' nuclear arsenals would be on the agenda.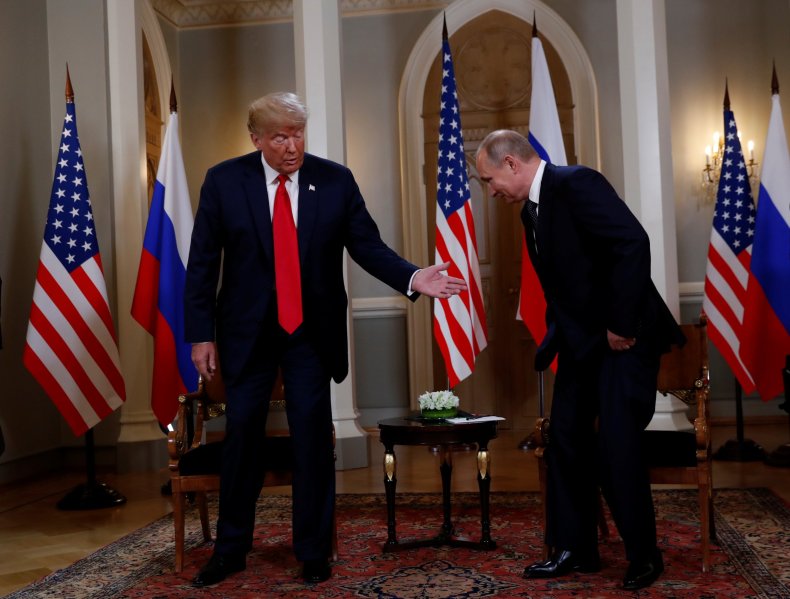 "We have 90 percent of the nuclear—and that's not a good thing it's a bad thing," Trump said Monday in Helsinki. "I think we can hopefully do something about that because it is not a positive force, it is a negative force."
Last week, Trump attended a NATO summit in Brussels, during which time he attempted to strong-arm the body's member states into contributing more money to boost the alliance's defenses. Moscow and NATO generally see any military buildup from the other side as a potential threat, particularly with tensions at a high due to European sanctions and Russia's meddling in Ukraine.
Specifically citing concerns about NATO, Peskov pointed to Trump's demands of the alliance to increase military spending as a main driver behind Moscow's efforts to ensure "nuclear parity."
Last week, NATO Secretary-General Jen Stoltenberg announced the international alliance's goal of having 30 mechanized battalions, 30 air squadrons, and 30 combat vessels ready to use within 30 days or less by 2020.
Europe has eyed the Kremlin's expansionist ambitions with concern following its 2014 move to support separatist Ukrainian rebels and annex the Crimean peninsula. Russian neighbors Poland, Norway, Latvia, Sweden, Estonia and Lithuania have expressed fears that Moscow could make similar decisions against their sovereignty.
Russia warned of "consequences" after Norway announced plans in early June to more than double the presence of U.S. Marines within its borders starting next year. Reports also circulated in May suggesting that Poland offered $2 billion for the U.S. to station troops permanently within its borders. Moscow said such a move could "lead to counteraction from" its side.
Satellite images also suggest that Russia has expanded a nuclear storage facility in its Kaliningrad enclave, a report released mid-June by the Federation of American Scientists revealed.
Despite the tensions, Trump has remained optimistic about improving relations with Russia.
"I think we have great opportunities together as two countries," the president said Monday, adding that "I really think the world wants to see us get along."
Appearing to disregard Washington's historically close relationship with Europe, Trump also suggested Sunday that the continent is a bigger "foe" than Russia.
CBS News' Jeff Glor on Face the Nation asked the president, "Who's your biggest competitor, your biggest foe, globally right now?"
Trump responded, "Well, I think we have a lot of foes. I think the European Union is a foe, what they do to us in trade." As for Russia, he said the nation is a "foe in certain respects."
The president's comments also followed others made last week, in which he suggested that Putin is not an "enemy," just a "competitor."