'I'm a Kris Jenner Lookalike, Celebrities Mistake Me For Her'
Years before the the "you just got krissed" trend took off on TikTok, I was in LA at work and Khloé Kardashian could not stop looking at me. I had no idea why.
The television personality had just arrived on set to join her family for the recording of an episode of Celebrity Family Feud featuring the Kardashians back in 2008, which was the first of the three times I've seen Kris Jenner in person. I was there on set to do hair and make-up for my client, the family they were competing against.
When Khloé joined her family on stage, I was standing nearby and she kept glancing at me. It was an uncomfortable feeling and I thought: "Why is she still looking at me?"
Kim Kardashian was focused on all the fanfare around her at the show that day, and even Kris hadn't glanced at me much. But Khloé was clearly puzzled, with her eyes glued to me, as if she was trying to connect the dots.
Granted at the time our hairstyles and fashion sense were different, but even back in 2008, there was still apparently a strong resemblance between myself and Kris, enough to make you wonder whether we'd been separated at birth.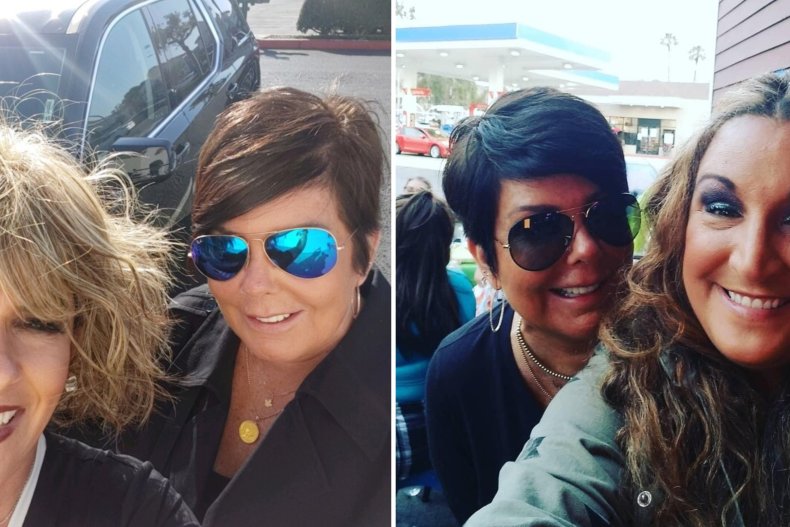 My second encounter with Kris was in 2011 on the set of Dancing with the Stars when Rob Kardashian was a contestant on the show. I was standing by the judges' area, waiting for my talent, and I escorted Kris across the dance floor to her seat. We shared very few words. I smiled and said, "How are you, Kris?" and she simply smiled back. But when the show ended, there were people waiting for me by the studio door, believing I was Kris' sister or Rob's aunt. I remember thinking: What?! Of course, I immediately declined when people asked for photos.
The third and final time I met Kris was at her book signing at a mall in Calabasas, California in 2014. My friend Lisa really wanted to meet Kris and asked me to join her. I was hesitant at first but went along in the end.
Our interaction at the book signing, again, was short. I said: "Hi, it's so great to meet you," and Kris said: "You as well," before signing a copy of her book which the words: "Lots of Love, Kris Jenner."
But I was clearly starstruck that day and I think Kris may have been a little too by our resemblance. People were taking photos and I left there trembling because this had all happened while our faces were less than a foot apart.
I only started to truly embrace my likeness to Kris in the past five years after a meme of me went viral in 2017 in Newfoundland, the Canadian province where I'm from.
I was walking outside to get some juice from a local shop and two college-aged kids asked to interview me about the drunk driving laws in Newfoundland. The following day I went out for lunch with my aunt who said: "You know all of Newfounland is looking for you, right? You're all over Facebook and Newfoundland television."
I immediately looked it up online and there I was, a meme of me doing that interview had gone viral on social media, with people trying to figure out whether Kris Jenner was in Newfoundland or not. A local radio station got a hold of my number and asked me to come on their show, telling me "you're the Kris Jenner of Newfoundland," and later I was on BBC America.
After that meme went viral, I thought: You know what, if you can't beat 'em, then let's just have fun. And I vowed myself to do that from then onwards.
People had said, "You know who you look like?" many times over the years, but it started to happen every single day. I'm now told I look like her anywhere from 10 to 20 times a day. Whenever I'm approached by a fan, there's always this little spark in their eye. It's weird. It happens every single day, so I'm familiar with it now.
I've never had any plastic surgery and always had really short hair since I was born. So I have no intention of altering myself in any way to further match the real Kris for the sake of this work, regardless of how she may change her looks.
But I've had dozens of people ask about representing me as a Kris Jenner lookalike, including the late wife of Dog the Bounty Hunter, who said to me: "Linda, I want to be your manager. You can make money off of this."
In one of those moments, I thought I must really look like her more than I realized. I was at a beauty show in Las Vegas and Paris Hilton was also there promoting her beauty campaign. While she was getting her photos done, I suddenly heard Kathy Hilton, Paris' mother, who is a good friend of Kris, yell: "Kris! Kris!"
My colleague turned to me and said: " I think you're gonna have to go over there now." So I did and said: "I'm so sorry but I'm not Kris," and she looked at me stunned and said: "Are you sure?"
When I walk into a room I don't try and pretend I'm Kris Jenner. I'm just me. So I was quite taken aback at the VidCon convention in California I attended in June. I was swarmed by fans asking me for a picture or video within seconds of me entering a venue there.
As I tried to move the crowd to one side, in a bid to cause less of a scene, the crowd just got bigger. With every fan, because they're usually shaking with their hands on their face, I hold their arm and make sure I say: "You know I'm not Kris Jenner."
But regardless of how much I remind people that I'm not the real Kris, I get the same reaction every time—that it does not matter. It was the same scenario back in March when I did an event on the Hollywood Walk of Fame with other lookalikes, including one of Britney Spears, Taylor Swift, Mariah Carey, and Madonna. We all had to hide inside a car for about 45 minutes until the crowds calmed down in order to get to our own cars to go home.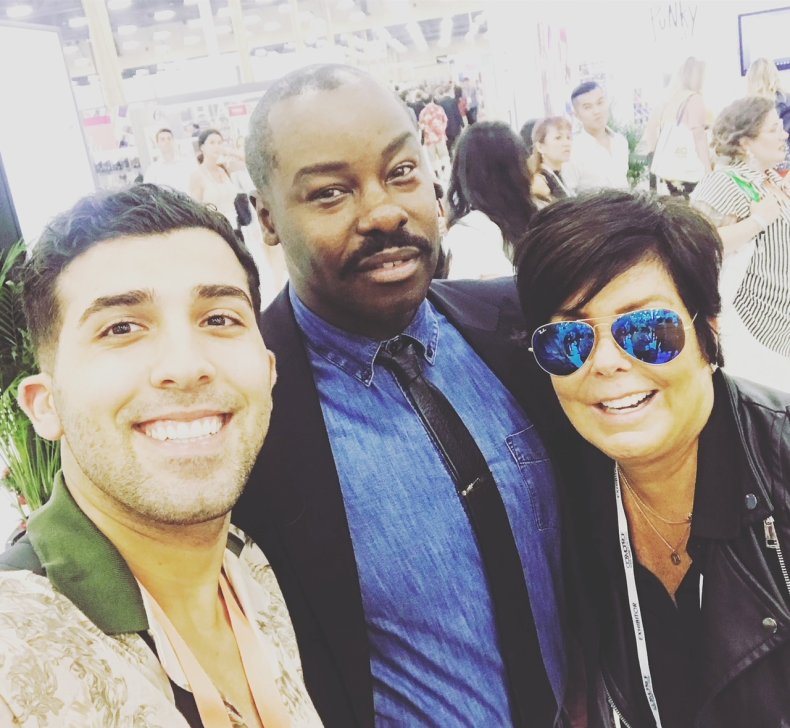 I think they don't care that I'm not the real Kris because I'm probably the closest they'll ever get to seeing her. It gives them that instant gratification in that moment and if that's enough for them, I'm okay with that.
People have gone even crazier for me since the "you got krissed" TikTok trend took off. My following is growing and more engaged on the platform, with my last viral video having received 5.2 million views so far.
No matter how much I do look like a celebrity, I've never once felt like one. I've never, ever once thought I was famous. I can, however, understand people's reactions to me and how badly they want me to be her. So for that split second for them, I'm happy to let that happen. I always let the person have their "fangirl" moment before I later gently tell them that I'm not the real Kris, as I wouldn't feel good about myself if I misled someone.
At that VidCon event, a content creator manager named Ethan came to me and said: "Wait, where have you been hiding this whole show? I need your number because I want to represent you." His content creators, who each have millions of followers, are now asking me for content to collaborate with on TikTok.
But I love my job as a hair and make-up artist and I won't quit doing it as long as I'm physically able to get up every day for it. So this work I do as a Kris Jenner lookalike online will just be a bonus side hustle I get to do.
From that moment in 2017 when I first embraced the buzz around my likeness to Kris until now, it's been the ride of my life and I can honestly say, overall, it's been really fun.
Creating more online content around it now in the past three years, I've finally made peace with it and whatever this ride as a Kris Jenner lookalike throws at me, I won't run. I am ready for it.
Linda Zirkus is a licensed cosmetologist based in California, working as a hair and make-up artist in the television and film industry. Follow Linda on TikTok @theycallmekris2.0.
All views expressed in this article are the author's own.
As told to Soo Kim.