Kwame Kilpatrick Explains 'Catalyst' Behind Donald Trump Cutting His Jail Time
Kwame Kilpatrick, the former Detroit mayor released from prison in of one of former President Donald Trump's final acts in office, credited businessman Peter Karmanos Jr. as a "major catalyst" in getting his sentence cut by around 20 years.
Kilpatrick said he fell to his knees in January when he learned that Trump was freeing him after he had served around seven years of a 28-year sentence for corruption.
"I dropped to my knees, I thanked God, and I promised Him that I would stay faithful to Him," he told Deadline Detroit in his first interview since being released from federal prison. "And I went to sleep."
Kilpatrick, 51, was convicted in 2013 of 24 federal felony counts including racketeering conspiracy, fraud, extortion and tax crimes. He had sought a commutation from former President Barack Obama after losing all appeals, and after the U.S. Supreme Court refused to hear his case.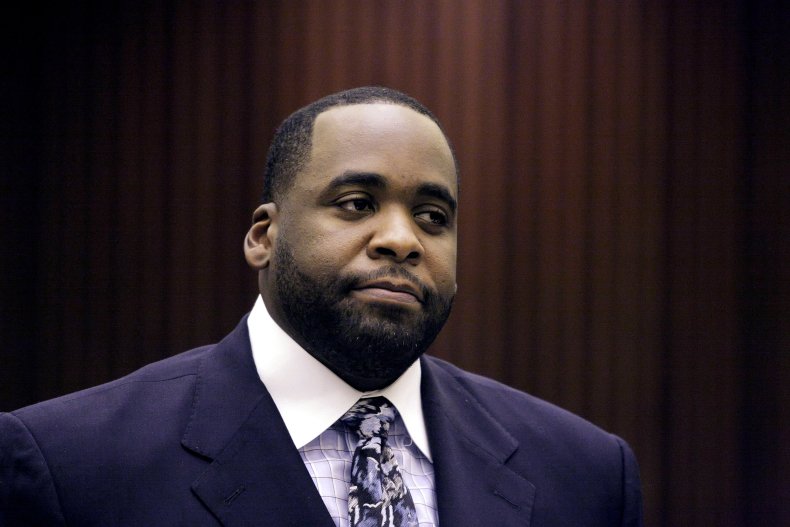 In 2020, he was thought to be among those being freed from a Louisiana prison to help curb the spread of coronavirus, but remained incarcerated.
Then, shortly before Trump left office earlier this year, he reduced Kilpatrick's prison sentence to time served, prompting criticism from prosecutors in Detroit. Kilpatrick said he was back with his family in the Atlanta area less than 24 hours later.
In the interview, he acknowledged making "some terrible decisions" while he was the Democratic mayor of Detroit between 2002 and 2008, and said he hopes "people see the fruit of my repentance."
He said he was "tremendously thankful" to his friend Karmanos for lobbying Trump for his freedom.
"He's always been that guy," Kilpatrick said. "I believe when Pete came out I think it helped jump-start a lot of other people to say, hey, this is wrong. Pete was a major catalyst for the Kushners and the Trump administration."
On a podcast in 2020, Karmanos, who was the co-founder of Detroit-based Compuware, called Kilpatrick's sentence a "modern-day lynching." He also noted that he had personally delivered Kilpatrick's clemency request to Jared Kushner, Trump's son-in-law and adviser, in 2019.
Now that he's free, Kilpatrick sad he has no interest in making a political comeback in Detroit.
He disclosed that he suffered a cardiac arrest in September 2020 that hospitalized him for seven days.
He is planning to stay in Atlanta "for a while," study theology and is engaged to a Detroit woman.
Kilpatrick, who said he led Bible studies and services in prison, is set to preach this weekend at two Detroit churches, although one appearance is pre-recorded.
"It's going to be my hometown debut," he said. "This is the first time that I've done anything public since getting out of prison."