Donald Trump Cuts Kwame Malik Kilpatrick's Jail Time for Detroit Corruption by 20 Years
Donald Trump has commuted the prison sentence of former Detroit mayor Kwame Malik Kilpatrick, freeing him 20 years early from his jail time for corruption crimes.
Kilpatrick, 50, was sentenced to 28 years in prison in 2013 for bribery, racketeering, extortion and fraud while he held public office.
According to the U.S. Bureau of Prisons, his earliest possible release date was January 18, 2037.
On Wednesday, the White House issued a statement saying the outgoing president has pardoned 73 people and commuted the sentences of 70 more, including Kilpatrick, former aide Steve Bannon and rapper Lil Wayne.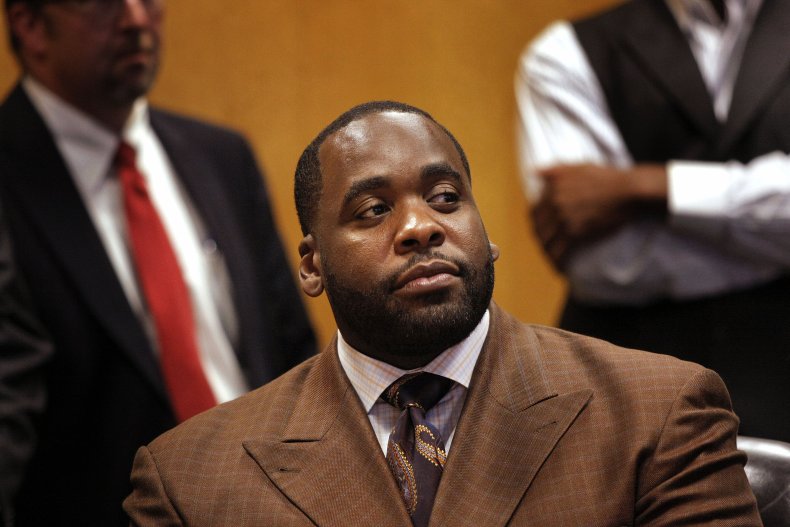 Trump released his clemency list as he prepares to leave office ahead of the inauguration of President-elect Joe Biden.
The White House statement said: "President Trump commuted the sentence of the former Mayor of Detroit, Kwame Malik Kilpatrick. This commutation is strongly supported by prominent members of the Detroit community, Alveda King, Alice Johnson, Diamond and Silk, Pastor Paula White, Peter Karmanos, Representative Sherry Gay-Dagnogo of the Michigan House of Representatives, Representative Karen Whitsett of the Michigan House of Representatives, and more than 30 faith leaders.
"Mr. Kilpatrick has served approximately 7 years in prison for his role in a racketeering and bribery scheme while he held public office. During his incarceration, Mr. Kilpatrick has taught public speaking classes and has led Bible Study groups with his fellow inmates."
Since his conviction, Kilpatrick had lost all his appeals and the U.S. Supreme Court refused to hear his case.
Supporters of Kilpatrick, including Ebony Magazine, the NAACP and the National Baptist Convention of America, had continued to lobby for his release but to no avail. They appealed to Trump for clemency last year as a final hope.
In 2018, Kilpatrick wrote a Facebook post in which he hoped to receive a pardon from the president. "My family has forgiven me," Kilpatrick said. "I have asked the people of the city of Detroit for forgiveness many times, and most Detroiters have forgiven me, as well."
On several occasions, Kilpatrick's supporters claimed that he was going to be freed early but this never materialized. In May 2020, it was reported that he would be freed early due to COVID-19 pandemic, but the U.S. Bureau of Prisons later announced that he would not be leaving jail.
U.S. Attorney Matthew Schneider, who has long argued that Kilpatrick should not be freed early, criticized Trump's decision to commute the ex-mayor's sentence.
He said: "My position on the disgraced former mayor of Detroit has not changed. Kwame Kilpatrick has earned every day he served in federal prison for the horrible crimes he committed against the people of Detroit. He is a notorious and unrepentant criminal.
"Kilpatrick has served only one-quarter of the sentence that was very appropriately imposed. Thankfully, Thankfully, under Michigan law, he cannot hold state or local public office for 20 years after his conviction."
Kilpatrick resigned as mayor in 2008 after a scandal involving an affair with his chief of staff, Christine Beatty. He was also accused of having three police officers removed from their positions. When the officers filed suit against the city, Kilpatrick allegedly used public funds to settle the lawsuit.
Kilpatrick and Beatty attempted to keep their affair secret but text messages between the two were uncovered. As a result, Kilpatrick was charged with perjury and obstruction of justice. As part of a plea deal, Kilpatrick pleaded guilty to obstruction of justice. Kilpatrick was also made to forfeit his law license and pay the city of Detroit $1 million in restitution.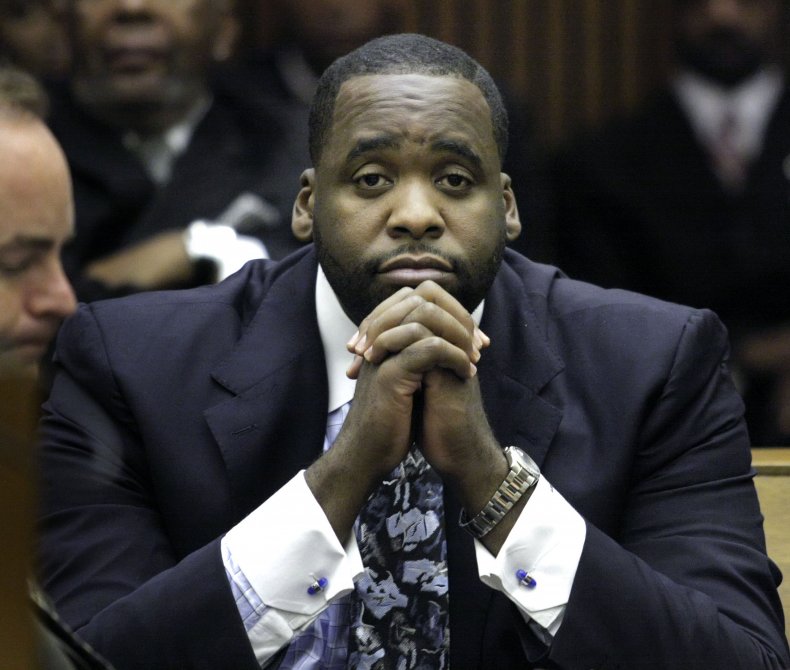 After an investigation by federal authorities, Kilpatrick was indicted in 2013 on 24 felony counts, including racketeering, mail fraud and wire fraud. According to information from the FBI, Kilpatrick took over $500,000 from state funds and non-profit organizations. He allegedly spent the money on vacations, spa visits and golf clubs.
The former mayor was also accused of conspiring with contractor Bobby Ferguson. According to the FBI, municipal contractors were "coerced" to include Ferguson in public contracts. Those contracts were also constructed to ensure that Ferguson received a portion of the money from those contracts.
"Ferguson obtained at least $73 million in revenues from municipal contracts through this scheme, a portion of which he shared with his co-conspirators," said a 2013 FBI press release.