Kyle Rittenhouse Asks Tucker Carlson Viewers for Money to Defend Himself
Kyle Rittenhouse has used an appearance on Tucker Carlson's Fox News show to request donations to his legal fund. He faces lawsuits from a man he shot and injured, as well as from the father of one of the two men he killed.
On August 25, 2020, Rittenhouse, aged just 17, shot three men in Kenosha, Wisconsin, during disturbances that followed the police shooting of Jacob Blake, a 29-year-old Black man. Prior to the fatal incident, he had joined a group of armed men, who claimed they were protecting local businesses from rioters.
In November 2021, Rittenhouse was cleared of homicide and attempted homicide by a jury, which concluded he acted in self-defense.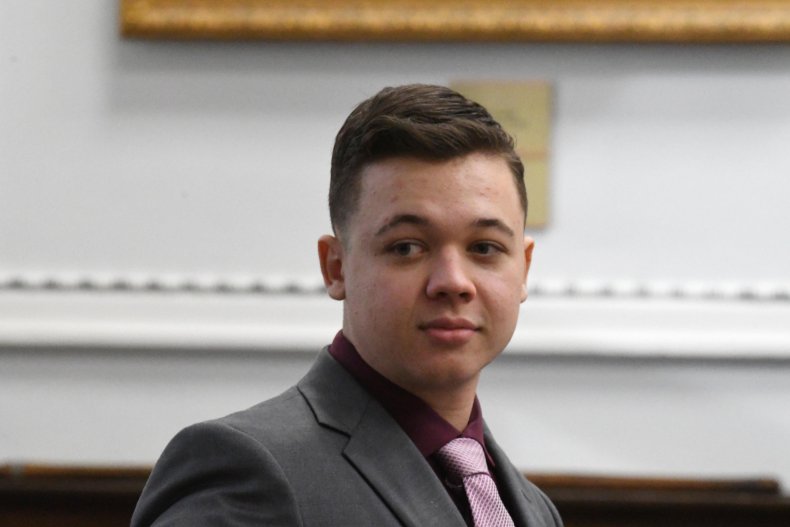 However, Rittenhouse is facing lawsuits from Gaige Grosskreutz, whom he shot and injured, and the father of Anthony Huber, 26, one of the men he killed. The other was Joseph Rosenbaum, 36.
Appearing on Tucker Carlson Tonight on Wednesday, Rittenhouse said: "It's ridiculous–this lawsuit is very frustrating, and it's upsetting. This is honestly to me an attack on our Second Amendment rights, and our rights to self-defense, and it's saying, if you use your God given right to self-defense. they're going to come after you.
"If you win in court, you're acquitted–rightfully so. They're going to take you to civil court, they're going to take you for everything you're worth, they're going to drive you into bankruptcy and drown you in a mountain of legal bills."
Rittenhouse went on to provide a web address where supporters can donate to his cause, adding: "It's going to cost a lot of money to fight these attorneys who are very powerful."
As of 4:30 a.m. ET on Thursday morning, the crowd-funder, hosted on the GiveSentGo website, had received almost $190,000, out of a target of $500,000.
The text read: "This civil action is an attack against Kyle Rittenhouse for being acquitted of all charges arising from his justifiable use of deadly force to defend his own life.
"Moreover, it's also intended to degrade further the protections afforded to us under the Second Amendment of The United States Constitution and our God-given Right to Self Defense."
Grosskreutz filed a lawsuit against Rittenhouse, and Kenosha law enforcement, in February seeking compensation for "emotional distress, humiliation, loss of enjoyment of life, and other pain and suffering."
John Huber, father of Anthony Huber, has also taken legal action against Rittenhouse, Kenosha police officers, and city officials. He is seeking $10 million in damages.
In January, Rittenhouse complained that events he is due to speak at keep getting cancelled, during an appearance on Sebastian Gorka's America First podcast.
Newsweek has contacted Kyle Rittenhouse for comment.