Kyle Rittenhouse Trial—Four Strange Moments You Might Have Missed
Kyle Rittenhouse's divisive trial has many gripped.
The 18-year-old gave testimony on Wednesday for the first time since he killed two men and injured a third during unrest in Kenosha, Wisconsin, on August 25, 2020.
Anthony Huber, 26, and Joseph Rosenbaum, 36, were shot dead by Rittenhouse. Gaige Grosskreutz, 26 at the time, was wounded.
The teenager, who was 17 at the time of the shootings, is being tried on six criminal counts, including intentional and reckless homicide. He denies the charges, and the trial continues.
There is no questioning the seriousness of the murder trial; yet some watching it unfold noted a few unusual moments from presiding Judge Bruce Schroeder.
Judge Reads 'Cookie Book' Magazine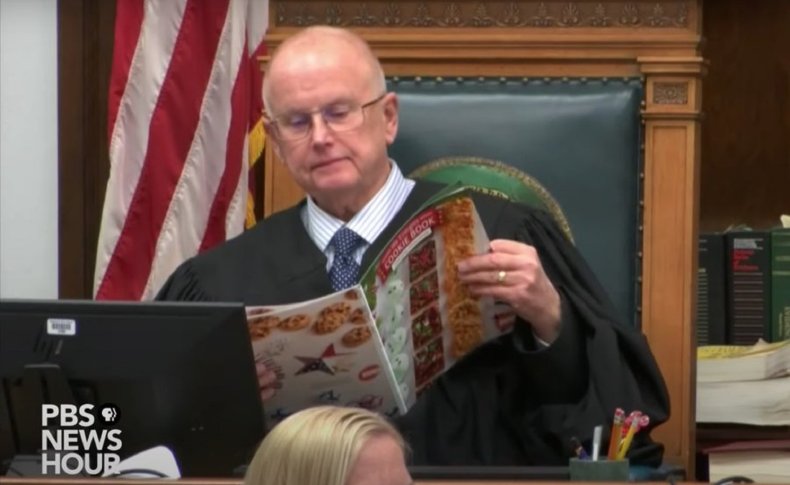 Everybody likes cookies. But most people involved in the trial were probably not thinking about them during a brief recess. Most... but not all.
Court footage captured the moment Judge Schroeder, who presides over the trial, pulled out cookie catalogue Cookie Book during a 10-minute break on Wednesday.
Schroeder examined the book for a few minutes towards the end of the break.
Playboy Model Gets a Mention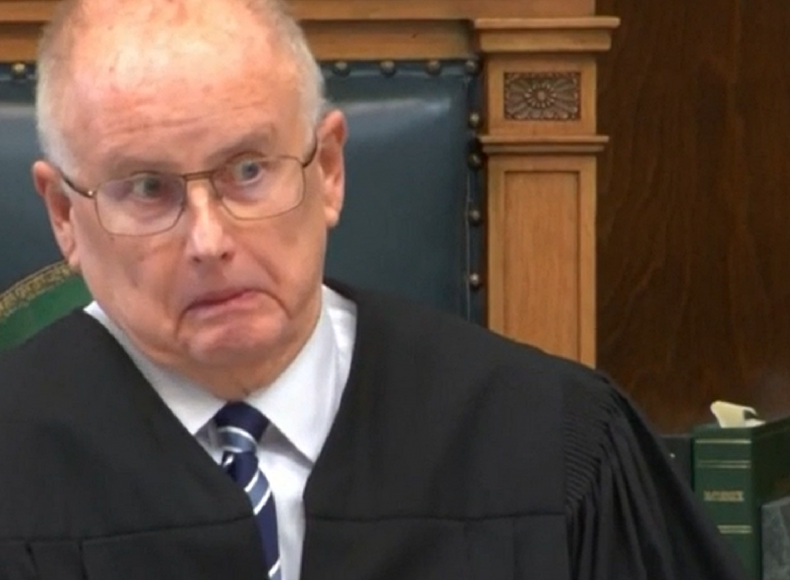 "Chocolate syrup, casaba melon and a Playboy model, Marli Renfro, were enlisted to create an iconic scene in this film"—Judge Schroeder.
The film is Alfred Hitchcock's 1960 classic Psycho. Less obvious perhaps, is why it was mentioned in court. The answer? The judge's love of quiz show Jeopardy!
At the beginning of jury selection (okay, this one is pre-trial)—when there is little for the judge to do—Schroeder revealed he traditionally spends the time playing trivia with the jury pool until the attorneys are ready. At one point Schroeder read aloud this Hitchcock teaser.
Renfro—for those who are unsure—was the body double for Janet Leigh in the film's well-known shower scene.
Judge's Cell Goes Off
At one point during proceedings the court heard... Judge Schroeder's cell go off.
His ringtone has been scrutinized for bias by some who noted that the tune was Lee Greenwood's God Bless the U.S.A., which has been frequently heard at rallies headlined by former President Donald Trump.
Greenwood, who performed at Trump's inauguration in January 2017, has previously said he does not wish the song to be used politically.
---
What Did Rittenhouse Say?
On Wednesday, Rittenhouse took to the stand.
The teenager testified that he acted in self-defense in each of the shootings.
He said he had been putting out fires and asking people if they needed medical help when he saw Rosenbaum carrying a steel chain and wearing a mask.
Rittenhouse said Huber had hit him in the neck with a skateboard and grabbed his gun. "I can feel the strap coming off my body," he said referencing the rifle he was carrying. "I fire one shot."
Recalling the encounter with Joseph Rosenbaum, whom Rittenhouse fatally shot, the defendant began sobbing and appeared to hyperventilate.
Then, Rittenhouse said Grosskreutz ran up to him before raising his hands in a "surrender" motion. Rittenhouse said he lowered his rifle but Grosskreutz pointed a pistol "directly at my head." The teenager said he fired once, hitting Grosskreutz in the arm.
On Monday, Grosskreutz testified that he saw Kyle Rittenhouse re-rack his AR-15 despite holding him at gunpoint.
"After he pointed his rifle at me, I put my hands up," Grosskreutz told the jury.
He said that despite approaching Rittenhouse with his hands in the air, Rittenhouse made "re-racking" motion that would load the next bullet into the chamber of the AR-15.
"Re-racking the weapon, in my mind, meant the defendant wasn't accepting my surrender," Grosskreutz said.
Grosskreutz told the jury he felt he "had to do something to prevent myself from being shot or killed."