Matt Amodio's Record-Breaking Win Streak Helped Boost 'Jeopardy!' Ratings
Matt Amodio's streak of 38 consecutive victories on Jeopardy! had a winning effect in more ways than one, as it also helped boost the ratings.
Amodio, who is a Ph.D. candidate at Yale, embarked on his record-breaking streak toward the end of Season 37, and duly picked up where he left off when Season 38 debuted with since-ousted host Mike Richards.
After Mayim Bialik stepped in to take over hosting duties, Amodio continued to defeat one pair of opponents after another, until he was taken out by actor Jonathan Fisher on Monday's episode of the long-running quiz show.
And it appears that his run attracted quite the audience, as the show recently landed at the top spot in syndication by itself for the first time since mid-April, according to The Wrap.
For the week ending October 3, Jeopardy! scored a 5.5 audience rating. The days surrounding that week proved to be big talking points as Amodio smashed records.
On October 1, the affable Ohio native was seen edging his way past former champ James Holzhauer's second-place records of most consecutive victories, when he won his 33rd game.
According to The Wrap, Family Feud, which was tied with Jeopardy! the previous week in pole position, dipped 2 percent to a 5.3 rating. Wheel of Fortune and Judge Judy landed in third and fourth place, respectively.
When scandal-hit Richards hosted the season-opening episodes of Jeopardy! during his sole week as permanent presenter, the show pulled in 8.38 million viewers, with a 5.1 household rating, according to The Hollywood Reporter.
In addition to winning 38 games, Amodio also earned himself a sizable cash prize with a grand total of $1,518,601.
While his win streak proved impressive, he stands far behind all-time champ Ken Jennings in the Jeopardy! hall of fame. Jennings won 74 games and earned $2,520,700 after making his Jeopardy! debut back in 2004.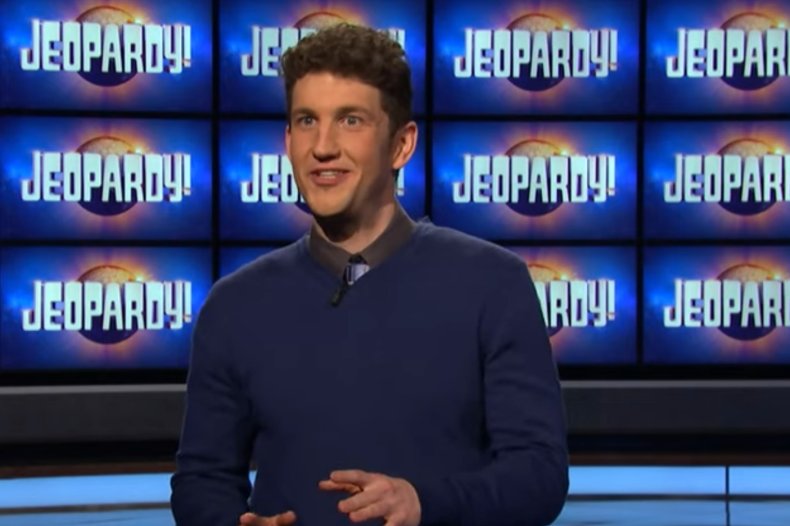 From November, Jennings will be seen splitting Jeopardy! hosting duties with Bialik for the remainder of 2021, as producers seek a new permanent presenter.
After his loss was televised on Monday night, Amodio took to Twitter to congratulate new champ Fisher and challenger Jessica Stephens, both of whom finished ahead of him in the Final Jeopardy round.
He wrote: "Congrats to today's two brilliant challengers for making it an exciting game of #Jeopardy today! Let's celebrate a match well played by Jonathan and Jessica!"
Fisher, who was seen winning his second game on Tuesday night's episode, tweeted his own tribute to the outgoing champ.
"One of the great pleasures of my life to get play @Jeopardy!, much less to share the stage with the great @AmodioMatt," he wrote. "Thanks for the incredible game Matt, and for the incredible streak!"
Following his defeat, artificial intelligence researcher Amodio was characteristically gracious, as he said in a statement: "Everybody's so smart and so competent that this could happen any game. And this time it did."
"I always wanted to be a Jeopardy! champion, and I accomplished that," he continued. "l know going into every bar trivia game that I play that I'm going to come in with a little intimidation factor.
"But also, I just like the badge that it represents. As somebody who prioritizes knowledge and knowing things, this is really a good one to have following me everywhere."
Amodio will to screens for the next "Tournament of Champions" competition, which is not expected to take place until next year.