LA Mayor Faces Calls to Fire Police Chief Who Said George Floyd's Death Was Also on Looters' 'Hands'
Los Angeles Mayor Eric Garcetti is facing calls to fire LAPD Chief Michel Moore's after he said George Floyd's death was "on the hands" of looters as much as the officers involved.
Thousands of people on social media have called for Moore's removal, prompting the phrase "fire him" to trend on Twitter early Tuesday.
Moore sparked a backlash after he saod during a news briefing on Monday that some people had been "capitalizing" on demonstrations sparked by Floyd's death to ransack businesses in the city.
He announced that of the 700 or so people who had been arrested amid protests on Sunday, around 10 per cent were in connection to burglary or looting.
"We didn't have protests last night. We had criminal acts," Moore said. "We didn't have people mourning the death of this man, George Floyd. We had people capitalizing. His death is on their hands, as much as it is those officers."
He added that he was aware it was "a strong statement."
But Moore attempted to walk back the comments later in the briefing, saying Floyd's death was "at the hands of a police officer and officers who stood by."
"I misspoke when I said his blood is on their hands, but certainly their actions do not serve the enormity of his loss and cannot be in his memory," Moore said.
He added: "I regret the remarks of that characterization, but I don't regret and nor will I apologize to those who are out there today committing violence, destroying lives and livelihoods and creating this destruction."
Moore issued an apology on Twitter on Monday night, again saying he had misspoken and recognized how his remarks came across.
"While I did immediately correct myself, I recognize that my initial words were terribly offensive," he said. "Looting is wrong, but it is not the equivalent of murder and I did not mean to equate the two. I deeply regret and humbly apologize for my characterization. Let me be clear: the police officers involved were responsible for the death of George Floyd."
Garcetti also addressed the matter, writing on Twitter: "The responsibility for George Floyd's death rests solely with the police officers involved. Chief Moore regrets the words he chose this evening and has clarified them."
But many on social media refused to accept Moore's apology and called on Garcetti to fire him.
Actor Kumail Nanjiani was among those calling for Moore's firing, writing in response to Garcetti's tweet: "Chief Moore should be f***ing fired. I will not be clarifying those words."
Author Roxane Gay also responded to Garcetti's tweet, writing: "The only clarification needed is for you to fire him."
Patricia Arquette also replied, noting that Moore has had days to think about Floyd's death. "In all this time he never took a sobering look at who is is responsible? This bias and these blindspots are dangerous he cannot lead the people with that judgement," she wrote.
Author Don Winslow accused Garcetti of being "part of systemic racism" and said he "lacks the backbone" to fire Moore.
He said: "Your police chief said that "the blood of #GeorgeFloyd's death was on protesters hands." It's disgusting. It's wrong. And the people of Los Angeles should know their Mayor lacks the backbone to stand up and fire him for making a racist statement. You are part of systemic racism."
Others said that that Moore's remarks had been prepared and he had doubled down on it by noting that it was "a strong statement."
Anna Brisbin said: "He wasn't getting tongue tied spur-of-the-moment. It was a prepared speech that he re-affirmed immediately by saying "And that is a strong statement." He meant it and it's inexcusable."
Calls for Moore's firing come after Greg Fischer, the mayor of Louisville, Kentucky, fired the city's police chief after it emerged that officers involved in the fatal shooting of a black man on Sunday had failed to activate body cameras.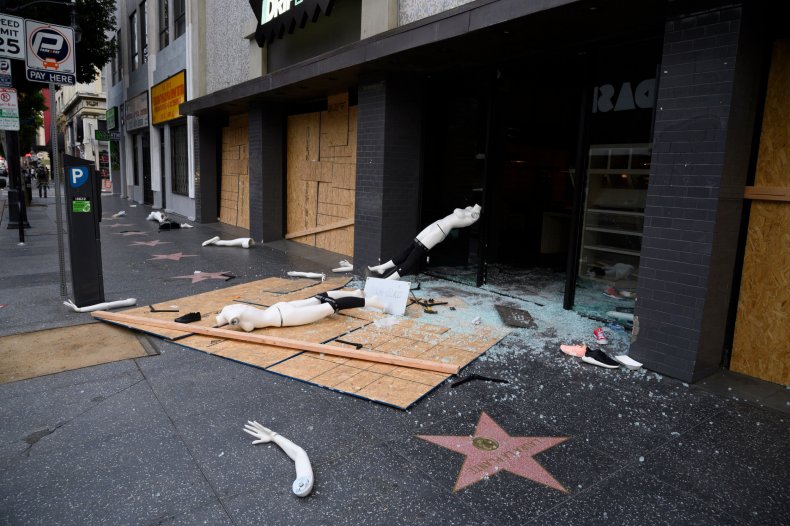 Floyd, a black man, died on May 25 after a white Minneapolis police officer pressed a knee into his neck for more than eight minutes as Floyd gasped that he couldn't breathe.
His death has sparked protests around the country, some of which have turned violent with police clashing with protesters in numerous cities, firing tear gas and rubber bullets to disperse demonstrators.
Los Angeles has a history of racial uprisings over police brutality—thousands of people took to the streets on April 29, 1992, after an all-white jury acquitted four white police officers of attacking Rodney King, a black man, after a traffic stop.
When the riots ended almost a week later, 63 people had been killed and over 2,300 people had been injured. An estimated $1 billion in property damage had also been caused.
On Monday, Los Angeles County enacted the harshest curfew on its residents since the 1992 riots—from 6 p.m. until 6 a.m. A curfew was in place for the third night in a row after California Gov. Gavin Newsom declared a state of emergency for L.A. County and sent in the National Guard.