LAPD Used 'Shadow Teams', Issued Conflicting Orders During George Floyd Protests: Report
During the 2020 racial justice protests following George Floyd's killing, the Los Angeles Police Department (LAPD) issued conflicting orders to its officers, used plainclothes "shadow teams" to monitor protesters and injured hundreds of demonstrators due to poor training, a 101-page report commissioned by the L.A. City Council found.
The report, released Thursday and conducted by a panel of former LAPD commanders, said that the LAPD suffered from a "chaos of command" during the summertime protests.
During the protests, undercover "shadow teams" of LAPD officers blended into the crowds, unable to convey their findings to commanders, the report said. Concurrently, undertrained and unprepared officers, taught with outdated crowd control methods, didn't know who was in charge and were often given on-site orders that conflicted from their earlier commands, The Los Angeles Times reported.
These factors resulted in an "uncoordinated effort," the report continued, leading officers to inappropriately use less-lethal munitions and injure hundreds. Some munition victims required surgery. Numerous ones are suing the LAPD for their trauma and medical costs.
Additionally, the LAPD arrested thousands, many for low-level offenses. Arrestees sat handcuffed for hours on the pavement, buses and remote locations without access to water or bathroom facilities, the report noted. It surmised that the LAPD lacked any plan on how to efficiently transport, jail and process protesters' charges, effectively violating their First Amendment rights to free speech.
"It is unfortunate that the same issues have arisen again and again, with the department being unable or unwilling to rectify the problem," the report stated.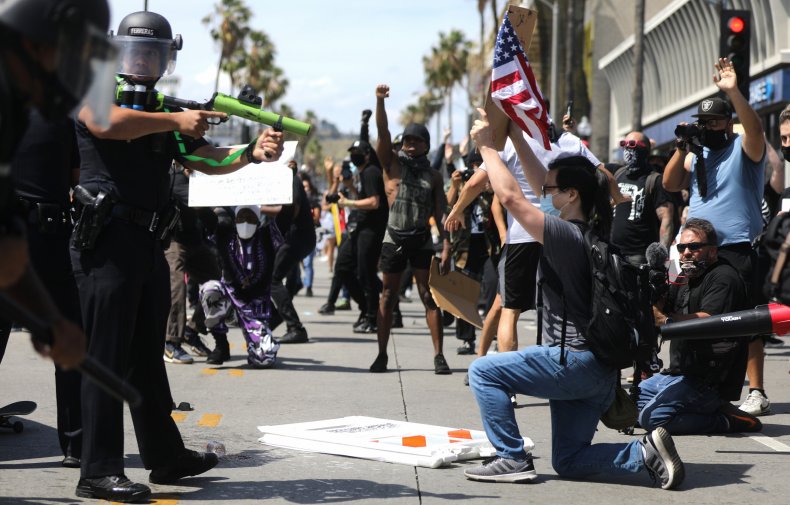 The city council's report is just one of three expected to evaluate the LAPD's protest handling. A second is being conducted by the LAPD, and a third is being conducted by the National Police Foundation upon request by the L.A. Police Commission, a civilian oversight body.
Last year, the L.A. City Council voted to cut $150 million from the LAPD operating budget. Last week, the council chose to allocate $32 million of that to policing alternatives in six of the council's 15 districts. The money will go towards homelessness prevention and aid as well as mental health social workers and other community resources, KABC-TV reported.
Roughly $7.8 million will go towards expanding the LAPD's Systemwide Mental Assessment Response Teams (SMART), specially trained units meant to de-escalate public encounters with mentally ill people. SMART teams consist of police officers and mental health clinicians from the city's Department of Public Health.
The teams are part of the LAPD's Mental Evaluation Unit (MEU) which currently has 63 officers that deploy in 12 SMART teams. However, LAPD Lieutenant Kelly Muniz told city police commissioners last week that the MEU needs 152 officers and 34 teams to adequately respond to the city's mental health crises.
Newsweek contacted the LAPD for comment.
In October 2020, the investigative journalism website Bellingcat and the University of London human rights research group Forensic Architecture found over 1,000 instances of police brutality against racial justice protesters on social media.
"Out of this data emerges a picture of police departments that behave more like paramilitaries than public servants," the organizations said in a video accompanying their findings. "The scale of these attacks points to a systematic disregard for fundamental press freedoms."