Larry Rendall Brock Jr., Capitol Rioter Seen With Zip Ties, Freed by Judge
A retired Air Force veteran who was photographed carrying zip-tie handcuffs while storming the U.S. Capitol building earlier this month has been freed from jail.
The rioter—retired Lt. Col. Larry Rendall Brock Jr.—was arrested on Sunday in Texas after being photographed on the Senate floor during the siege, wearing full combat gear and carrying the plastic zip ties.
The father of three from Dallas has been charged with knowingly entering or remaining in a restricted building or grounds without lawful authority. Brock has also been charged with violent entry and disorderly conduct on Capitol grounds.
He appeared in a Texas court in a green jumpsuit on Thursday, with cuffs around his hands and feet.
"He means to take hostages. He means to kidnap, restrain, perhaps try, perhaps execute members of the U.S. government," Assistant U.S. Attorney Jay Weimer said of Brock. The prosecutor did not provide further clarification on his comments.
Despite these strong accusations, Magistrate Judge Jeffrey L. Cureton said he would release the former lieutenant colonel, 53, to home confinement. Brock was ordered to surrender any firearms and the judge said he would have limited internet access under his confinement.
"I need to put you on a very short rope," Cureton said. "These are strange times for our country and the concerns raised by the government do not fall on deaf ears." He warned that Brock would likely face further charges.
Social media posts by Brock were also read in court by the judge, including one posted on the day of the Capitol riot saying: "Patriots on the Capitol. Patriots storming. Men with guns need to shoot their way in."
Weimer said that Brock's other posts referenced far-right and anti-government movements like the Oath Keepers and the Three Percenters.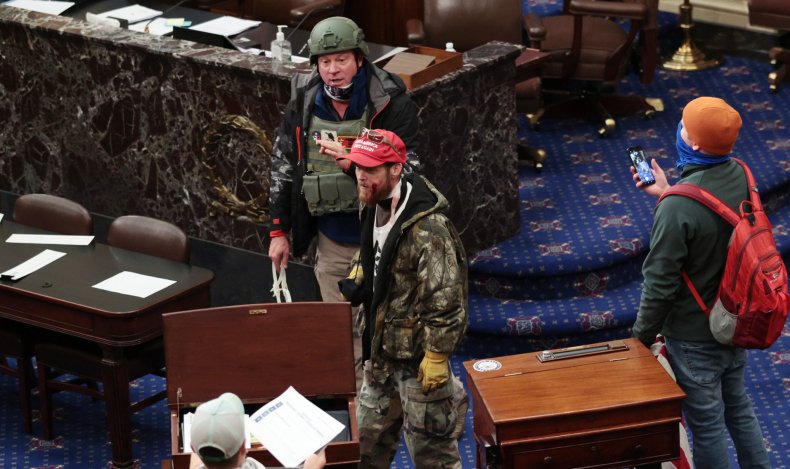 Weimer did not speak in-depth about Brock's plan for January 6 but said his former military experience and training made him "more dangerous." He noted that he had previously been fired for making comments at work about killing people of a "particular religion or race."
Brock was also fired from his job at an aviation company in Texas after being implicated in the riots.
Bill Leake, who worked alongside Brock in the Air Force for 10 years, told The New Yorker he had lost touch with Brock because he had "gotten extreme."
He said Brock became obsessed with U.S. President Donald Trump and with following "the alternative-news-source world."
"Torch [Brock's nickname] got all-in on Trump. He went all-in on the alternative-news-source world,' Leake said.
"He actually believes liberals and Democrats are a threat to the country. You can see how the logical conclusion to that is, 'We've gotta take over.'"
Five people were killed in the violence at the Capitol building in Washington, D.C. on January 6, including four protesters and a police officer. More than 100 people have been arrested in connection with the riot so far.