A Trump supporter and rioter has openly bragged about storming the U.S. Capitol in a video recorded from his hotel room shortly after the insurrection which left five people dead, including a Capitol police officer.
"I will not let the media make us out to seem like we went to D.C. and got attacked... I want you to know we went there to attack people. And for once, I'm not ashamed of that," Dreww says in one video which has since been deleted but can still be viewed on Twitter.
"I'm going to admit it. I'm going to scream it to the rooftops - we went there to attack people ... I will continue to attack people. What are you going to do to save your freedom?" Dreww continues in the video originally uploaded to streaming platform streamyard.
In another clip recorded from a Washington, D.C. hotel room, Dreww repeatedly describes the rioters as patriots and asserts his pride at being involved.
"I just got back from storming the Capitol ... it was us. We proudly took back our Capitol," Drew says. "I'm American. Did you not get that today?! Let me tell you something. We stormed that Capitol so hard everybody evacuated it at the other end. It's mine. It's ours, and we will never let somebody take it from us again," he added in more video recorded from the hotel room.
The 32-year-old appears fired up and tells the camera he's only taking a quick break "to get some gear on" before going back to the mob as he encourages others to do the same.
"Go to your Capitol at your state. Stand at your Capitol at your state. You deserve it. It's possible. We did it today, we did it. God, it's so exhilarating. It's so good. It felt so good."
However, after Dreww's videos surfaced on social media the vocal Huntington Beach hairstylist now says he fears for his life after receiving death threats and believes his beauty salon business is doomed.
"I'm scared," he told the Orange County Register. "I fear for my life."
Dreww also claimed he only watched Wednesday's protests from afar and was only speaking collectively in the video about participating, now believing antifa was in fact involved in the riot.
"I do regret not doing my research and not knowing what people were in there," he added. "I am proud we took back our house, but I thought we took it back peacefully."
Dreww's YouTube account says his platform is used "to wake up Americans to the left's weaponization of our sexuality and the tasteless tactic of using our love as a tool and a means to gain votes .. and ultimately becoming the rainbow plantation."
He lists his goals and objectives as "to save as many Americans that have been lied to and indoctrinated into the leftist cult-like alphabet separatist soup."
Dreww now saw he's afraid he could be arrested by the FBI, but maintains he "never went inside the Capitol."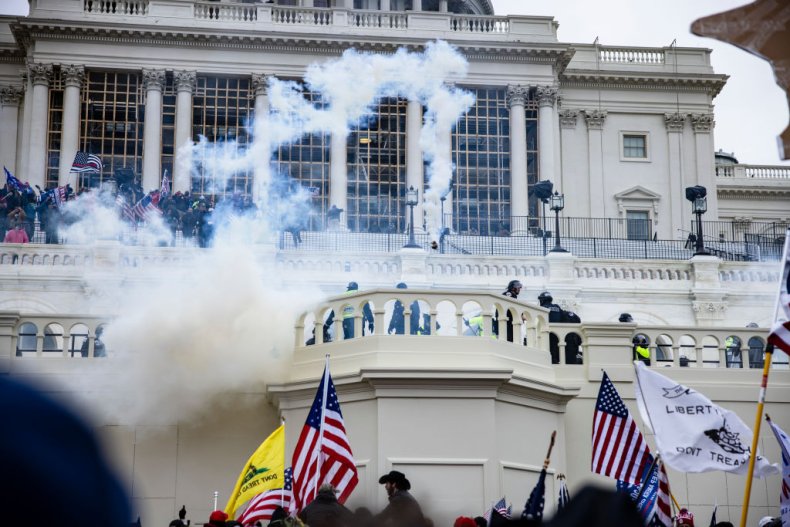 Sixteen people now face federal charges, with approximately 40 facing charges in the Superior Court, the Justice Department said.
Supporters of President Donald Trump descended on Washington, D.C. to protest the Congressional certification of state's Electoral College votes, and eventually breached the Capitol building and were seen inside both the House and Senate chambers.
Investigators are combing through photos, video footage and tips to track down those who took part.
Those arrested so far include Richard Barnett, the man who was photographed sitting at House Speaker Nancy Pelosi's desk during the riot, and Jake Angeli, the rioter seen wearing an outfit featuring horns and fur.
Barnett, 60, faces charges of entering and remaining on restricted grounds, violent entry and theft of public property.
Meanwhile, 32-year-old Angeli, whose real name is Jacob Anthony Chansley, was arrested on Saturday and charged with knowingly entering or remaining in any restricted building or grounds without lawful authority, and with violent entry and disorderly conduct on Capitol grounds.
Doug Jensen, 41, was also arrested at his home on the south side of Des Moines on Friday, and slapped with five federal charges, including trespassing and disorderly conduct.
Jensen, wearing a QAnon conspiracy theory shirt, was captured on camera chasing a police officer inside the U.S. Capitol.
Eric Gavelek Munchel, 30, of Tennessee, was also arrested in his state on Sunday after federal authorities identified him as the man who allegedly stormed the U.S. Capitol with rioters while carrying a handful of zip-ties—as captured by viral photos circulating online.