Late Night TV Roundup: 'Trump Fired Comey for Making Him President,' Says Jimmy Kimmel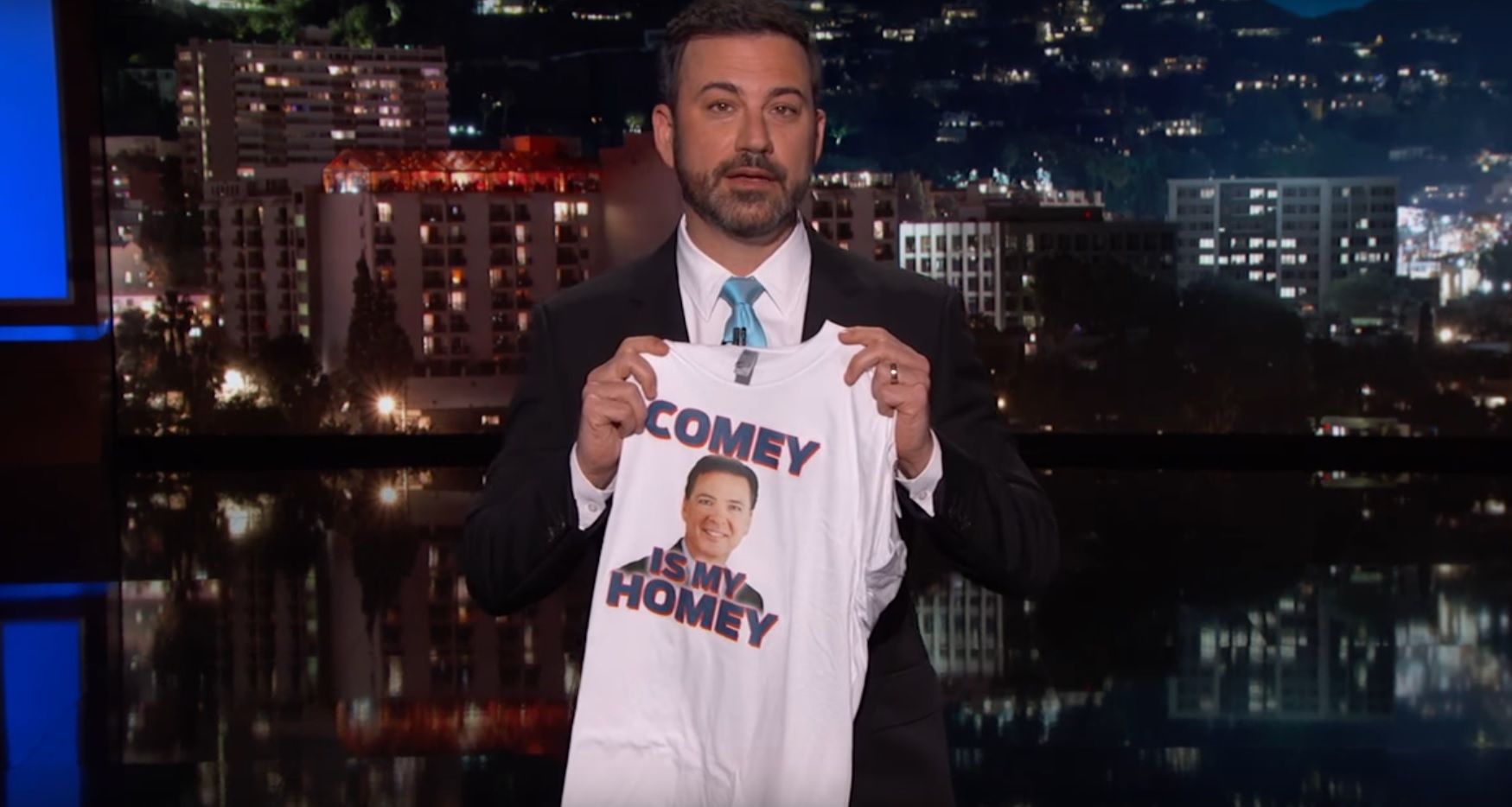 President Donald Trump's shock firing of FBI director James Comey was the hot topic on late-night television Tuesday.
Jimmy Kimmel summarized the situation in his opening monologue telling his audience, "Trump fired James Comey for making him president," alluding to the fact that one reason for Comey's firing was likely his handling of the investigation into Hillary Clinton's emails in the final days of the U.S. election race in 2016, which Democrats believe harmed her campaign and helped Trump win.
At the time of his firing, Comey was leading an FBI investigation into potential collusion between the Trump campaign and the Russian government to help sway the presidential election in his favor.
"We've seen a lot of unusual stuff," said Kimmel. "But this is outrageous."
The comedian then joked that he would be selling "Comey is my homey" T-shirts in solidarity with the former FBI director.
Comedy Central's Trevor Noah had a pretty valid question upon hearing the news. "If [Comey's] gone, who's going to investigate Russia's ties to… ohhh," he said on Tuesday's The Daily Show.
Noah called Trump's excuse for firing Comey a "masterstroke," adding: "This is insane. Trump is basically saying he's doing this because of what Comey did to Hillary."
Related: Jimmy Kimmel Slams Critics, Talks Health Care
The Late Show host Stephen Colbert was shocked by the news, which broke as he recorded Tuesday's show. He joked, "We'll have more on this [on Wednesday] when they scramble to cover the whole thing up."
Colbert joked that Trump somehow managed to make his letter firing Comey all about him. In his letter to Comey, Trump wrote that he appreciated Comey "informing me, on three separate occasions, I am not under investigation."
"Does everything have to be about him?" said Colbert.
Over on Colbert's sister show, The Late Late Show , James Corden nervously laughed as he observed: "Remember two years ago when we all made jokes about if Trump ever became president he'd be like, 'You're fired. You're fired. You're fired.' They were good times"
Corden then quipped, "I'm worried this puts Trump in a real bind—he doesn't have enough kids to fill the vacancy."
"Comey's being fired because Donald Trump is crazy," he added.