Fox News host Laura Ingraham has taken a swipe at what she describes as a "left wing smear squad" trying to prevent the Supreme Court nomination of Brett Kavanaugh.
Ahead of a hearing of the Senate Judiciary Committee which will determine whether he takes up one of the posts on the highest court in the land, he spoke to the channel along with his wife Ashley on Monday about the sexual assault allegations against him.
The following day, Ingraham said the fevered political climate around Kavanaugh was being fueled by the Democrats and the #Metoo movement.
She said on her show that Senate Republicans had been pressured into postponing the Kavanaugh vote by "#Metoo militants" and that they "walked right into the trap set by the left-wing smear squad."
"When Democrats were given an inch, they took a mile and they began slowly to take the confirmation process hostage. And what did Republicans get for all their cooperation and sensitivity? An extended vicious news cycle.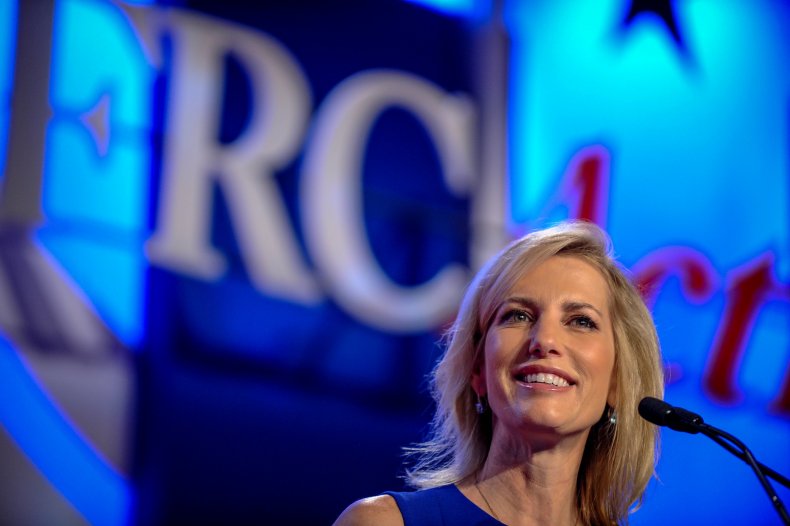 "A mob-like circus in the hallways of the Senate offices and now anti-Kavanaugh nasties are trying to humiliate Republican senators when they are out in public," she said, referring to Senator Ted Cruz being chased out of a restaurant in Washington, D.C. by chanting protesters.
"I think most Americans bristle at this stuff, these uncivil tactics and slimy smears against good people are exposing just how radical and contemptible some strains of the Democratic party have become," Ingraham said.
During his earlier interview with the channel, Kavanaugh reiterated that he was innocent, and said: "I have never sexually assaulted anyone, not in high school, not ever… All I am asking for is a fair process where I can be heard."
He and one of his accusers, Christine Blasey Ford, will testify on Thursday. He denies hers and a second woman's claims of inappropriate sexual behavior when he was a student at Georgetown Preparatory School in Maryland.
Panel Republicans have hired outside counsel Rachel Mitchell to question Kavanaugh at the hearing.
Senate Judiciary Committee Chairman Chuck Grassley said in a statement: "I promised Dr. Ford that I would do everything in my power to avoid a repeat of the 'circus' atmosphere in the hearing room that we saw the week of September 4.
"I've taken this additional step to have questions asked by expert staff counsel to establish the most fair and respectful treatment of the witnesses possible."