Laura Ingraham Says 'Race-baiting' Oprah Was 'Fearmongering' in Georgia Campaign Speech
Oprah Winfrey's speech in support of Georgia gubernatorial candidate Stacey Abrams may have received a rousing reception in the suburbs of Atlanta, but Laura Ingraham was less than happy about it on Fox News.
Winfrey, out campaigning for Abrams, delivered her words in the Republican-leaning suburb of Marietta.
Abrams, a Democrat, is up against Georgia Secretary of State Brian Kemp in a bid to become the first African-American female governor of Georgia.
During a question-and-answer session, Winfrey addressed the racial overtones that the battle for the job has taken on and urged the people of the state to get out and vote.
Winfrey said: "I am here today because of the men and because of the women who were lynched, who were humiliated, who were discriminated against, who were suppressed, who were repressed and oppressed.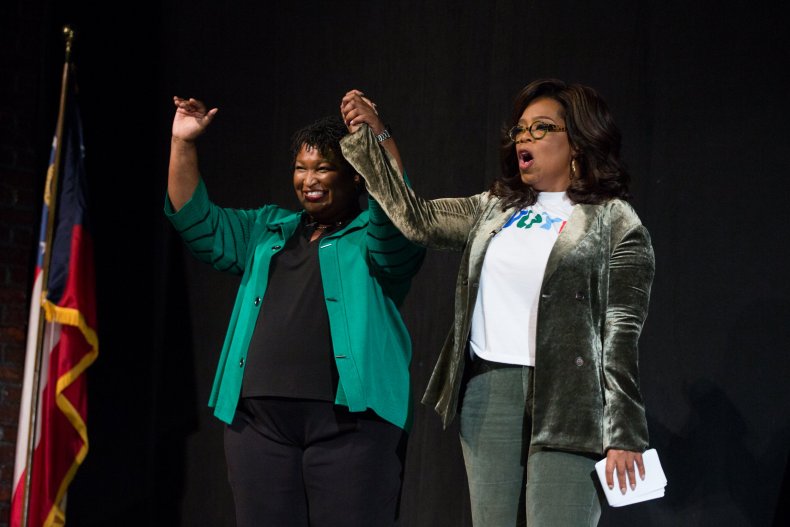 "I refuse to let their sacrifices be in vain."
Ingraham was apparently less than impressed and accused Winfrey of "fearmongering" and "broad-brush race-baiting."
"Gotta hand it to Oprah. She's a great speaker, but I liked her better when she was giving away Toyotas and refrigerators," Ingraham said, in a subtle disparagement of Winfrey's daytime talk show.
"To try to tie the candidacy of the Georgia Republican gubernatorial candidate Brian Kemp to the scourge of racism and even lynchings?
"Come on, Oprah! It's dehumanizing, it's completely baseless, it's totally cruel, and again I say, you're much better than that and you're much bigger than that," she said on The Ingraham Angle.
Ingraham is a fervent supporter of President Donald Trump, and in an interview this week they discussed how the media peddles "fake news." Only days before she accused Winfrey of "race baiting," Ingraham said asylum seekers traveling toward the U.S. border as part of the migrant caravan may bring diseases into country.
Abrams was a former Democratic leader of the Georgia House of Representatives whose tenure in the Legislature had been praised even by Republicans in the State Capital, The New York Times reported.
She has refrained from attacking Trump directly but did send a wry reply to a Trump tweet on how she would "destroy the state" when she wrote: "Someone watched Kemp lose last night's debate."
Georgia is a key battleground for both parties, and the race is so close that there's a possibility the two candidates will face each other in a runoff in December.
Trump disparaged Abrams in a news conference on Thursday."She is not qualified to be the governor of Georgia, not qualified," he said, without specifying why.
"Take a look at her past, take a look at her history, take a look at what she wants to do and what she has in mind for the state. That state will be in big, big trouble very quickly and the people of Georgia don't want that," he told reporters.