Lauren Boebert Backers Fail to Disqualify Her Challenger Ahead of Primary
A candidate seeking to replace GOP Representative Lauren Boebert in an upcoming primary in Colorado's 3rd Congressional District can remain on the ballot.
A Denver judge ruled on Wednesday against a lawsuit that sought to remove Colorado state Senator Don Coram from the primary ballot in June, according to The Colorado Sun. The legal challenge to Coram's candidacy was not brought by Boebert or her campaign but by four individuals, the online news outlet reported.
In their suit, David Laird, Dale Ruggles, Mandy Roberts and Byron Roberts raised issues with the number of signatures Coram's campaign submitted to the Colorado secretary of state's office.
Coram, the Montrose Press reported, had submitted a little over 1,950 signatures to the secretary of state to get on the ballot. Of those signatures, 390 were rejected, while 1,563 were accepted. Coram needed 1,500 to get on the ballot.
The lawsuit said that an additional 390 signatures should have been rejected, which would have put Coram under the 1,500 threshold and essentially ended his campaign, according to The Colorado Sun. Therefore, Coram had been improperly placed on the ballot, according to the suit.
While the lawsuit's aim to have 390 more signatures thrown out was not accepted by Denver District Court Judge Alex Myers, he did say that 19 of Coram's accepted signatures should have been eliminated, according to The Colorado Sun. But that would not have been enough to disqualify him from the ballot.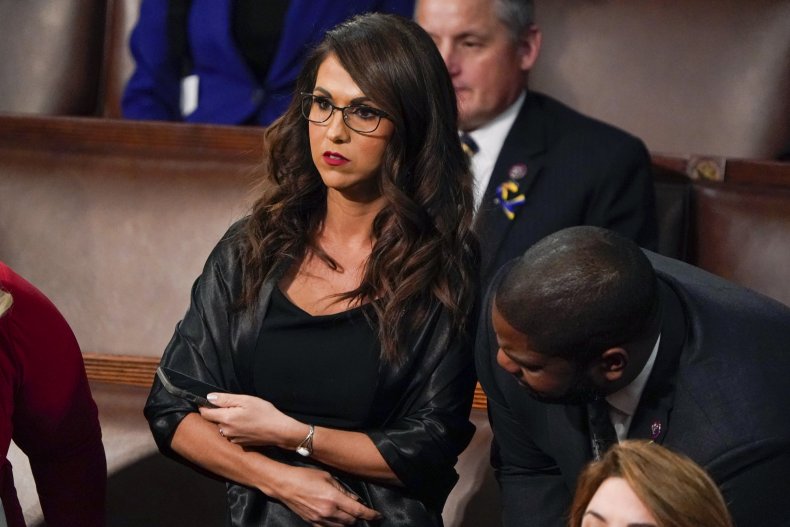 The four people who brought the lawsuit all live in the district Boebert represents in Congress. One of them, Ruggles, has donated to the congresswoman, giving her campaign $250 in February 2021.
The firm that represented those individuals in the case, the Maven Law Group, has collected more than $84,000 in legal fees from Boebert's campaign since February 2021, according to the Montrose Press.
Newsweek reached out to Boebert's and Coram's campaigns for comment.
According to his campaign's website, Coram says he's seeking to go beyond politics and instead focus on policy.
The statement on the site goes on to say that "the working men and woman of this country are being ignored" and that while "rhetoric is popular" it "doesn't get results."
In a statement to Newsweek earlier this month, Coram's campaign charged that Boebert is more interested in being "a right-wing celebrity pundit rather than a representative of the people she is paid to represent."
Boebert's campaign accused Coram of being a "corrupt liberal who buddies up to Democrats every chance he gets," according to an email sent to Newsweek.
Last month, Boebert, an ardent supporter of former President Donald Trump, accused YouTube of censorship, saying that the video site had removed her February speech at the Conservative Political Action Conference.
Earlier this month, Boebert said on social media that she would work against the Walt Disney Co.'s efforts toward copyright renewal next year in Congress. She wrote that "next year, the woke Disney lobbyists will ask Congress to extend Mickey Mouse's trademark. I think not."