Lauren Boebert Sparks Fury After Praying Biden's 'Days Be Few'
Lauren Boebert has come under fire after expressing the hope that President Joe Biden's "days be few" during a church event in Texas.
The House Republican was speaking at the Spiritual and Leadership Training (SALT) conference at Storehouse Church in Dallas, over the weekend.
In a clip loaded to social media by Patriot Takes, a Twitter account dedicated to "exposing right-wing extremism," Boebert imagined a conversation between Jesus and one of his followers, referencing topical events.
Quoting the follower, the Colorado congresswoman said: "Jesus, don't you know we're out of money? COVID's hit, they shut everything down, Joe Biden's president, we don't know what to do Lord."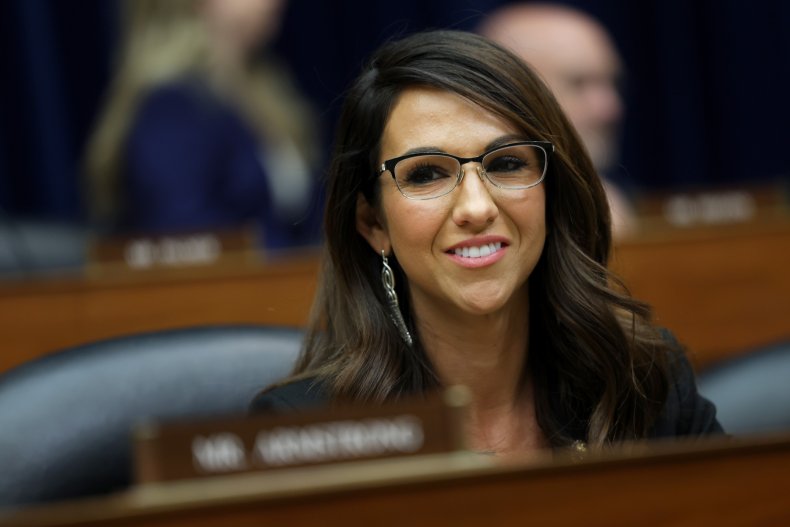 This remark sparked cheering and laughter from the congregation.
Boebert continued: "That's alright we pray for our presidents—let his days be few and another take his office. That's why I filed articles of impeachment for Joe Biden. Unfortunately, he does have a really great insurance policy named Kamala Harris."
Boebert said she was quoting Psalm 109:8 from the Bible, which states: "Let his days be few, and let another take his office. Let his children be fatherless, and his wife a widow."
Boebert's comments sparked an angry backlash from other Twitter users.
Progressive political commentator Brian Tyler Cohen, using the account for his No Lie with Brian Tyler Cohen podcast, tweeted: "A church congregation cheered as Lauren Boebert appeared to wish for President Biden's death: 'May his days be few and another take his office!'"
The left-wing Occupy Democrats account posted: "BREAKING: Trumper Congresswoman Lauren Boebert tells a church congregation that she is praying to Jesus that President Biden's 'days be few.' She's a threat to our president and democracy — and must be expelled from Congress immediately!"
Another Twitter user tweeted: "People like Rep Boebert are huge part of the church community that pushed me toward atheism."
A fourth suggested Boebert was a natural at the religious event, commenting: "Lauren Boebert is far better suited for the pulpit in a church."
The SALT conference, which Boebert was addressing, says on its website that its goal is to "equip an army of women to awaken culture with the truth and love of Jesus."
The official website adds: "At SALT, you will learn to transform our education system, government, and church."
Earlier this month Boebert said she feared "the left" could de-platform Fox News and the History Channel, after conservative outlet Newsmax was dropped from cable by DirecTV.
The conservative firebrand jokingly expressed outrage in Congress that Americans only own "46 percent of the world's guns," commenting: "I think we need to get our numbers up, boys and girls."
Boebert was one of the House Republicans who opposed Kevin McCarthy's bid to become speaker, which only passed on the 15th ballot in January after he made concessions to conservative hardliners.
Newsweek reached out to Boebert for comment.