Lauren Boebert Says Dems Won't Stop Attacking 2nd Amendment, Takes Dig at Nancy Pelosi
Republican Rep. Lauren Boebert criticized House Speaker Nancy Pelosi and the Democratic party for "not stopping" with attacks against the Second Amendment, which gives Americans the right to keep and bear arms, at the Conservative Political Action Conference (CPAC) on Saturday.
Boebert, a controversial freshman Colorado lawmaker, has made headlines in recent weeks for her pro-gun stance and ardent support of former President Donald Trump.
During a panel discussion at CPAC, Boebert railed against metal detectors that Democrats have set up to prevent lawmakers from carrying weapons inside the Congressional chambers following the January 6 attack on the Capitol building by Trump supporters.
The Colorado Republican also took a dig at Pelosi by accusing her of forcing soldiers who were sent to guard the Capitol to rest inside of parking garages.
"[Democrats] are not stopping with the Second Amendment. In Washington D.C., I wouldn't be surprised if we start quartering soldiers in the committee hearing rooms— there's plenty in the parking garages at 'Fort Pelosi,'" she said.
"And maybe we can start unreasonably seizing and searching members of Congress—oh wait, we're already doing that—on the House chambers with metal detectors," she added sarcastically.
Last month, Boebert was one of several Republicans who refused to go through the metal detectors and accused Democrats of infringing on lawmakers' personal freedoms.
"I am legally permitted to carry my firearm in Washington, D.C., and within the Capitol complex," Boebert tweeted on January 12. "Metal detectors outside of the House would not have stopped the violence we saw last week—it's just another political stunt by Speaker Pelosi."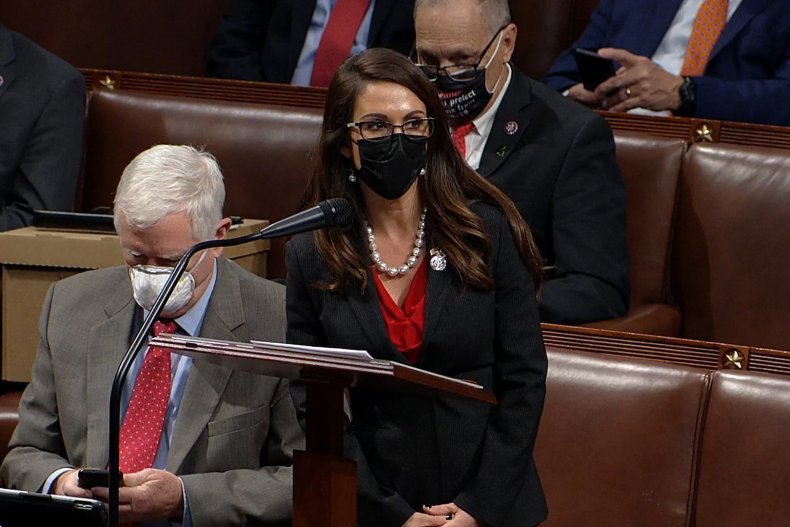 Boebert has been under fire for a number of controversial events in the past several weeks.
The Colorado congresswoman has previously expressed support for the extreme conspiracy theory QAnon, which believes a network of Satanic elitists runs a "deep state" government and sex trafficking ring.
Boebert has also received backlash and faced calls for resignation over her role on the day of the January 6 Capitol riot. During the riot, Boebert was criticized for tweeting on Pelosi's movement, which many saw as an attempt to endanger the House speaker's life.
That same day, Boebert tweeted, "Today is 1776," referring to the year of the American Revolution. Critics accused Boebert of hinting at the need for violent revolution following what Trump supporters viewed as a stolen election.
But Boebert denied accusations that she intended to endanger Pelosi or instigate violence, and instead denounced the "far-left and their policies are causing harm to our country."
"I refuse to let their political machine write a narrative that millions of Americans know is false," she said in January.
On Saturday, Boebert continued to attack Democrats during the CPAC panel by stating that they "don't want you to be able to protect yourself, they don't want you to have freedom of speech, and they don't want you to have freedom of religion."
"They are the party of 'no,' and we are saying 'no'—we are saying a big 'hell no' to all of their noes," Boebert added.
Newsweek contacted Boebert for additional comment, but did not hear back in time for publication.