'Law & Order' Actress Agrees With John Oliver That Show Is 'Propaganda'
Diane Neal, the actress who played Prosecutor Casey Novak on Law & Order, has agreed with a recent assessment from John Oliver, who labeled the television show "propaganda."
"I'm embarrassed to admit, I used to think the way it worked on the show was like real life," tweeted Neal, 46. She was on the long-running crime drama for five seasons as a regular cast member before returning for seasons 12 and 13.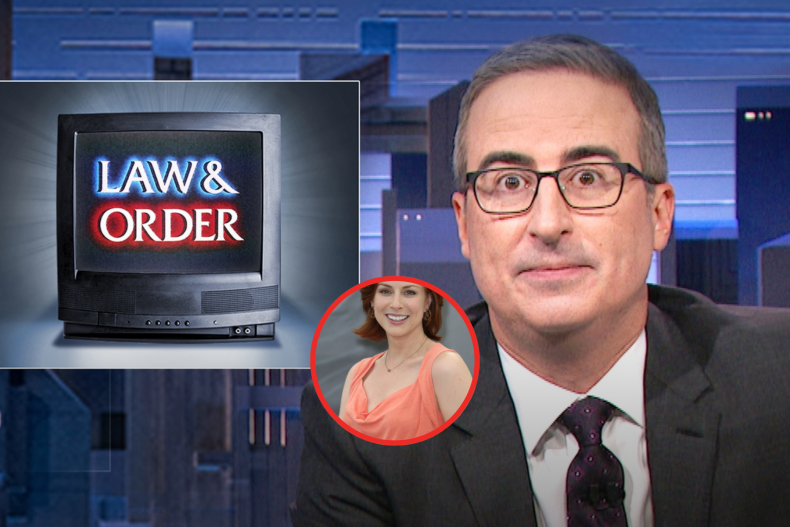 Several so-called "copaganda" shows, including Cops and Live P.D., were heavily scrutinized before being canceled in 2020 during the wave of Black Lives Matter protests sparked by the killing of George Floyd by police officer Derek Chauvin.
During a recent episode of Last Week Tonight, host Oliver, 45, condemned Law & Order for selling what he called a "complete fantasy" of what law enforcement truly is.
The host criticized the show for having "propagandized" police and prosecutors for more than 30 years and even labeled it a "commercial" for a "defective product."
In an almost 30-minute-long segment dedicated to Law & Order, Oliver described it "a complete fantasy that too many people in this country are only too willing to buy."
He said that Law & Order and other copaganda shows "significantly distort the big picture of policing," and give viewers a "false narrative of law enforcement" by presenting scenarios in which "exceptionally competent cops [are] working within a largely fair framework that mostly convicts white people.
"If a medical show was giving us inaccurate information, we would say it's dangerous." Oliver said that, if Grey's Anatomy presented inaccurate information about vaccines, "we'd probably be having a conversation about it, [and] that's essentially what Law & Order is doing."
Oliver went on to say that Law & Order is "presenting a world where the cops can always figure out who did it, defense attorneys are irritating obstacles to be overcome, and even if a cop roughs up a suspect, it's all in pursuit of a just outcome."
Referencing the show's creator Dick Wolf, 75, Oliver said: "And it blasts that fantasy at you in endless reruns and marathons in the guise of very well-produced, extremely entertaining TV. But underneath it all, it is a commercial—a commercial produced by a man who is, in his own words, unabashedly pro-law enforcement."
Oliver said it is "completely fine to enjoy" the show but that it is "important to remember just how far it is from representing anything resembling reality.
"[Wolf] is selling a complete fantasy that many people in this country are only too happy to buy—which is fine, as long as we don't lose sight of the fact that it's an ad for a defective product."
The host also said one study found that viewers of crime dramas are "more likely to believe the police are successful at lowering crime, use force only when necessary and that misconduct does not typically lead to false confessions."
He added: "Which would be great if it were true, but if you're watching this show, you probably know it is not."
Following the segment airing, Neal took to Twitter to say she agrees with Oliver and she once thought the show mirrored real life.
Neal reached out to her followers on Twitter and asked if the show gave them unrealistic expectations.
"Did any of you watch @LastWeekTonight with @iamjohnoliver? about the depiction of #lawenforcement on #svu giving victims who report sex crimes in real life unrealistic expectations that the cops will care or crimes will be solved? If it happen to you—tell me."
Responding to a fan on Twitter who shared their experience with law enforcement, Neal admitted she "found out the hard way" that the show does not reflect real life.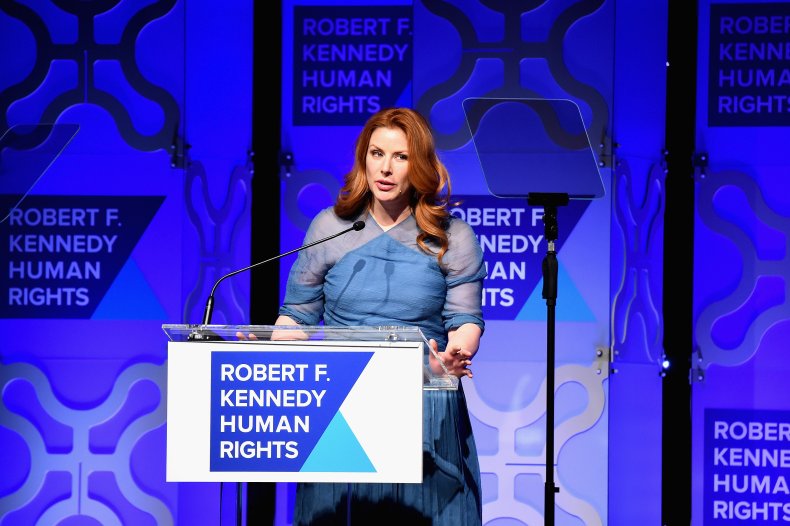 "I agree. If #OliviaBenson #svu were real, there would be a LOT more justice. I'm embarrassed to admit, I used to think the way it worked on the show was like real life. Then I found out the hard way I was wrong. Thank you for sharing the story of your real experience. #iamsorry," the actress tweeted.
Newsweek has contacted Dick Wolf for comment.