Lawmakers Want 'Action' Taken Against Michael Flynn After Myanmar Coup Remark
Lawmakers have criticized former National Security Adviser Michael Flynn after he appeared to say that a Myanmar-like military coup "should happen" in the United States.
A handful of Republicans and Democrats hit out at the retired U.S. Army lieutenant general over the holiday weekend, with one calling for "action" to be taken against the former Trump administration official.
GOP lawmakers on the so-called "moderate" wing of the party said it was wrong of Flynn to indicate support for the "overthrow" of the U.S. government, and argued that any fantasies of a coup would be "ended quickly."
"To those begging for a military coup: you will be shocked when the military arrests you under the 'and domestic' part of the oath," Rep. Adam Kinzinger (R-IL) tweeted on Monday night. "Your fantasy will be ended quickly."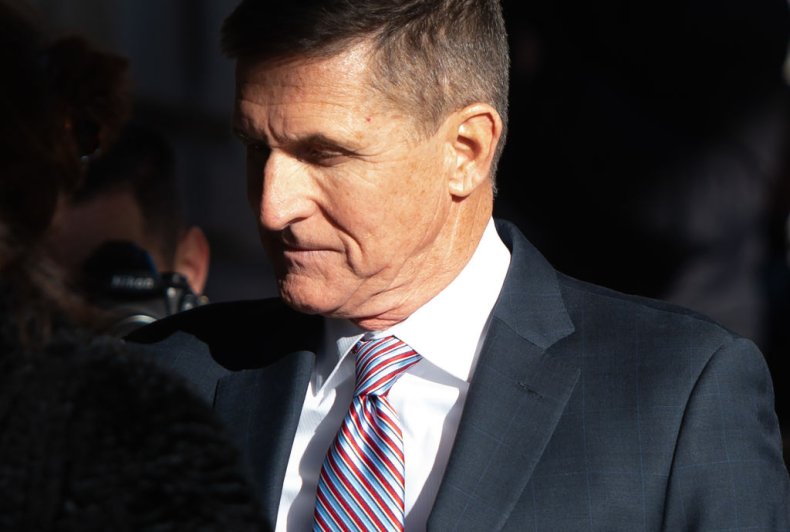 Earlier in the day, he posted a news story about Flynn's remarks and promised that Americans would "defend our constitution."
Rep. Liz Cheney (R-WY), an anti-Trump Republican who was ousted as the House GOP Conference chair last month, tweeted: "No American should advocate or support the violent overthrow of the United States."
Speaking to CNN's Anderson Cooper on Monday, Rep. Elaine (D-VA) questioned whether Flynn should be receiving any benefits from his retirement as a U.S. Army lieutenant general in light of his remarks.
"The fact that he's making these kinds of comments—inciting violence, recommending that there should be a coup to overthrow the U.S. Government is unconscionable, and I truly believe action should be taken against General Flynn," the Democratic lawmaker said.
Newsweek contacted Michael Flynn's conservative America's Future group for further comment.
The former Trump administration official appeared on a live panel at the "For God & Country Patriot Roundup" conference in Dallas on Sunday night. "I want to know why what happened in Myanmar can't happen here?" one attendee asked the panel.
"No reason. I mean, it should happen here. No reason, that's right," Flynn replied.
But the ex-national security adviser later told his followers on Telegram that he believed there was "no reason whatsoever" for a coup in the U.S., and claimed that he had not called for any action of that sort.
"Any reporting of any other belief by me is a boldface fabrication based on twisted reporting at a lively panel at a conference of Patriotic Americans who love this country, just as I do," he added in a message posted Monday afternoon.