As Lawmakers Resist FBI Spending in Coronavirus Bill, Trump's $377M White House Remodeling Money Draws Little Scrutiny
A measure in the GOP-backed coronavirus relief bill calling for a costly remodel of part of the White House has received little scrutiny from lawmakers amid strong resistance for a new FBI headquarters.
President Donald Trump's administration has requested $377 million in the next coronavirus aid package for a renovation of the White House's West Wing, which has not had a full modernization since 1933, according to the General Services Administration (GSA).
The Trump administration also hopes to use the money to build a new security screening facility for the Eisenhower Executive Office Building, according to the draft aid legislation introduced by Senate Republicans on Monday.
The administration says the White House work would "increase the White House campus's ability to detect, mitigate and alleviate external security and pandemic threats."
The large sum of money requested by White House officials entered the $1 trillion Health, Economic Assistance, Liability Protection and Schools (HEALS) Act without much controversy, particularly when compared to the Trump administration's other building request: $1.75 billion for a new FBI headquarters in downtown Washington, D.C.
The draft bill states that such construction would help "prevent, prepare for, and respond to coronavirus, domestically or internationally," but the measure's inclusion left top Senate Republicans scratching their heads.
"I'm not sure that it is. Is it?" Senate Majority Leader Mitch McConnell responded to a reporter's question Monday after a lengthy pause about the allocation of $1.75 billion tucked into legislation meant to combat the economic fallout from coronavirus, initially appearing unaware of the money.
But McConnell said Tuesday he was "opposed to non-germane amendments, whether it's funding for the FBI building" or other non-coronavirus measures included in previous proposals.
Senator Lindsey Graham (R-SC) told reporters Monday he was "not particularly" supportive of the building funds but ultimately gave a wavering response. "It doesn't have to be technically COVID-related. I just don't know why we're doing that," he said.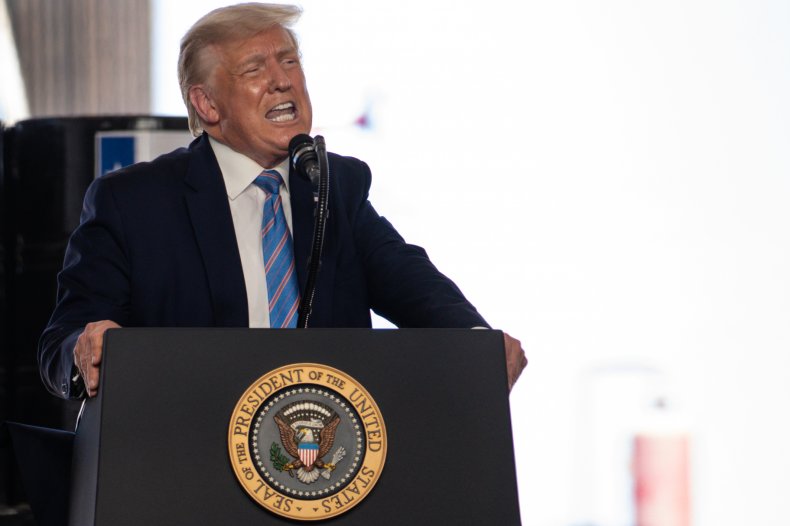 The proposed West Wing renovations are also being pitched by White House officials as coronavirus-related. Renovations have been planned and delayed by past administrations for years, partly because no president wants to give up the Oval Office long enough for lengthy remodels to be done.
GSA press secretary Pamela Pennington told the Associated Press that as a result of the delays, "the building's infrastructure has continued to deteriorate and the need for updating has only increased. Further, this project is even more necessary given the current challenges as a result of COVID-19 and the need for modern HVAC systems to ensure proper circulation within the workspace."
Newsweek contacted McConnell and the White House about the proposed renovations, but did not hear back in time for publication.
The total $2.1 billion it would cost to renovate the White House and build a new FBI headquarters comes amid fraught negotiations between Republicans and Democrats on how much the next coronavirus relief package should total.
Senator Ted Cruz (R-TX) previously said the $1 trillion proposed by Senate Republicans was met with "significant resistance" within his party. The Democratic-controlled House, by contrast, passed its Health and Economic Recovery Omnibus Emergency Solutions (HEROES) Act in late May, costing $3 trillion.
In his comments about the proposed FBI building, McConnell also dismissed several measures put forth by Democrats in the HEROES Act, including money for some undocumented immigrants, marijuana studies and tax cuts.
"When we get to the end of the process, I would hope that all of the non-COVID-related measures are out, no matter what bills they were in at the start," the Kentucky Republican said Tuesday.