In-Laws Dragged for Ignoring 4-Year-Old's Birthday Wishlist: 'Boundaries'
As the old saying goes, "You don't just marry the person, you marry the family"—for better or worse.
One Mumsnet user found this out the hard way after a birthday gift-buying debacle involving her in-laws.
Sharing her frustrations with Mumsnet's AIBU (Am I Being Unreasonable?) forum on July 25, user PanicBuyingMum explained that her husband's family ignored the birthday gift list she had given them for their four-year-old daughter, leaving her to find the promised items at the last minute.
"Since [daughter] was born we've had a relatively strict policy of only buying toys etc. for her birthday or Christmas," she wrote. "If she sees something in a shop/advert we say she can add it to her 'list' (not a physical list anywhere). This is the first time that she's really started to get into this and there are 3/4 things that have been on her 'list' for a long time and that she really wants. As her birthday has gotten closer she will often talk about how excited she is to get these things, they're only little bits and pieces but she's waited so patiently for them."
The woman explained that they are not close to her in-laws, which she said is "their choice," but added her husband would like to try and bridge the gap with his family. At a recent wedding, her husband's mother and siblings asked if her daughter would like anything specific for her birthday this year, and the woman saw a chance to bring her daughter and in-laws closer together.
"My thought - fantastic! I'll let PILs be the heroes of the hour with the much longed-for presents and we'll get her some things we know she'd like," she said.
"[I] went through 3 different things with them, showed them the stuff online (and the prices) then sent them the links.
"[In-laws] said that all looked great, they would sort that and reiterated that they wanted to get her something she'd really like."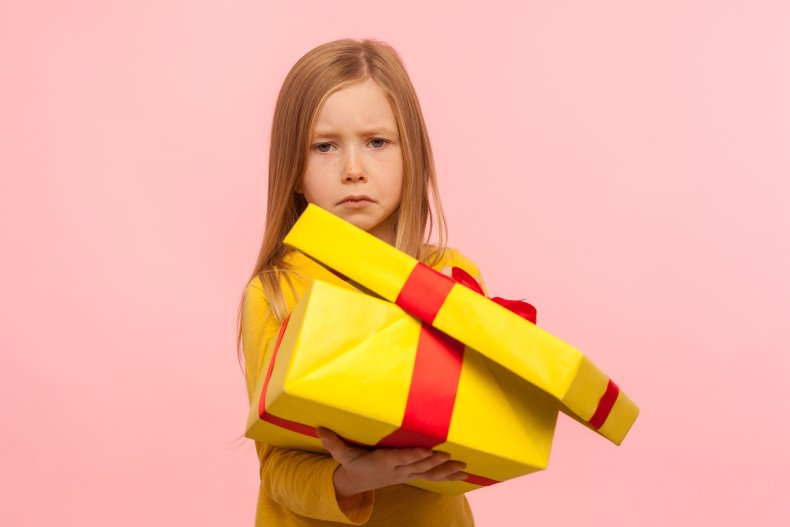 However, when her daughter's birthday rolled around, the mother-in-law called to announce that the family had "clubbed together" to buy the little girl one big present instead.
"I said (as casually as I could!) 'oh what about the things on her wishlist, and was told that they decided not to because they saw this instead and it's 'much better'," the poster continued. "It's not what we agreed and what she's looking forward to. Now I've had to panic buy the bits she wanted and I've got to make a dash to 2 click and collects this afternoon to grab it as Prime wouldn't get them here in time."
After hearing the news, her husband sided with his family, telling the poster: "she wouldn't even notice if she didn't get what she'd asked for" and "that she should be grateful for anything."
"I, on the other hand, am thinking that if we're going to take a hard line stance of not buying stuff 24/7 then we should deliver on our promises to get her what she wants," she said.
"Obviously as she gets older we'll need to add some boundaries, but we're still in the rollerskates and Barbies stage."
A 2012 study explored if a negative relationship with your in-laws increased the likelihood of divorce. 373 couples were asked to rate their relationship with their in-laws on a scale of one to four. Researchers then tracked the couples' relationships over a 26-year period, from 1986 to 2012.
They found that when a man reported a strong bond with his wife's parents, the risk of divorce dropped by 20 percent. However, when a woman reported a good relationship with her husband's parents, the risk increased by 20 percent.
Researchers believed this discrepancy is due to men not craving their in-laws' approval, with husbands in the study viewing themselves as a "provider" first and therefore less threatened by family dynamics.
On the other hand, women who had their in-laws on "their side" could use them to change unwanted behaviors in their spouse, but this united front can lead the husband to feel resentful.
A wife's relationship with her in-laws was also found to cause more stress—even in good in-law relationships—as the closeness can lead to boundary stomping, particularly regarding mothers-in-law.
A more recent study suggests that in-law relationships haven't changed much over the years. In a survey of 2,000 British people, 60 percent said their in-laws caused arguments in their marriage. A third of participants described their partner's parents as "interfering," with one in 10 divorcing due to their in-laws.
Mumsnet users advised the woman to buy the most important gifts herself, to prevent her daughter from being disappointed in the future.
"It's just how these things go," said Ohheythereitsme. "If you have promised her presents then best if your secure them yourself.
"Give relatives and friends a second list which are not as essential."
ToykoSushi agreed, writing: "It's annoying, but if you definitely want [daughter] to have things then you should get those and leave the more optional things to others."
While Transformatio commented: "I would be irked - that is thoughtless.
"Hopefully, this doesn't get worse for you tomorrow when they turn up with a big bulky item that your daughter isn't really very interested in but you feel obliged to keep..."
If you have a similar family dilemma, let us know via life@newsweek.com. We can ask experts for advice, and your story could be featured on Newsweek.