Lawyers Say Text Shows Marjorie Taylor Greene Lied Under Oath in 1/6 Probe
Lawyers for a group seeking to disqualify Marjorie Taylor Greene from re-election say a recently disclosed text message shows the Republican representative gave false testimony during a hearing over whether she supported last year's insurrection, but Greene's attorney called the allegation "preposterous."
A motion filed this week by lawyers for advocacy group Free Speech For People asks a Georgia administrative law judge to include a recently released text message that reportedly shows Greene discussing martial law to keep then-President Donald Trump in office. The group argues the text undermines Greene's credibility as she fights a legal challenge that could end her political career.
The motion centers on a January 17, 2021, text message reportedly sent by Greene to then-White House Chief of Staff Mark Meadows. The text is one of thousands that show Trump allies lobbying Meadows to keep the president in office after losing the 2020 election.
"In our private chat with only Members, several are saying the only way to
save our Republic is for Trump to call for Marshall [sic] law," Greene reportedly wrote in the text. "I don't know on those things. I just wanted you to tell him. They stole this election. We all know. They will destroy our country next. Please tell him to declassify as much as possible so we can go after Biden and anyone else!"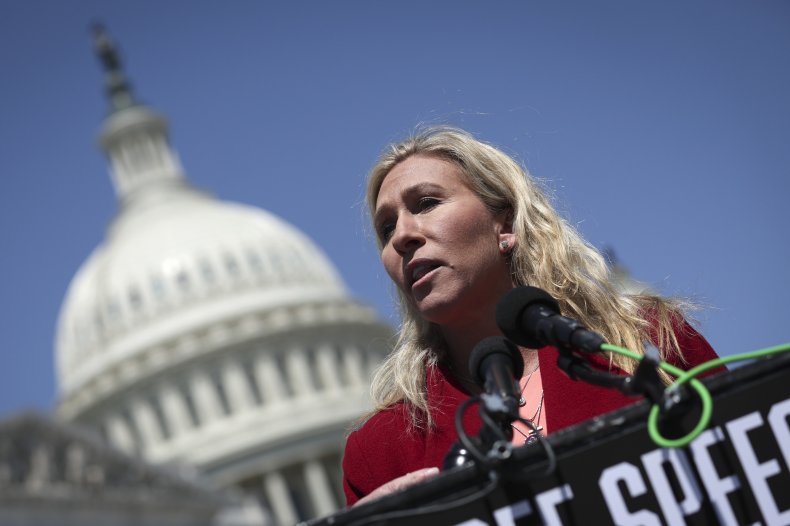 Lawyers from Free Speech For People argue in their filing that the text contradicts Greene's testimony last week that she did not remember discussing martial law with anyone.
"This text with President Trump's Chief of Staff makes her testimony even more incredible because it seems like the kind of message with the kind of recipient that a reasonable person testifying truthfully would remember," reads the filing.
The filing further argues the text shows Greene continued "fighting against the peaceful transfer of power by advocating extra-legal means" 11 days after the insurrection.
James Bopp, Greene's attorney, told Newsweek in an interview that the disclosed text reinforces rather than hurts Greene's credibility. He also said the arguments by lawyers from Free Speech For People are factually false.
"That's just a preposterous, vicious, disgusting lie," said Bopp of the filing. "Gosh, I've been practicing a long time and I've never seen this go on in any case"
Bopp pointed out that Greene said she didn't recall when asked during her testimony if she specifically ever pushed Trump to impose martial law. Instead, the texts were reportedly sent to Meadows, so it makes sense Greene wouldn't recall, he said.
Focusing on the wording of the text, Bopp said Greene was merely reporting to Meadows a conversation between members of Congress and not advocating anything. He stressed how Greene said in the reported text, "I don't know on those things. I just wanted you to tell him."
"She is distancing herself, disclaiming it, making a perfectly neutral statement here," Bopp said.
John Bonifaz, president of Free Speech For People, pushed back on Bopp's description. He told Newsweek in an interview that Greene was asked about if she discussed martial law with Meadows and members of Congress and the text contradicts her answer.
"It's not credible to talk about imposing martial law and not remember," he said.
Bonifaz pointed to how Greene repeatedly said she couldn't remember in response to questions about her previous statements and social media posts during last week's hearing.
"If the judge finds she's not a credible witness, that goes to the heart of the matter," said Bonifaz.
On Thursday, Greene said during an exchange with CNN's Jim Acosta that she doesn't know if the text message was actually written by her.
Bonifaz said there is no reason to believe the text message is fabricated. He said the House committee investigating the January 6 insurrection has the text and he expects it to come out in a hearing in June.
"I think she is going to be digging herself a bigger hole if she claims [it is] fabricated," said Bonifaz.
Lawyers from Free Speech For People earlier brought a legal challenge against the firebrand freshman Republican, arguing she played an active role in instigating the insurrection of January 6, 2021, when a mob of Trump supporters stormed the U.S. Capitol. The lawyers, representing Georgia voters, argue Greene should be kept off the ballot because a post-Civil War clause to the Constitution bars insurrectionists from office.
Following last week's administrative hearing, Judge Charles Beaudrot is expected to make a recommendation to Georgia Secretary of State Brad Raffensperger regarding whether Greene should remain on the 2022 ballot.
Newsweek has reached out to Free Speech For People for comment.