Marjorie Taylor Greene, Jim Acosta Clash Outside Capitol
Marjorie Taylor Greene posted a video capturing a confrontation with CNN's Jim Acosta who pressed the representative for insisting she couldn't recall sending texts advocating for martial law.
The Georgia Republican on Thursday posted the three-and-a-half minute video to Twitter showing her testy exchange with the CNN correspondent. The clash outside the U.S. Capitol comes as Greene continues to push back on scrutiny of her pervious communications and statements that critics say shows her role in instigating last year's insurrection.
Since being elected in 2020, Greene has drawn attention for making inflammatory statements and trafficking in conspiracy theories. During an administrative hearing last week, Greene was pressed on her previous remarks and social media posts by lawyers arguing she fomented the insurrection and should be barred from the ballot.
Throughout the hearing Greene said she couldn't recall making certain statements.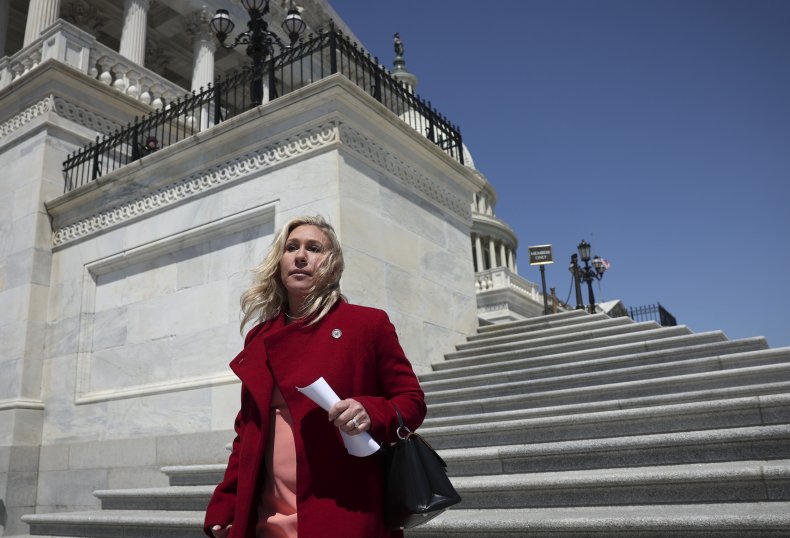 The video shows Acosta asking Greene about not being able to recall calling House Speaker Nancy Pelosi a "traitor."
"You don't seem to recall a lot," says Acosta. "What's going on there?"
Greene responds with a chuckle.
"You know, Jim," she says. "You have a show and in fairness you to try to present this image of me to your viewers and it's just really not correct."
Acosta, walking briskly alongside Greene, says "We're just trying to get some answers." He then asks Greene about a January 2021 text, recently revealed by CNN, where she suggests to then White House Chief of Staff Mark Meadows that President Donald Trump use martial law to stay in power.
"You know, I don't recall those being my text messages," responds Greene. "But have you read the text message that you're referring to?"
Acosta says he has, pointing out that Greene misspelled "martial." Greene accuses Acosta of lying and demands he read the message. Acosta pulls out his phone and begins reading from it.
Greene, according to CNN, wrote in the text: "In our private chat with only Members, several are saying the only way to save our Republic is for Trump to call for Marshall [sic] law. I don't know on [sic] those things. I just wanted you to tell him."
After Acosta reads part of the text, Greene again says she doesn't know if the message was actually written by her. She also parses the words in the text, saying it refers to "some members" and includes the phrase "I don't know."
"Why don't you tell that story?" says Greene angrily. "You're lying."
Acosta then tries to ask Greene about her remarks that "Satan" is controlling the Catholic Church. Greene calls Acosta a "professional liar."
Newsweek reached out to CNN and Acosta for comment.