LeBron James has criticised some of the media's coverage of nationwide protests following George Floyd's death, suggesting the tone was overly negative in some instances.
Protests have been running across the U.S. for a week after Floyd died in Minneapolis on May 25 while in the custody of the Minneapolis Police Department.
Several videos showed a white policeman kneeling on Floyd's neck for almost 10 minutes while arresting him. One of the videos showed Floyd pleading with the officers to let him breathe before he seemingly lost consciousness.
The officer who knelt on Floyd has since been fired and charged with murder, but that hasn't placated the ire of protesters who have marched through cities across the U.S. demanding a stop to police brutality.
Demonstrations have spilled over into riots, with over a dozen cities imposing curfews and six states calling the national guard into action.
Over 4,000 protesters have been arrested since demonstrations began last week, but that did not deter thousands of people from taking to the streets over the weekend.
Footage of police cars set ablaze and stores being looted have dominated the airwaves over the last six days, but James suggested parts of the media were deliberately misrepresenting protests across the country as mostly violent.
"Media showing this???? I bet you they're not. You know why, cause this is unity, peaceful, beautiful and love," he tweeted along a video of thousands of protesters at Colorado's State Capitol in Denver laying down while chanting "I can't breathe" and demanding justice for Floyd.
The Los Angeles Lakers star then retweeted a clip of thousands of protesters chanting "Stop killing black people" while peacefully kneeling in Washington, D.C.
"Is the media showing this??? I bet you they aren't. This is beautiful," James wrote.
A vocal supporter of social justice, James was among the first athletes to speak out against Floyd's death last week when he posted a split picture on Instagram juxtaposing the officer kneeling on Floyd side-by-side with Colin Kaepernick kneeling before an NFL game.
"Do you understand NOW!!??!!?? Or is it still blurred to you??," the three-time NBA champion wrote as a caption.
On Sunday, James made his voice heard again along with his teammates.
The four-time MVP, Anthony Davis and a host of other Lakers players including Danny Green, Dwight Howard, JaVale McGee, Alex Caruso, Quinn Cook, Jared Dudley and Talen Horton-Tucker, shared a message on Instagram reading: "If you ain't wit[h] us, we ain't wit[h] y'all".
In a lengthy post on Instagram, Lakers guard Kyle Kuzma shared his concerns about the "disturbing" climate in the U.S.
"This is all disturbing that it's gotten to this," he wrote. "We all say as public figures we need to use our platforms to help inspire & give positive messages, but I have to ask the question to myself [...] Is it enough?
"During a global pandemic we as a country that should have been coming together as one, but we are divided once again because of the dislike and hate of one's hue."
Also on Sunday, Michael Jordan made a rare foray into the political arena as he called out police brutality against African Americans.
"I am deeply saddened, truly pained and plain angry," the six-time NBA champion said in a strongly-worded statement.
"I stand with those who are calling out the ingrained racism and violence toward people of color in our country. We have had enough."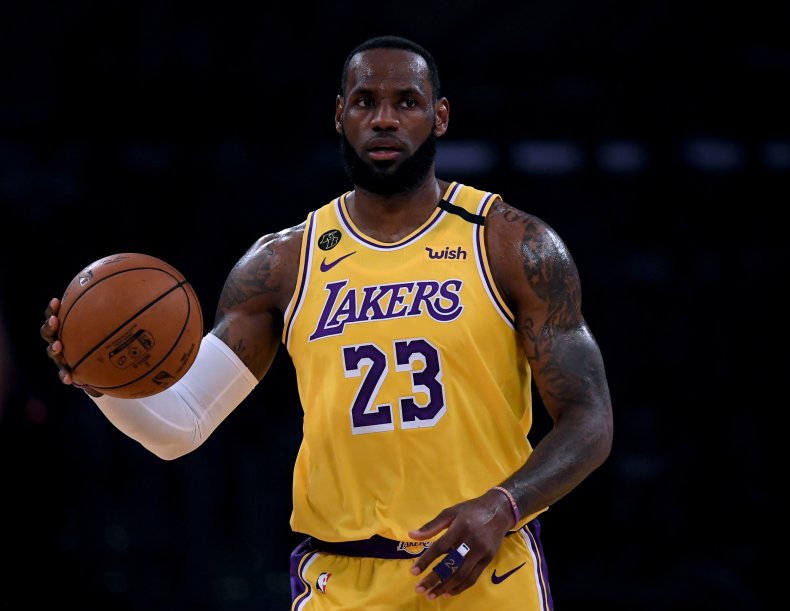 About the writer
Dan Cancian is currently a reporter for Newsweek based in London, England. Prior to joining Newsweek in January 2018, he was a news and business reporter at International Business Times UK. Dan has also written for The Guardian and The Observer.