'Legendary' Rare White Diamond 'The Rock' Is Largest Ever to Be Auctioned
The largest-ever white diamond is being sold at auction, but you'll need to open your wallet.
Christie's, the art and luxury business renowned for its auctions, announced that an "exceptionally rare" South African gemstone mined and polished over 20 years ago will be available for auction on May 11.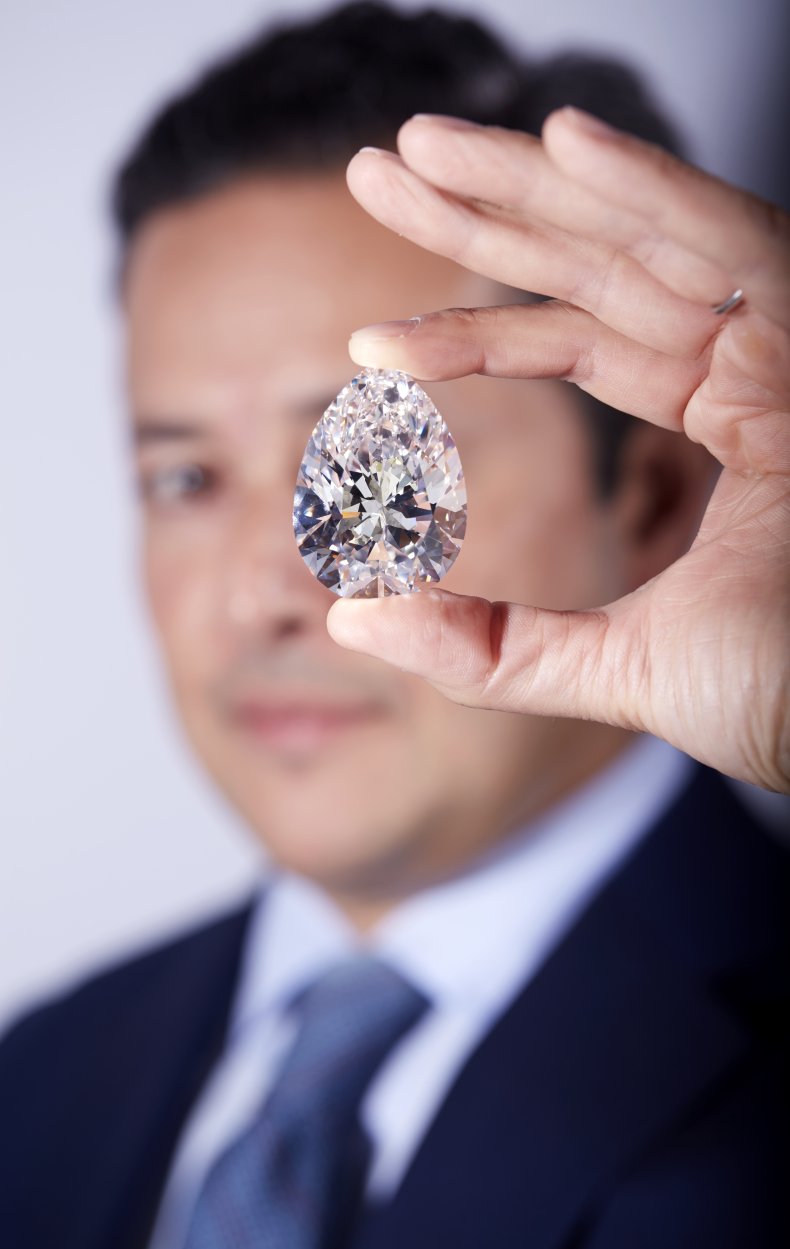 The 228.31-carat pear-shaped diamond is being called "The Rock" and will lead the Geneva Magnificent Jewels sale, part of Christie's Luxury Week. It is expected to be sold for between $20-$30 million.
Christie's hosted an auction in November 2017 where the previous largest-ever white diamond, at 163.41 carats, was sold for a record $33.7 million USD.
"'The Rock' will join the very best of legendary gemstones which have passed through Christie's global salerooms since 1766," Rahul Kadakia, Christie's International Head of Jewelry, said in a statement. "The market for diamonds is particularly vibrant and we are confident that this sensational gemstone will capture the attention of collectors across the globe this spring season."
Kadakia told Newsweek that the bid estimate "is simply a guide and we have seen in more than one instance jewels and works of art surpassing their top estimate by many multiples."
"The Rock" stone was just launched in Dubai, he added, saying that as the auction date nears Christie's should have a better understanding of global interest in the diamond.
"As far as the size, a really good comparison would be a chicken egg—which is exactly the size of the diamond," Kadakia said.
The nonprofit California-based Gemological Institute of America graded the diamond as G color, VS1 clarity, calling it the largest existing D-Z color pear-shaped diamond ever graded by the laboratory.
According to HIS, its grading reports include an assessment of the "4 C's"—color, clarity, cut and carat weight—in addition to a plotted diagram of its clarity characteristics and a graphic representation of the diamond's proportions.
In addition to the rectangular-shaped diamond De Grisogono sold at Christie's in 2017, other high-auction white diamonds that have sold in the past decade include a 101.73 carat pear-shaped Winston Legacy diamond in 2013 for $26.7 million; a cushion-shaped 76.02-carat Archduke Joseph Diamond in 2012 for $21.4 million; a 92.15 carat heart-shaped La Legende a Diamond and Cultured Pearl Sautoir Necklace by Boehmer Et Bassenge in 2017 for $14.9 million; and a 75.97-carat pear-shaped A Magnificent Diamond in 2014 for $14.4 million.
Diamond auctions have skyrocketed in the past decade, Town & Country reported. The 59.6 carat Pink Star diamond sold for $71.2 million at a Sotheby's auction in Hong Kong in 2017—the world's most expensive diamond or jewel ever sold at auction. Others, like the Oppenheimer Blue, was sold by Christie's for $57.5 million in 2016.
"The Rock" is currently located at Christie's Dubai until March 29. It will then tour Taipei before appearing in New York's Rockefeller Plaza between April 29 and May 1. It will eventually be on display during Christie's Luxury Week at the Four Seasons Hotel des Bergues Geneva between May 6 and 11, when it will be auctioned.