How to Sign up for the 'Legends of the Hidden Temple' Reboot
Legends of the Hidden Temple is the latest big 1990s show to be rebooted—and applications are open now for contestants. The action-adventure game show originally aired on Nickelodeon from 1993 to 1995, and set children a series of physical and mental challenges to retrieve artefacts in a Mayan-themed world.
Originally set for the ill-fated streaming service Quibi, the reboot will now be on the CW—but there's a twist. This time, the contestants will be adults. Here's how to sign up to face the Steps of Knowledge, Moat crossings and of course Olmec, the talking Mayan head voiced by Dee Bradley Baker, from Star Wars: The Bad Batch.
How to sign up for the 'Legends of the Hidden Temple' reboot
Applications are open right now for '90s kids (or older) who want to appear on the reboot.
As with the first version of the show, contestants must apply in teams of two. This time, however, they have to be 21 or older. They must also be available to film in Los Angeles in July.
The production company has set up a website where potential contestants can apply to be Purple Parrots, Blue Barracudas, Orange Iguanas, Red Jaguars, Silver Snakes or Green Monkeys. You can visit this page at legendscasting.com.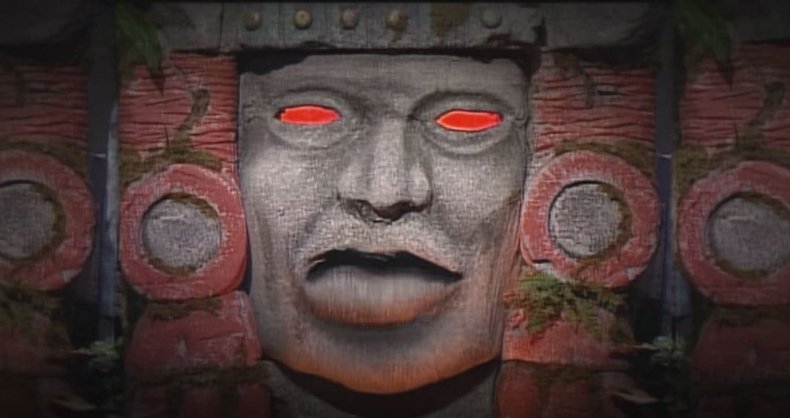 "We're calling for brave seekers and fearless competitors who are at least 21 years of age to cross the Moat, ascend the Steps of Knowledge, race through Olmec's temple—avoiding the dreaded Temple Guard—and put their knowledge & fortitude to the test in THE adventure of a lifetime," the website reads.
Applicants are asked to fill in an online form and upload a photo. Potential contestants have to explain how they know each other, and list the craziest things they have done together as well as their strengths and weaknesses. They are also asked about their memories of the Nick show and why they should be on the reboot.
Some of the questions offer a hint about what viewers can expect from the new version of Legends of the Hidden Temple. Applicants are asked whether they can swim up to 200 feet, whether they have claustrophobia, get dizzy easily or are afraid of heights.
The reboot's release date has yet to be announced, but if it is filming in July it seems likely that the CW is preparing the game show for fall 2021.
The original version of Legends of the Hidden Temple is streaming now on Paramount+.