Lena Wilson Deletes Social Media After Releasing Amandla Stenberg DMs
The film critic who leaked a series of DMs from actress Amandla Stenberg has deleted her Twitter and TikTok accounts.
Lena Wilson, a freelance writer with The New York Times, had been attacked over her response to Stenberg's DMs.
The actress sent a private message to Wilson after she wrote a negative review of the slasher movie Bodies Bodies Bodies.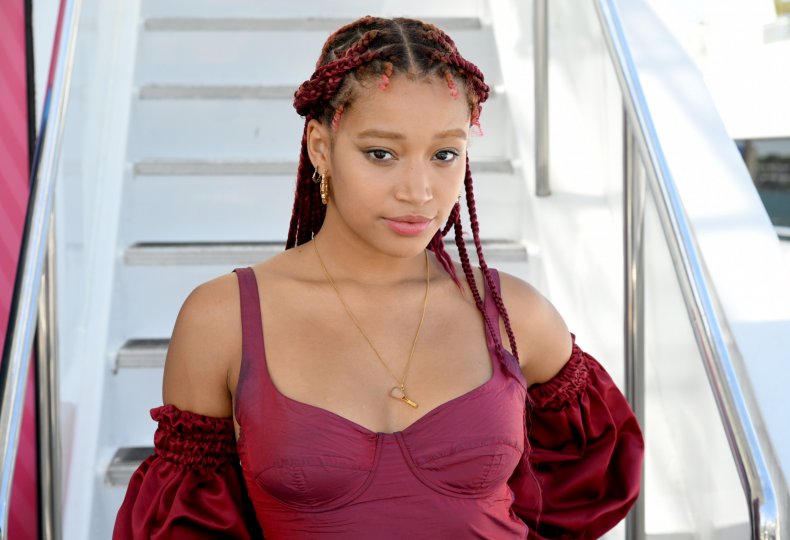 Wilson panned the horror release, which stars 23-year-old Stenberg alongside Maria Bakalova, Rachel Sennott, Lee Pace and Pete Davidson.
The film follows the story of a group of rich Gen Z-ers partying at a remote mansion.
Wilson described the film in her August 4 review as "bloated with pompous irony" and that it was "perfectly tailored to one of [production company] A24's key demographics: bougie 25-year-olds who value branding over substance."
The one line in the review that Stenberg was especially unhappy with was Wilson's comments on cleavage.
"The only thing that really sets Bodies Bodies Bodies apart is its place in the A24 hype machine, where it doubles as a 95-minute advertisement for cleavage and Charli XCX's latest single," Wilson wrote.
Stenberg's DM to Wilson read: "Maybe if you had gotten ur eyes off my t**s you could've watched the movie!"
Wilson shared that Instagram DM to her Twitter weeks later, but then followed it up with a TikTok response calling out the actress, accusing Stenberg—who identifies as gay—of homophobia.
In the video, Wilson started: "Hey, Amandla! Generally a big fan of your work, but this sure is something. Wishing you well in your career and life.
"I'm posting it because I don't want this person who has more social power than me to think that it's f****ng okay to do something like this".
The caption of the TikTok also read: "Unfathomably weird to get 'i don't want you in the locker room while i'm changing' bullying from a whole other lesbian."
Wilson added in another tweet: "always weird when the homophobia is coming from inside the house but this is something."
Stenberg spoke out against Wilson's response and the internet had her back, quickly slamming the critic online.
"There's a film critic and her name is Lena Wilson. She described [Bodies Bodies Bodies] as a 95-minute advertisement for cleavage, which I thought was hilarious. I'm proud that a piece of work I was a part of was described as such in such a renowned publication," Stenberg said in an Instagram video.
"I thought it was hilarious. I thought because Lena is gay, and I am also gay... as gay people, we would both find this comment funny. I was also curious to know what Lena would say to such a statement. Lena decided to publish it and also says that I am homophobic for saying that."
Stenberg continued: "It's quite surprising the amount of commentary I receive on my boobs. I wore this tank top in this movie because me and the costume designer felt it fit the character well. I do get tired of people talking about my chest. There seems to be a lot of unwarranted conversation about my chest.
"Lena, I thought your review was hilarious. I thought my DM was funny. I did not mean to harass you. I do not wish you any harm. You are allowed to have your criticism on my work and I'm allowed to have my criticisms of your work. I wish you the best."
Film fans shared their thoughts on social media and accused the writer of making herself the victim throughout the incident.
"Lena Wilson got a DM angry with her misogynoir, published it herself without context and then acted like the victim saying Amanda is homophobic and has more social power. That's literally been white womens MO for centuries," one person wrote on Twitter.
Another added: "So this white woman Lena Wilson sexualized Amandla and when called out accused her, a young black, queen woman, of being... homophobic? When i say white women are dangerous and self victimizers, please believe me."
And a third wrote: "the spiraling of lena wilson's public image, which was previously nonexistent and rather unremarkable, has, rather inadvertently, become some of the best promotion for bodies bodies bodies ever cause that s**t is trending now. didn't see that happening before."
Following the backlash, Wilson's Twitter and TikTok accounts were deleted this week.
Newsweek has reached out to Wilson for comment.