With Less Than 3 Weeks Until the Election, These Nine GOP Senators Are in Danger of Losing Their Seats
Just 20 days ahead of the general election, nine Republican senators are at risk of losing their seats to Democrats. Republicans currently hold a majority in the Senate, filling a total of 53 seats to Democrats' 45. Independent senators, who caucus with Democrats, occupy the two seats remaining.
There are 35 Senate seats up for grabs in November, and Republican leaders account for most of them. With 23 GOP senators approaching the end of their respective terms in Congress, Democrats have an opportunity to gain the majority if candidates belonging to the party are elected to three or four seats now occupied by Republicans, assuming they successfully defend their 12 Senate seats also up for election next month.
According to Cook Political Report, a nonpartisan newsletter that tracks election forecasts, the Republican senators who could lose their seats to Democrats after Election Day are: Arizona's Martha McSally, Colorado's Cory Gardner, Georgia's Kelly Loeffler and David Perdue, Iowa's Joni Ernst, Maine's Susan Collins, Montana's Steve Daines, North Carolina's Thom Tillis and South Carolina's Lindsey Graham.
If President Donald Trump is reelected, Democrats would need to flip four Republican seats in order to win a majority in the Senate. If presidential nominee Joe Biden takes office, they would only need to flip three, since Kamala Harris' addition to the Senate roster as vice president would contribute to its Democratic tally. Harris, the Democratic vice presidential nominee running on Biden's ticket, is one of two senators representing California. California Governor Gavin Newsom, also a Democrat, will appoint Harris' Senate successor if Biden is elected.
Of those nine Republicans at risk of losing their seats, Cook Political Report suggests McSally and Gardner's are most likely to shift Democratic, while the other seven are considered toss-ups. Graham's name was added to Cook Political Report's "toss-up" category, meaning the election's outcome could swing either way, over the past month, as the security of his Senate seat came into question. The South Carolina Republican was first elected to the Senate in 2003.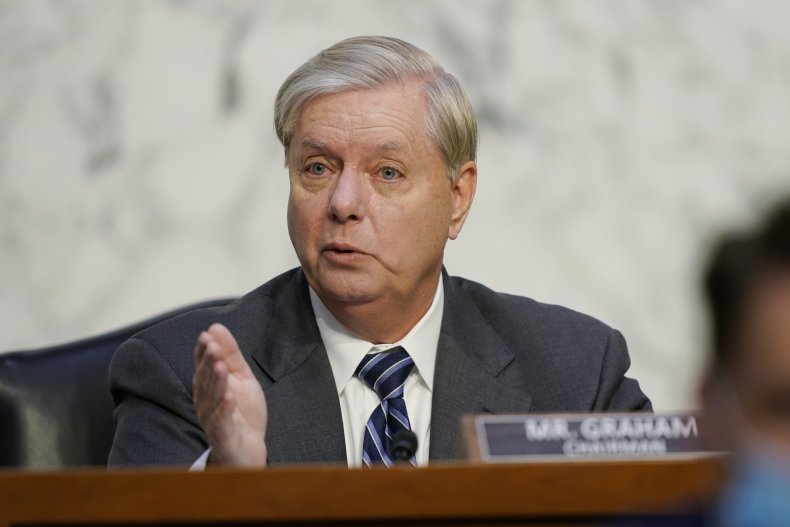 Graham's Democratic challenger, Jaime Harrison, recently broke campaign fundraising records after his campaign received $57 million in third-quarter donations. Polls conducted last week placed Graham and Harrison in a deadlock, while more recent surveys, including one conducted by Morning Consult over the weekend, showed Graham leading by 6 percentage points.
Newsweek reached out to the nine Republican senators mentioned for comments but did not receive replies in time for publication.