Letitia James Remaining Attorney General in New York Spells Trouble for Donald Trump
New York Attorney General Letitia James announced Thursday that she was suspending her campaign for governor, noting that she had "a number of important investigations and cases" underway that she intends to finish.
The announcement came on the same day news broke that James plans to seek a deposition from Trump as a part of the state's civil investigation into potential fraud within the Trump Organization.
The request comes as the state investigates whether the company committed financial fraud in property valuations, The Washington Post reported.
James has served as New York's attorney general since 2019 and is up for reelection in 2022. But her decision to seek another term as the state's top law enforcement official could have implications for Trump. Since taking office, James has remained focused on the former president and has been a frequent critic. When she initially announced her run for governor in October, she noted that she had sued the Trump administration 76 times.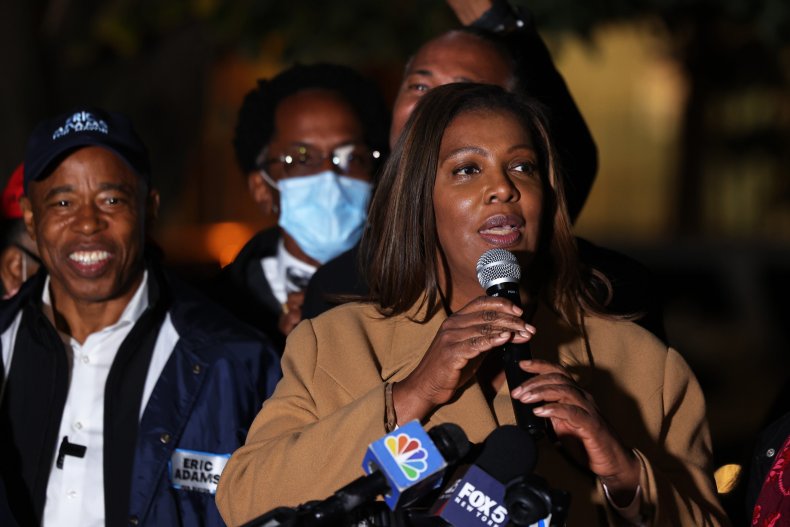 Her office has not only been involved with a civil investigation of the Trump Organization but has also worked alongside the Manhattan district attorney's office in a criminal investigation of the business. That investigation led to an indictment of the company's chief financial officer, Allen Weisselberg, over the summer.
Asked if the New York Attorney General's Office was involved in any other active investigations of Trump or his business—other than the criminal and civil investigations into the Trump Organization—a spokesperson for the office told Newsweek: "Those are the only two that we have submitted papers on."
Responding to the planned deposition request from James, the Trump Organization called the development "another political witch-hunt."
"New York is being overrun by violence, children are being shot in Times Square, arsonists are setting Christmas decorations ablaze and homelessness is through the roof, yet the only focus of the New York AG is to investigate Trump, all for her own political ambitions as she attempts to run for Governor. This political persecution is illegal, unethical and is a travesty to our great state and legal system," a spokesperson for the business said on Thursday.
Newsweek reached out to Trump's press office for comment.
James dropped out of the New York governor's race Thursday as many other high-profile Democrats in the state eye the office in 2022, including incumbent Governor Kathy Hochul, who is seeking reelection.
In 2018, James won her race for attorney general with about 62 percent of the vote.