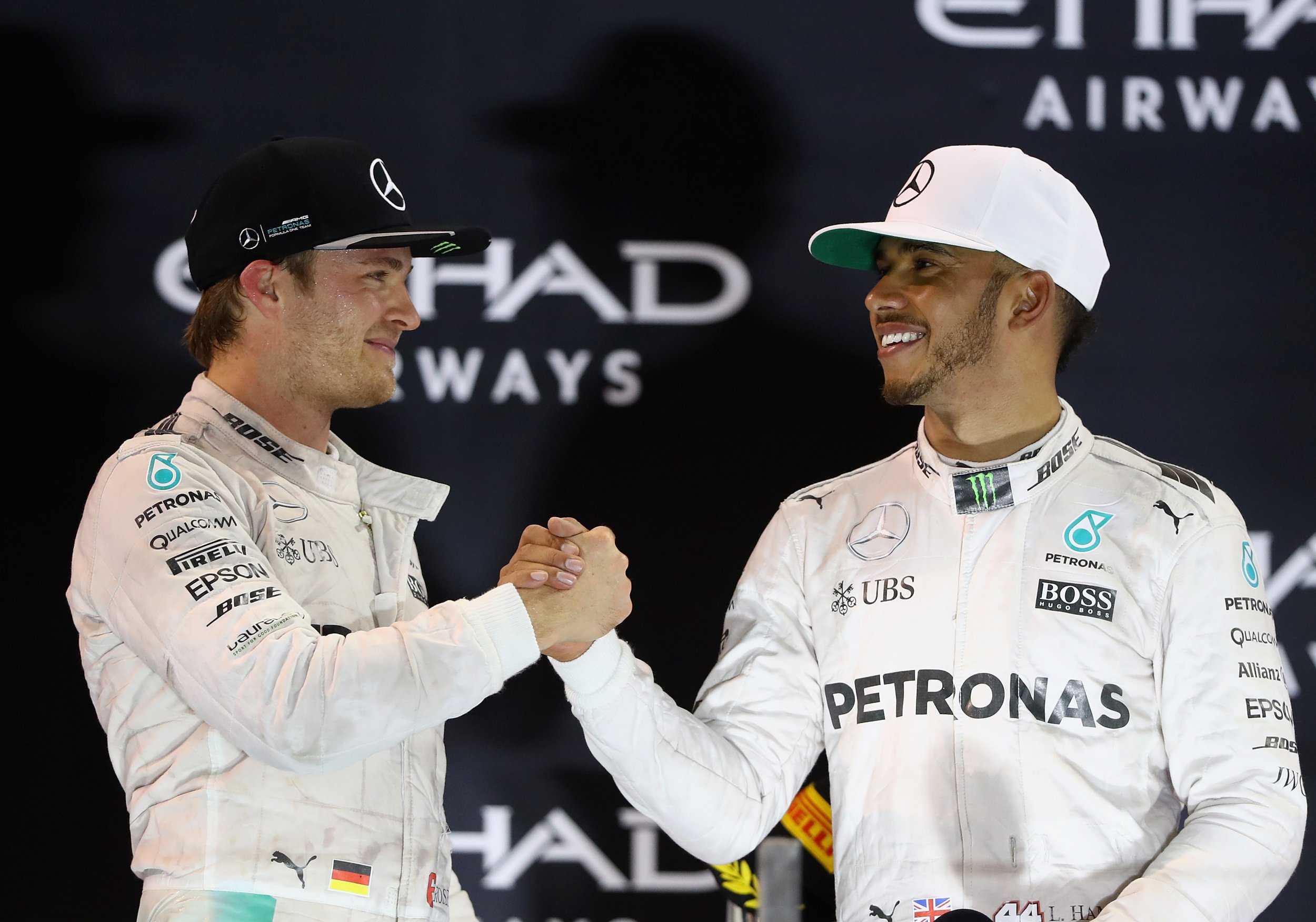 With the 2017 Formula One season set to begin next month, the sport can rarely have experienced such a dramatic off season.
Last year's champion Nico Rosberg, a former team-mate of Lewis Hamilton at Mercedes, announced his retirement in December at the age of 31. Finnish driver Valtteri Bottas was signed by Mercedes from Williams as Rosberg's replacement.
Then, in January, Formula One saw its biggest shift in years. New owner Liberty Media removed Bernie Ecclestone as chief executive officer, a role he had held for almost 40 years, and brought in American Chase Carey. Ecclestone has been appointed as chairman emeritus, while Ross Brawn, a former Mercedes team principal, has been brought in as managing director for the sport.
Newsweek met Lewis Hamilton's father, Anthony, at an F1 event in aid of children's charity Starlight to discuss the season ahead.
Good evening Anthony, and thanks for joining us. Can you tell us how Lewis has been spending the off season?
The off season is always a good thing for Lewis, because it allows him to go and play with his toys out in the U.S. and wherever else he has got his toys. But while he does all of that it's all very serious, because he still keeps his diet, still keeps his training up and so you know, while it's an off season it's not really off season.
How did Lewis feel about how the season ended, with Nico Rosberg's sudden retirement?
Nothing surprises Lewis. Rightfully so, he believes he's unbeatable and he is, on a good day he is unbeatable and so he's not surprised that people find it tough to stay the course. But you know, my own personal view is that anyone who goes up against Lewis really needs to have their career mapped out for them. Because it's a career killer. Lewis kills drivers. Actually that's not a statement.
Metaphorically, you mean?
He gets under your skin, because he is fast like hell. And you can't figure out how he's developed the car, how he has got the speed, how he can take that corner, how he can take that lane and it screws with your head.
Is that natural ability what frustrates drivers about Lewis?
That's the thing. You can't calculate it, you can't figure it out. He just has that feeling. And when the chips are down, that's when the best comes out of Lewis. So you can test on the Friday, test on the Saturday, qualify and if the car's not working, he just comes back and drives the pants off it on Sunday and forgets all about the Friday test and the Saturday test. Now how do you figure that out?
Is it a natural thing for Lewis to get under the skin of other drivers?
It's a natural thing. It's like, he gets up in the morning and says, "Today I'm going to have a good day." Whatever happens, you're going to make sure you have a good day, aren't you? So it just depends how strong you are. Not just how strong you are but how much experience you have had of mustering all of your strength to do something you believe is beyond your capability.
Rosberg is in an ambassadorial role now at Mercedes. Does that affect Lewis?
Lewis would much rather have Nico as his teammate because they have known each other since they were 13 and it spurs Lewis on. It's a good rivalry. But Lewis only has one desire and ambition right now, which is to claim back the title if he can, if the car is good and everything works in his favor. He's not thinking about Nico or [Valtteri] Bottas. He's not thinking about anybody, just about himself and winning the championship again for the team.
What is the relationship between Lewis and Bottas?
They know each other reasonably well. I think Lewis has got huge respect for him and for everybody. I can only speak for myself and how I trained Lewis. When I trained Lewis I trained him to be a gentleman off the track and a mercenary on the track. So it doesn't matter how friendly you are with people. Nico was a great friend, but on the track Lewis was a mercenary and that's how he is. And that's how you get the best out of him.
Who do you see as his main competition?
The top guys you saw last year I think are going to be the main rivals this year. It's going to be interesting about Valtteri, he's not really been mixing it with those other guys at the top so it will be interesting to see how he gets on. If he's all of a sudden in the mix then that will be really interesting. Otherwise, I think young Max [Verstappen] is going to—if they [Red Bull] have got a good car, I think Max is going to be interesting. [Daniel] Ricciardo is going to be interesting. I'd like to think Fernando [Alonso] is going to be interesting, [Sebastian] Vettel is going to be interesting. It's an exciting season. And if Nico Hulkenberg can get that Renault working, that's going to be great too. I look forward to that.
Tonight feels like an in-between night, from one era of Formula One to the next. Have you talked to Lewis about Liberty Media taking control of the sport?
I haven't spoken to him about that. I'm sure he is discussing it with his team but I haven't spoken to him about it.
What about Bernie Ecclestone's move to chairman emeritus?
I don't talk business with Lewis so much any more. We talk family matters. "How are you doing," blah blah… "Where are you?" "I'm out here." So we don't talk motorsport as much as we used to because I don't want to talk motorsport. But obviously I'm still in the sport so I've got my views and opinions which are not always the same as Lewis's.
What do you think about Ecclestone stepping down?
I think it's a shame. I think it's a big, big shame. I'm going to miss him. If it is real, because I still can't believe it, then I think it's a big shame for the sport.
Why is that?
He is Formula One, isn't he. What are you going to do? Are you going to unravel the rule book? Just what are you going to do? Because I am not clear.
How much have you read about Liberty Media's plans to possibly promote Formula One in the U.S.?
I think they should take a while, think about it. It's too early to say, "We're going to take it here, we're going to do this." It's like, run with it for a year or two. See how it goes, see what the fans want. Learn how to bring new people into the sport. It shouldn't all be about who pays the most and we'll go there, it should be about how many people will come to the race if we go there, maybe. Just have a different approach. But the most important thing is you have got to get costs down so the fans come to the races.
So ticket prices are the key?
Bums on seats. You get bums on seats, you get more people with bums on seats at home, don't you? And I think the other important thing is we need great drivers. Not just drivers with lots of budget behind them, mummy and daddy have got lots of money… If we go [down] that route, Formula One will disintegrate in the next five years.
Does that mean having personalities off the track as well, like Lewis?
When you think about it, times have changed. Lewis is a bit of a maverick, he's not a race driver, he's a superstar. Flavio Briatore said that when Flavio was interviewed recently. He said Lewis is the best thing that has ever happened to motorsport because he's crossed all the boundaries. He doesn't just come along and be a race driver, he's a bit of a movie star, a music star. He's brought all of these people into the sport. What other driver has done that? What other driver is doing that? None of them. They are all just [robot voice]: "I-am-a-racing-driver-robot. I-am-here-to-race." And thank you very much.
Come on guys, this is a business where actually we need some personalities. It's entertainment. In Sir Stirling Moss's days, those guys were personalities. Even the rock stars were in motorsport back then. Paul Newman, film stars, they were all there. Now, how many stars are actually motivated by drivers? The drivers are probably motivated by the movie stars. So they will probably go and watch their movie. But how many movie stars will come and watch a particular driver?
Uncommon Knowledge
Newsweek is committed to challenging conventional wisdom and finding connections in the search for common ground.
Newsweek is committed to challenging conventional wisdom and finding connections in the search for common ground.
About the writer
Sportswriter at Newsweek.