LGBTQ Group Projects Huge Message to Trump and Putin on Helsinki's Presidential Palace
An LGBTQ group has projected huge protest messages onto the side of the Presidential Palace in Helsinki, Finland, ahead of the summit between Russian president Vladimir Putin and President Donald Trump.
The Human Rights Campaign (HRC) demanded that both leaders put an end to the "crimes against humanity" following last year's reports that gay men are being rounded up, tortured and murdered in the Russian republic of Chechnya.
Several slogans including "Bring the Perpetrators to Justice", "The Whole World is Watching" and "Silence is Deadly" were displayed for hours on the walls of the palace, on the eve of Putin and Trump's meeting there in its Gothic Hall.
HRC accused Trump of ignoring the "systematic torture, abuse, and murder of LGBTQ people" in Chechnya since the allegations that more than 100 men were being detained in the so-called "gay purge" emerged last April. The group also accused Putin of having "licensed the violence to continue."
"Trump has unconscionably turned a blind eye to some of the worst anti-LGBTQ atrocities in a generation, including monstrous attacks on gay and bisexual men in Chechnya," Ty Cobb, Director of HRC Global, told a rally in the Finnish capital ahead of the summit.
"HRC is here in Helsinki to demand Donald Trump end his deafening silence, publicly condemn these Chechen crimes against humanity, and call on Putin to investigate and bring the perpetrators to justice."
The group have said that they issued a Freedom of Information Act (FOIA) request to the U.S. Department of State in October 2017 for documentation backing up the department's statement that the U.S. will "continue to raise our concerns about this situation with Russian authorities" with regards to the allegations in Chechnya. The department also stated that the then Secretary of State Rex Tillerson had written a letter to Russian Foreign Minister Sergei Lavrov about it, although it was never made public.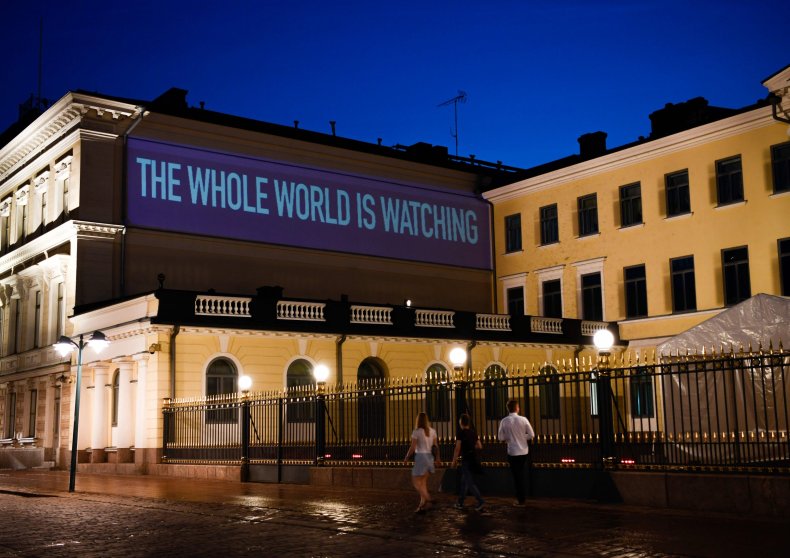 HRC said the State Department has yet to fully comply with the request.
"We are grateful to all people and organizations who support our work in Chechnya. International attention is essential to putting pressure on Russian authorities to take action," said Igor Kochetkov, chair of the Russian LGBT Network.
"Russian authorities deny even the mere existence of LGBT people in Chechnya, but with continued international pressure, we aim to stop the persecution, torture and killing of LGBT people in Chechnya, and ensure that those responsible for these crimes against humanity are brought to justice."
Russia has long been criticized for its anti-LGBTQ stance, and in 2013 passed laws banning the dissemination of "propaganda of non-traditional sexual orientation" among children.
The U.S. State Department did not return a request for comment.