General Butt Naked and Other Former Warlords Roam Free in Liberia. Will a New President Prosecute Them?
Updated | Joshua Milton Blahyi remembers the day he met Jesus. It was July 1996, and he was naked. The notorious Liberian warlord, then known as General Butt Naked, was about to lead a band of 18 child fighters—the oldest of whom was 15—into battle against the rebel forces of former President Charles Taylor.
As was his custom before going to war, Blahyi, now 46, had slaughtered a child in a ritualistic sacrifice supposed to bring protection and fortune in battle. (He is reluctant to give specific details but admits that his victims were usually young girls aged between three and 12 years old, and that he and his fighters would usually consume parts of the victim's body.) He had sent his boys down to the river to fetch water for him to wash the blood from his hands.
That's when Blahyi says he had an apparition. "I had a vision where Jesus met me and told me to repent and live or refuse and die—with the bloodstains of the child still in my hands," Blahyi tells Newsweek.
When his child soldiers returned, they turned their backs to Blahyi and knelt down. The general was a priest among his tribe, the Krahn, and so the boys were used to seeing him apparently conversing with spirits and reciting incantations. Upon doing so, they would turn away and kneel as a mark of respect. Blahyi says he did not explain what happened to them—"We don't have conversations, they only take orders"—but says that the boys must have sensed that he was afraid "for the first time."
When the vision ended, the general told his boys they would not be going into battle that day: "I retreated from the front. That day, I did not fight, I could not fight that day." It would be Blahyi's last day on the battlefield.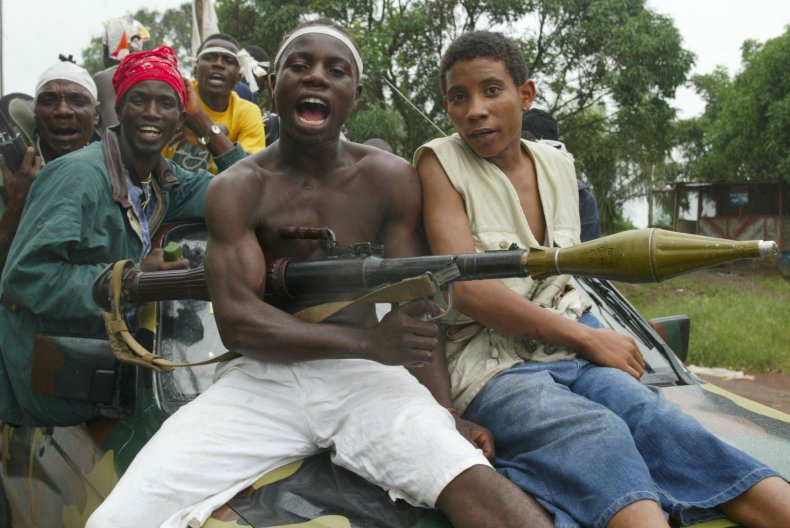 In the two decades since, Blahyi has transformed himself from warlord to preacher.
In 2008, he appeared before Liberia's Truth and Reconciliation Commission (TRC), which was set up to investigate atrocities during the civil wars that left a quarter of a million people dead. Blahyi described in detail how he would divide the hearts of sacrificed children among his fighters to eat and claimed that his forces had killed 20,000 people.
For his cooperation, the TRC recommended that Blahyi be granted amnesty from prosecution. Today, he runs an initiative rehabilitating former child soldiers in Monrovia, the nation's capital, and also preaches at local churches for up to $150 per appearance.
Blahyi acknowledges that many of his victims and their families have not forgiven him—but says he has found peace. "The people of Liberia, their forgiveness is relative—some of them have forgiven me, some of them have still not forgiven me, but I know God has forgiven me because God said it," says Blahyi.
"He said anyone is willing to forgive, to confess their sins, God will forgive them. So I am very sure the Lord has forgiven me. I know that."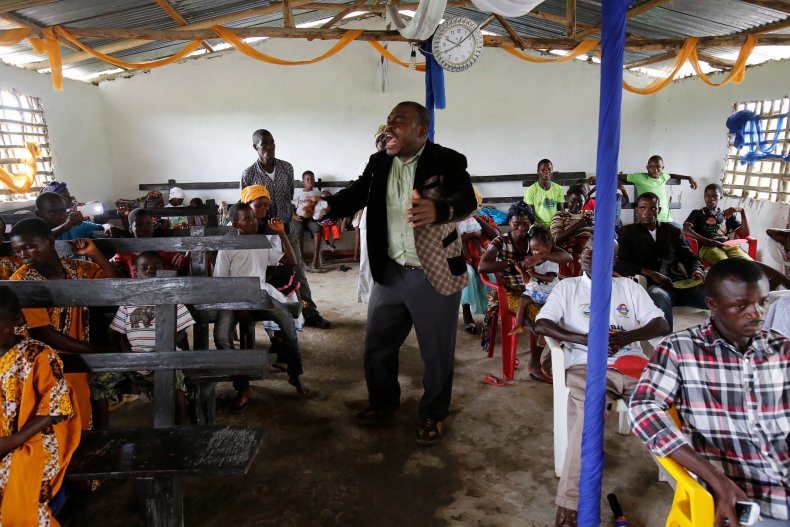 The story of the former General Butt Naked serves as a microcosm of Liberia since 2003, when its bloody conflict ended, because both forgiveness and reconciliation remain elusive concepts. President Ellen Johnson Sirleaf —about to step down after 12 years in power—has overseen a period of relative stability, for which she was awarded a Nobel Peace Prize in 2011.
But former warlords like Blahyi still roam free, and Sirleaf herself has admitted that not enough progress has been made on healing the wounds of 14 years of conflict.
Now, Liberia is on the brink of its first democratic transition in over 70 years. After an inconclusive first round of elections in October, the two remaining presidential candidates—the current vice-president, Joseph Boakai, and George Weah, a famous ex-footballer—were due to compete in a runoff vote on November 7. (The runoff has been delayed indefinitely, however, following a Supreme Court decision to investigate alleged irregularities in the first round of voting.)
Should Boakai and Weah eventually stand in a runoff vote, the prospects for those whose lives have been destroyed by the war (and warlords) do not seem strong. With neither candidate offering specifics on how they plan to heal the nation, some suggest that justice may never be forthcoming for the victims of Liberia's conflict.
Read more: What do Africa's best footballer, a former warlord and ex-model all have in common?
Founded by freed U.S. slaves in 1847, Liberia has a proud tradition as the oldest republic in Africa. But the West African country was plunged into conflict in 1989, when a rebellion led by Charles Taylor toppled the government of Samuel Doe, who had himself come to power in a 1980 coup.
Rebels led by another warlord, Prince Yormie Johnson, captured Doe in September 1990; a YouTube clip of Doe's final moments shows Johnson drinking a beer while his soldiers mutilate the then president, cutting off his ear before his eventual death.
Doe's brutal death set the tone for the extreme violence that became characteristic of the Liberian conflict. Child fighters, often drugged up by warlords like Blahyi, would go into battle dressed in Halloween masks or women's wigs. Rape was used as a weapon of war and ethnic rivalries intensified as the conflict pitted members of Doe's tribe, the Krahn—including Blahyi and his brigade—against other ethnic groups who had faced persecution under Doe.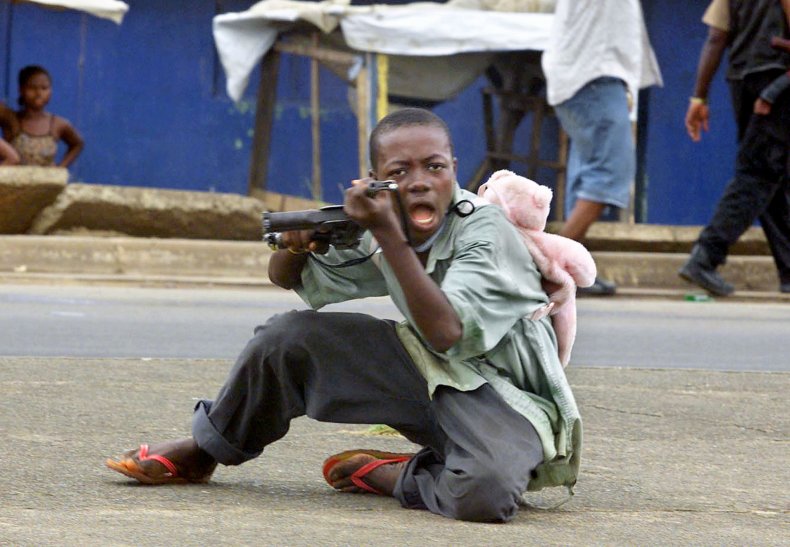 The conflict finally came to an end in 2003 when Taylor—who had been elected president of Liberia in a 1997 vote after running with the campaign slogan: "He killed my ma, he killed my pa, but I'll vote for him"—was forced into exile in Nigeria. Taylor was later arrested and convicted of war crimes and crimes against humanity in neighboring Sierra Leone and is currently serving a 50-year prison sentence in the U.K. After Sirleaf's election victory in 2005, Liberia's parliament established the TRC with the mandate of investigating the past two decades of civil conflict.
But when the commission released its final report in 2009, the conclusions rocked Liberia once again. The report included a list of 50 people associated with the warring factions that it recommended be barred from public office for 30 years, including President Sirleaf.
The Liberian leader apologized before the TRC in 2009 for her financial support of Taylor in the early years of his rebellion and received the backing of the international community, including then Secretary of State Hillary Clinton. Two years later, a ruling by the Supreme Court of Liberia found that the TRC's recommendation on banning people from public office was unconstitutional.
For some, the TRC was always destined to fail in reconciling Liberia. T. Debey Sayndee, who has written a book on truth commissions in Africa, says that members of warring factions were among the commissioners and that infighting undermined their work.
"The commission did not have the integrity and the respect from the society to really support its work," says Sayndee, director of the Kofi Annan Institute for Conflict Transformation at the University of Liberia. "The moral will of the people and the members of the commission did not match up."
Others, however, laid blame for the failure to implement the TRC's recommendations squarely at the feet of Sirleaf. "To a large extent, she was selective in implementing the report. Those that suited her political interests were implemented, and those were not the core issues in the country," says Ibrahim Al-Bakri Nyei, a Liberian political analyst and PhD candidate at SOAS University of London.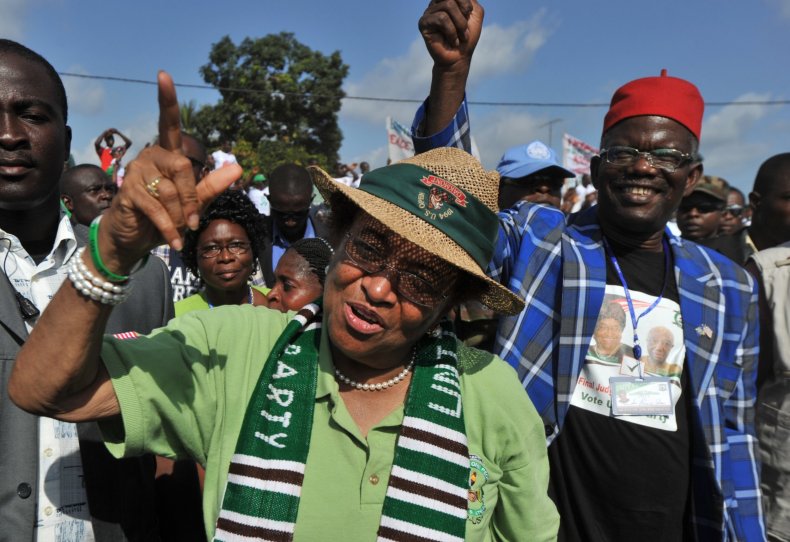 Shifting the blame to Sirleaf jars with how Liberia's outgoing leader is viewed by the international community. Sirleaf was feted at her election in 2005, when she became the first elected female head of state in Africa. Her inauguration was attended by then first lady Laura Bush and Secretary of State Condoleezza Rice. In 2011, she was awarded the Nobel Peace Prize, along with two other recipients, for her work in advancing women's rights in Liberia.
The 78-year-old conceded in January that she had failed to make as much progress in the areas of corruption and reconciliation as she would have liked. And while Sirleaf's legacy will undoubtedly be largely positive—she secured the cancellation of more than $4 billion in post-war external debt, and freedom of the press has improved markedly under her stewardship—some experts say she is viewed more favorably abroad than at home.
"Liberians jokingly say: 'She's good from far, but far from good!'" says Fred van der Kraaij, an academic at the University of Leiden's African Studies Centre who has worked for the government of Liberia and runs a blog on the country's history.
The failure to implement the TRC's recommendations has left Liberia as a country where former warlords live as free men and women and, in some cases, gain positions of power. Of the eight leaders of warring factions named in the TRC report, Taylor is the only one to have ended up in prison. (Even Taylor was not actually convicted of crimes committed in Liberia, but Sierra Leone.)
Prince Johnson—the rebel leader who oversaw the slaughter of Doe—is now a powerful senator and finished fourth in the first round of the recent presidential election. He appeared before the TRC in 2008 and was named at the top of its list of "most notorious perpetrators." But Johnson was never prosecuted and is viewed as a hero in Nimba County, his home region, for purportedly freeing them from persecution under Doe's regime.
Blahyi says he "100 percent detests" Johnson's decision to run for office and says he would never attempt the same. "It is immoral for me, Joshua Milton Blahyi, to contest any electoral post because of my past history," he says.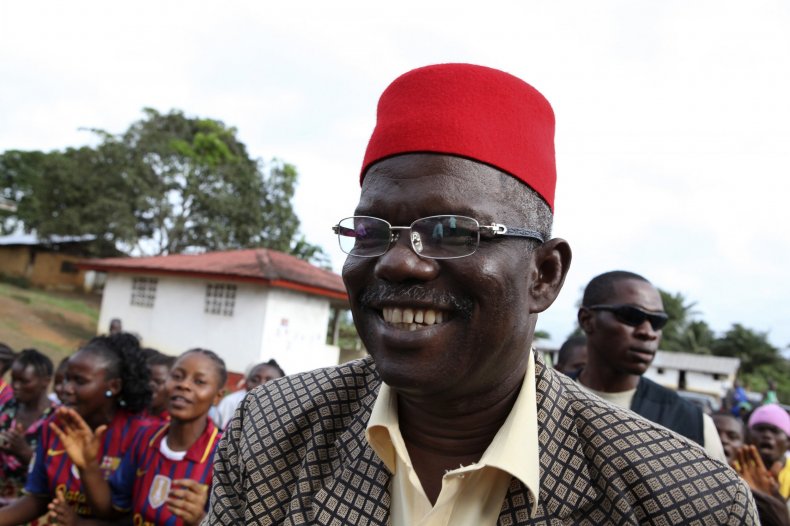 Instead, the former General Butt Naked has made his own quiet attempts at reconciliation. With his Journeys Against Violence initiative, he says is working to rehabilitate 48 young boys, many of whom are former gang members or drug addicts. Blahyi also subjects himself to his own forms of penitence, spending each Friday fasting and praying.
Blahyi says he attempts to visit families and loved ones of his victims to apologize for his crimes, but receives a mixed reaction. "Most of them accept, a few of them have still not accepted," he says.
For many in Liberia, reconciliation will only come with justice. The TRC report recommended that an "extraordinary criminal tribunal for Liberia" be established to try all those named for prosecution by the commission. But it's not clear whether either of the two remaining presidential candidates would be willing to go this far.
Vice-President Boakai did not answer when asked whether he would prosecute the perpetrators identified by the TRC, saying he wished to focus on "the development agenda" in an April interview with Newsweek. Weah, the ex-footballer, has not made it clear whether he would seek prosecutions; he did not respond to multiple interview requests from Newsweek.
In the cases of notorious civil war actors like Johnson and Blahyi, the Liberian people are in limbo, waiting for justice to be served, says Sayndee. "Nobody feels that 'Oh, Joshua Blahyi is sorry for what he did, so it's OK, he can walk around free,'" he says.
"Liberians have a saying: When you cut a log, it must stay on top of the water for a while, but one day it will float down. This means that this will take time, but they are expecting that something has to be done."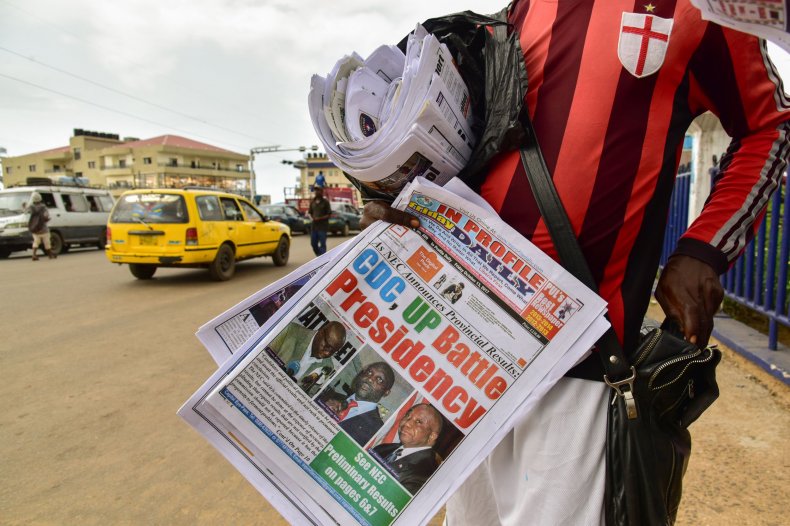 For his part, Blahyi agrees. The former warlord says that he would happily submit to prosecution, should such a tribunal be established, in order to bring healing to the families of his victims and protection for his own family from retribution.
"I would honorably walk to the court, I would walk to the court voluntarily, to exercise my regret for what I accepted—what I chose—25 years ago," he says. "I think it's the best for this country. And if I even want to be selfish, it's the best for my children."
This article originally incorrectly stated that Prince Yormie Johnson did not appear before the TRC. Johnson appeared before the TRC in 2008.