'Licorice Pizza' Release Date, Cast, Trailer, Plot: All We Know About PT Anderson's Film
Licorice Pizza now has its first trailer, which gives Paul Thomas Anderson fans their first chance to see what he has been working on since 2017's Phantom Thread.
Based on the promo, the director's ninth feature film sees him making his first out-and-out romance movie since Punch-Drunk Love – though as fans of that film will know, it is unlikely to be a straightforward rom-com.
Though the two lead cast members are both acting newcomers, and the director has previously said the film will feature much young and upcoming talent, the cast includes some major star power.
Here's what we know about the release date, cast and plot of Licorice Pizza, plus everything we learn from the trailer.
When is Licorice Pizza out?
The movie is getting two releases in the United States. Over the Thanksgiving weekend, the movie will get a limited release in selected cities, with the movie opening on Friday, November 26.
The film then gets a general release across America on Christmas Day, Saturday, December 25.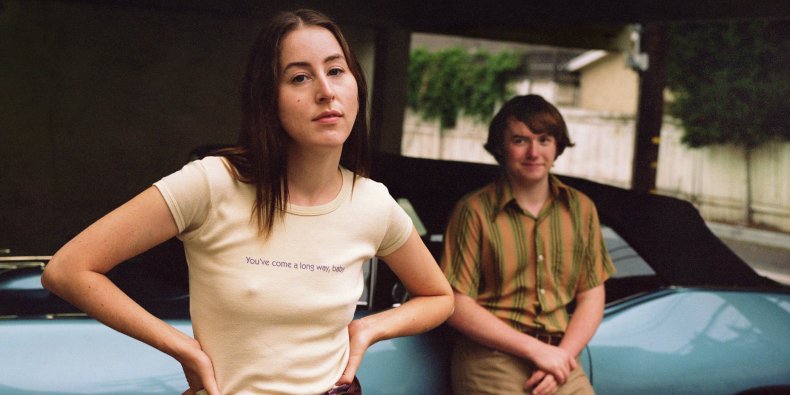 Who is the cast of Licorice Pizza?
Leading the cast of Paul Thomas Anderson's new movie are two people making their screen debuts with the movie, Alana Haim and Cooper Hoffman.
Both, however, has a previous link to the director. Cooper Hoffman is the 18-year-old son of Phillip Seymour Hoffman, who appeared in the Anderson movies Hard Eight, Boogie Nights, Magnolia, Punch-Drunk Love and The Master. Alana Haim, meanwhile, is a member of the band Haim, whose videos have been directed by Anderson on a number of occasions. They star as former child star Gary Valentine and his love interest Alana Kane respectively.
A number of other previous collaborators of the director are also set to star. John C Reilly is playing an as-yet-unnamed role, as is Anderson's romantic partner, the comedian Maya Rudolph.
At least two actors are set to be playing real-life people. Bradley Cooper is playing film producer Jon Peters who, as he notes in the trailer, was the partner of Barbra Streisand for nine years. Uncut Gems co-director Benny Safdie, meanwhile, is playing Los Angeles City Council member Joel Wachs. As the film is set in the 1970s, Wachs is a closeted gay man in the film, as he did not publicly come out until the late 1990s.
Also starring in the movie is singer and Ballad of Buster Scruggs actor Tom Waits as a director, and a cast that includes Flag Day star Sean Penn, Booksmart's Skyler Gisondo and Ben Stiller.
What is Licorice Pizza about?
The official plot summary reads: "Licorice Pizza is the story of Alana Kane and Gary Valentine growing up, running around and falling in love in the San Fernando Valley, 1973. Written and Directed by Paul Thomas Anderson, the film tracks the treacherous navigation of first love."
Little was known about the movie before the trailer was released. Originally titled Soggy Bottom, the movie was shot from August 2020.