Lil Nas X Asks Fans for Help Paying Nike After 'Satan Shoes' Lawsuit
Lil Nas X has jokingly asked fans for help paying Nike after the sneaker company agreed a settlement in its lawsuit over the "Satan Shoes."
The footwear brand sued MSCHF Product Studio, an art collective, for trademark infringement after it released 666 pairs of modified Nike sneakers as a tie-in for the new Lil Nas X song and video "Montero (Call Me By Your Name)."
Nike announced that MSCHF had agreed to buy back any Satan Shoes at their original retail price of $1,018 a pair, in order to remove the product from circulation.
The agreement also applies to the modified Nike "Jesus Shoes" that the collective created in 2019.
After the settlement announcement, the rapper and singer joked on Twitter: "y'all keep streaming call me by your name so i can pay for this damn nike lawsuit."
The Satan Shoes were modified Nike Air Max 97 sneakers, with midsoles purporting to contain one drop of human blood. Only 666 pairs were produced.
Nike's legal complaint said: "In the short time since the announcement of the Satan Shoes, Nike has suffered significant harm to its goodwill, including among consumers who believe that Nike is endorsing satanism."
The sportswear giant added in the filings that "MSCHF and its unauthorized Satan Shoes are likely to cause confusion and dilution and create an erroneous association between MSCHF's products and Nike."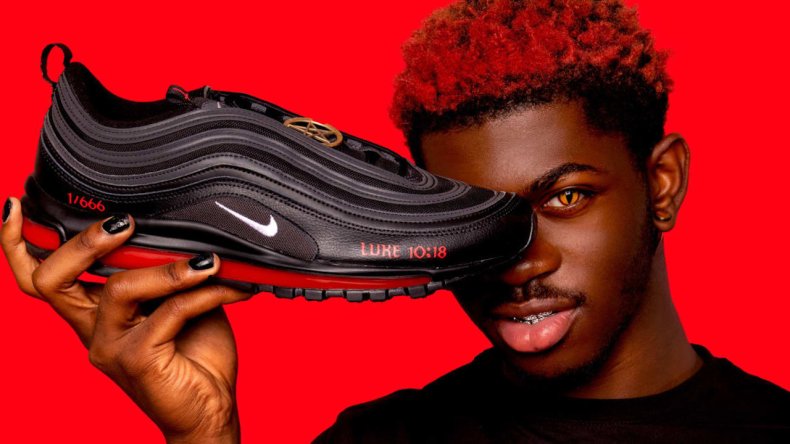 Newsweek previously reported that Nike had a strong case against the singer—whose real name is Montero Lamar Hill—over the shoes.
"We're thrilled with the way this case has been resolved," David Bernstein, a lawyer at Debevoise & Plimpton representing MSCHF, said on Thursday, according to MarketWatch.
"These shoes were never about making money. MSCHF made these shoes to make a point about how crazy collaboration culture has become," he added.
Bernstein said the shoe "appeared to be a collaboration with Satan."
Nike reiterated in a statement that the company had "nothing to do with the Satan Shoes or the Jesus Shoes."
"If any purchasers were confused, or if they otherwise want to return their shoes, they may do so for a full refund. Purchasers who choose not to return their shoes and later encounter a product issue, defect or health concern should contact MSCHF, not Nike."
The company said on Thursday: "The parties are pleased to put this dispute behind them."
Lil Nas X is likely pleased too. Per Billboard, "Montero (Call Me By Your Name)" has debuted at the top of the Billboard Hot 100 for the week of April 10. The track has amassed 21,000 downloads, 46.9 million streams and 1.1 million radio airplay audience impressions.