Lil Nas X Resurrects 'Satanic Panic' For a Whole New Generation
Lil Nas X has seemingly provoked "satanic panic" for a whole new generation following the release of his new music video and controversial sneakers.
The 21-year-old's new single "Montero (Call Me By Your Name)" is an explicit, flamboyant and "unapologetically gay" biblical romp that sees the singer literally dance with the devil—lap dance, that is.
As well as the new track, the "Old Town Road" performer collaborated with art collective MSCHF to launch a controversial pair of "Satan Shoes" that feature a drop of real human blood.
A spokesperson for the group told CNN that the blood had been provided by members of the art collective, saying: "We love to sacrifice for our art."
Lil Nas X's actions have prompted criticism from prominent conservatives, and some Twitter users have likened this response to the "satanic panic" of the 1980s.
"Satanic panic" was a term used throughout the 1980s and early 1990s to describe a moral panic stemming from false allegations of satanic ritual abuse against daycare centers in Southern California. It ushered in a period of hysteria around the occult that was heightened in the media at the time.
A now-discredited and debunked memoir called Michelle Remembers by controversial psychologist Lawrence Pazder and his wife Michelle Smith became a salacious bestseller. Its narrative was of a childhood filled with shocking occult sexual abuse, which helped spread mass fear and speculation as neighbors accused neighbors of being Satan worshippers and child abusers.
The topic was widely discussed on talk shows around this time, fuelling the panic surrounding satanic ritual abuse. Now many conservative voices are railing against Lil Nas X in a similar manner.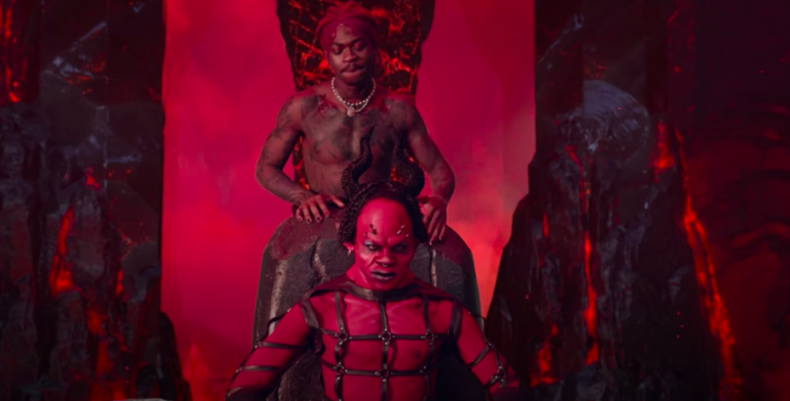 Conservative pundit Candace Owens referenced Lil Nas X in a tweet that read: "We've turned George Floyd, a criminal drug addict, into an icon. We are promoting Satan shoes to wear on our feet. We've got Cardi B named as woman of the year. But we're convinced it's white supremacy that's keeping black America behind. How stupid can we be?"
Conservative music video director Robby Starbuck labeled the "Montero" video "evil" in a tweet, writing: "Conservatives: 'Hollywood is pushing out intentionally evil content to kids.'
"Hollywood: 'LOL Conservatives are so crazy no we aren't, not at all.'
"Then Hollywood does this: Many of these people are evil. I say this having directed a lot of these celebs."
Lil Nas X is also involved in a war of words with conservative gun activist Kaitlin Bennett over the song.
Bennett, who is best known as "Kent State gun girl" for openly carrying an AR-15 during her graduation photos, tweeted to say she was "thankful" she was blocked by the rapper on Twitter.
Over on social media app Gab, evangelical Christian Franklin Graham said that the rapper's video and sneakers are a "dangerous marketing endeavor" and that "morals in this country have fallen so fast."
"Rapper Lil Nas X is producing 666 pairs of Nike shoes they're calling 'Satan Shoes,' he wrote on the platform. "They even go so far as to put a drop of human blood in the soles. The shoes are part of promoting a new music video in which this rapper descends down a stripper pole and gives Satan a lap dance.
"The morals in this country have fallen so fast, and many times the entertainment industry is leading the way."
Franklin then went on to quote from the Bible, adding: "The Word of God says, 'And do not fear those who kill the body but cannot kill the soul. Rather fear him who can destroy both soul and body in hell' (Matthew 10:28).
"Hell is a real place, and so is the eternal torment of those who reject Jesus Christ as Lord and Savior."
South Dakota Governor Kristi Noem has also spoken out publicly against the sneakers, tweeting: "Our kids are being told that this kind of product is, not only okay, it's 'exclusive.' But do you know what's more exclusive? Their God-given eternal soul.
"We are in a fight for the soul of our nation. We need to fight hard. And we need to fight smart. We have to win."
Governor Noem's tweets have reminded many of the Satanic Panic, with journalist Grace Panetta tweeting: "Lots of trends from 90s are coming back, including satanic panic!"
Meanwhile, horror film producer Heather Wixson added: "Watching Lil Nas X single-handedly incite a new round of Satanic Panic in the year 2021 and causing many white conservatives to clutch their pearls en masse in response has reinvigorated my love of this platform."
DJ The Blessed Madonna remarked: "Honestly Lil Nas X is the hero we need for sending people into a good old fashioned gay satanic panic so elegantly."
Another tweet reads: "I think Lil Nas X deserves a major arts prize for singlehandedly reviving the long-hibernating satanic panic in America."
While another added: "You know what I'm really happy for Lil Nas X for being able to provoke a genuine 1980's style Satanic Panic pearl-clutching monocle pop reaction in 2021."