Lil Nas X Says 'I Might Be Going to Jail' As Singer in Court Over Satan Shoes
Lil Nas X has joked that he might end up in jail as the performer prepares to go to court over his controversial Satan Shoes.
The 22-year-old went viral on TikTok this week making light of the trademark infringement lawsuit over the controversial shoes in a series of videos.
In April, the rapper—whose given name is Montero Lamar Hill—released unauthorized Nike sneakers to coincide with the release of his single "Call Me By Your Name."
The equally controversial song that inspired the shoes resurrected satanic panic for a whole new generation as the singer's lap dance with the devil prompted a wave of criticism at the time.
The Satan Shoes were modified Nike Air Max 97 sneakers, with midsoles purporting to contain one drop of human blood produced by art collective, MSCHF Product Studio. Only 666 pairs were produced.
In their complaint, Nike said the brand "suffered significant harm to its goodwill, including among consumers who believe that Nike is endorsing satanism."
Nike said the Satan Shoes prominently feature their famous Swoosh logo.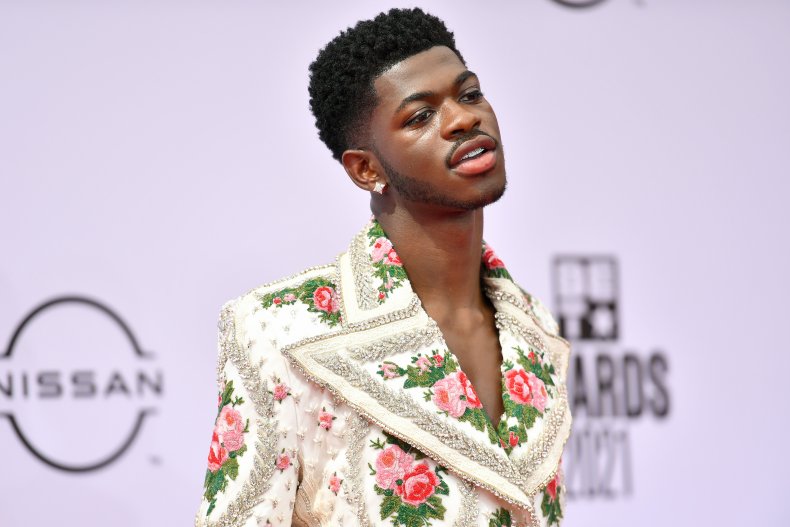 Now it appears that Hill has to make a court appearance over the lawsuit.
However, he seems in good spirits as he posted a number of TikToks and tweets joking about the situation.
In one viral TikTok with more than 11 million views, Hill wrote: "When you have court on Monday over Satan Shoes and might go to jail but your label tells you to keep making TikToks," while crying and doing a stereotypical TikTok dance.
Meanwhile, on Twitter, the singer joked about going to jail to his 6.5 million followers.
"all jokes aside i can't believe i might be going to jail. who's going to make mildly funny tweets about being gay while i'm away," he wrote.
He also posted: "trying really hard to decide what i should wear to court on monday for the satan shoes case," along with some pictures of SpongeBob SquarePants t-shirts.
The jokes have prompted Lil Nas X to become a trending topic on Twitter on Monday, with fans widely sharing the hashtag #FreeLilNasX being widely tweeted.
"me distracting the judge so lil nas x can run out the back #FreeLilNasX," joked one fan.
While another added: "All of gen z tryna bail Lil Nas X out of jail with our collective minimum wage incomes #freelilnasx."
Back in April, Hill joked that he needed fans' help to pay for the lawsuit, tweeting: "y'all keep streaming call me by your name so i can pay for this damn nike lawsuit."