Clips of Lil Pump, ASAP Rocky, Kendrick Lamar Stopping Shows To Help Crowd Go Viral
Eight people lost their lives at the AstroWorld festival in Houston on Friday night and headliner Travis Scott is facing criticism for not doing more to help the crowd where hundreds of people were reportedly injured in the deadly crush.
The tragic incident has started a conversation about large audiences and the responsibility that performers have to their fans who attend their shows.
Over the past few days, numerous clips of other musicians stopping shows mid-song to get help for revelers in need of medical assistance have gone viral.
Adele, Harry Styles and Billie Eilish are being praised for their efforts to help fans at various shows, while One Direction's Niall Horan went viral for a 2018 concert in which he stopped his performance to tell the crowd: "Your security is my responsibility."
Scott's concerts are known for being incredibly energetic with a rowdy crowd and while there is footage of him pausing the show at certain points, many music fans are asking if he did enough to help those caught in the stampede.
A TikTok user has complied footage of other rappers' shows, showing Lil Pump, ASAP Rocky, Kendrick Lamar and Logic stopping gigs and loudly pointing out when something bad was happening in the audience.
The first clip shows rapper Lil Pump at the 2018 Wireless Festival in London. When he notices a fan having a seizure, the rapper stops performing and calls for paramedics.
The next clip shows ASAP Rocky at a 2019 Rolling Loud gig when he stops the show after girls fell in the mosh pit.
The video can also be viewed here.
"Pick the f***** girls up!" the rapper yells and berates people for getting too rowdy.
The third clip shows rapper Logic stopping a show twice when people in the crowd passed out.
"I can't tell you how many times this s*** happens at a concert," he is heard saying. "This is real, but we need to make sure that you guys feel ok."
And lastly, there is a clip of Kendrick Lamar urging the crowd to be safe and mindful of young fans present.
"We gonna have a good time and go crazy—make sure y'all be mindful," he says before adding: "Listen listen listen listen, make sure you all be well aware of the little kids that in the crowd right now we don't want them to get hurt."
The video has been viewed more than 1.9 million times on TikTok at the time of publishing.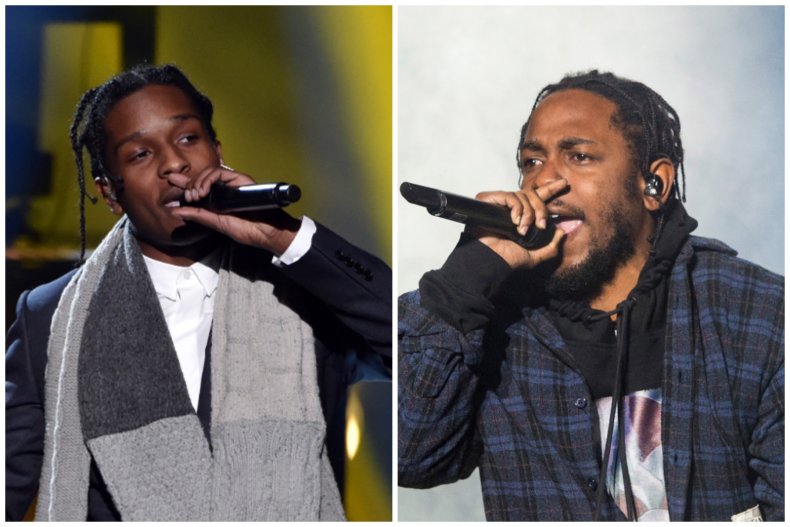 Another band that have been noted for always prioritizing their fans' safety at their shows is Linkin Park.
A clip of one of the band's concerts went viral on Saturday that shows Mike Shinoda and the late Chester Bennington stopping a show after spotting a fan getting into trouble in the mosh pit.
"Pick him up! Pick him up right now!" Bennington, who died by suicide in 2017, shouted.
While Shinoda added: "Sorry you guys, we gotta look out for safety first, for real. Nobody gets hurt, that's number one. We'll play this s**t, the whole s**t again, if you guys get up, if you guys are alright. OK? Watch yourselves."
All eight victims who died at Astroworld have now been identified.
They include: 27-year-old Mirza "Danish" Baig from Houston; 23-year-old Rodolfo Peña from Laredo, Texas; 23-year-old Madison Dubiski from Cypress, Texas; 21-year-old Franco Patiño from Illinois; 20-year-old Jacob Jurinek from Illinois; 14-year-old John Hilgert from Houston; 21-year-old Axel Acosta Avila from Washington; and 16-year-old Brianna Rodriguez from Houston.
In his statement about the tragedy, Scott said he was "absolutely devastated."
"My prayers go out to the families and all those impacted by what happened at Astroworld Festival," Scott said. "I am committed to working together with the Houston community to heal and support the families in need."