Viral Photo Shows Soldiers Amassed on Steps of Lincoln Memorial After Pentagon Puts Them on Alert Over Protests
Troops lined the steps of the Lincoln Memorial as they overlooked protests in Washington D.C., highlighting increased presence at demonstrations after President Donald Trump's threats of military intervention to bring order across the nation.
Photos of the soldiers, members of the D.C. National Guard, have spread widely on social media after they were captured on Tuesday evening.
Martha Raddatz, of ABC News, shared photos from the site and wrote: "Your Lincoln Memorial this evening."
Her images have been shared more than 25,000 times at time of writing.
The sight drew criticism from some, who expressed shock at the scene of military forces along the memorial.
Senator Tammy Duckworth (D-IL) shared Raddatz's photo and wrote: "Trump would do well to heed the words etched into that memorial as Americans risk being teargassed around it: "With malice toward none; with charity for all...let us strive...to bind up the nation's wounds...to do all which may achieve and cherish a just, and a lasting peace."
Rep. Jim Himes (D-CT) wrote that he found the image "deeply troubling."
"I was born in South America in a decade of military dictatorship. Never would I have imagined that this scene could happen in America," he said.
In a further statement shared to Newsweek, Himes said: "Remember that Lincoln's hope for us is carved onto the walls of that memorial: that we should act "with malice towards none, with charity for all... to bind up the nation's wounds." Nothing about the President's actions and military displays is consistent with that hope."
Rep. Ro Khanna (D-CA) tweeted: "I never thought I'd live to see the day when troops would be guarding the Lincoln memorial."
Rep. Ted Lieu (D-CA) questioned whether those who viewed the image wanted Trump to remain as president.
He tweeted: "This picture at the hallowed Lincoln Memorial is what America now looks like under @realDonaldTrump . Do you really want 4 more years of this?"
There were also comments from further afield, with a member of the U.K.'s Parliament Dr. Rosena Allin-Khan sharing the photo and writing: "The Lincoln Memorial.
"In 1963, where the words 'I have a dream' were uttered by MLK, giving hope to millions living with segregation and racism.
"Last night, Trump deployed soldiers. This is America."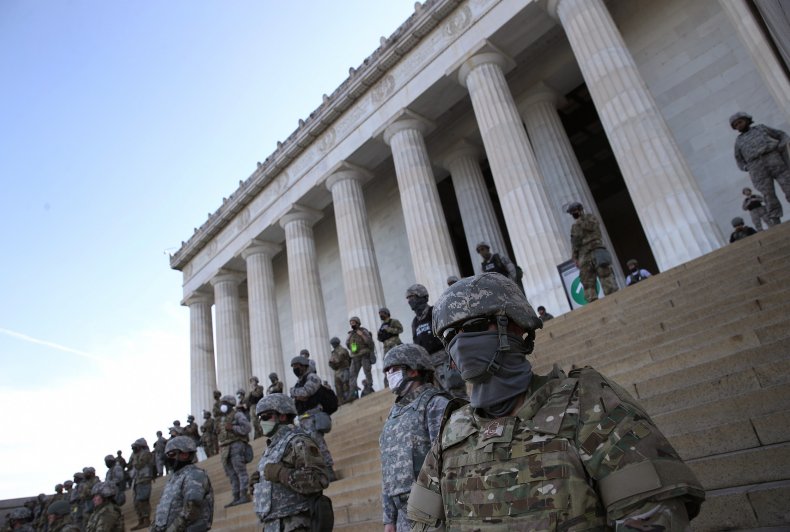 However, the move was defended by some, who raised the issue of the site being vandalized.
Rep. Andy Biggs (R-AZ) wrote: "Americans would it find it much more than "deeply disturbing" if any of our national memorials or monuments continued to be defaced and vandalized by rioters.
Rep. Paul Gosar shared a post of the photo, which branded it disturbing, and raised the issue of Antifa activists, which the president has blamed for outbreaks of violence amid protests.
He said: "Nothing "deeply disturbing" about protecting the Lincoln Memorial from ANTIFA."
Newsweek has contacted the lawmakers mentioned above for comment.
In previous protesting, parts of the National Mall had slogans spray painted on them.
The National Mall NPS previously shared images of this on May 31 and wrote: "In the wake of last night's demonstrations, there are numerous instances of vandalism to sites around the National Mall. For generations the Mall has been our nation's premier civic gathering space for non-violent demonstrations, and we ask individuals to carry on that tradition."
Newsweek has reached out for further comment following the photos from the memorial on Tuesday.
The presence in Washington D.C. comes after the Pentagon ordered forces and bases in the area to "Force Protection Condition Charlie," as previously reported by Newsweek, a threat condition indicating targeting of military forces or terrorist action is likely.
This follows Trump's push for states to deploy the National Guard in order to stem outbreaks of violence at protests, and his move to federalize the D.C. National Guard.
He has said he will send in troops to areas facing protests, unless governors move to "dominate the streets" with the guard, a suggestion which has been pushed back against.
The demonstrations have spread across the U.S., sparked by the death of George Floyd, who died after a police officer put his knee on his neck while arresting him.
Curfews have been imposed in multiple cities in several states, amid clashes between protesters and authorities, with some having used the protests as a springboard for looting and violence.
Attorney General William Barr previously said "radical" groups had "hijacked" the protests, taking advantage of the situation for ulterior motives.
Newsweek has contacted the National Guard and the White House for comment.
This page was updated June 4 with a further quote from Rep. Jim Himes.