Lincoln Project Ad Tells Trump That Pence 'Will Put the Nail in Your Political Coffin'
The Lincoln Project, a political action committee of Republicans who oppose Republican President Donald Trump, has released an ad directly telling Trump that Vice President Mike Pence will "will put the nail in your political coffin" when he presides over a January 6 Congressional vote certifying Trump's election loss once and for all.
"The end is coming, Donald," the ad begins. "Even Mike Pence knows. He's backing away from your train wreck, from your desperate lies and clown lawyers. When Mike Pence is running away from you, you know it's over: trying to save his reputation, protect his future."
"Oh, there's one last thing, Donald," the ad concludes. "On January, 6, Mike Pence will put the nail in your political coffin when he presides over the Senate vote to prove Joe Biden won. It's over, and Mike Pence knows it."
January 6 is when Congress will meet to take a final count of the votes cast by the Electoral College on December 14. It will be the last formal step to finalize the election's results before Inauguration Day on January 20.
The only way that January 6 could avoid being "the final nail" in Trump's political coffin would be if a Republican representative and a Republican senator from both congressional chambers challenge the Electoral College's vote count. But even then, a majority of both the House and Senate would then have to vote in favor of challenging the vote count, something that's unlikely to happen in the Democrat-led House.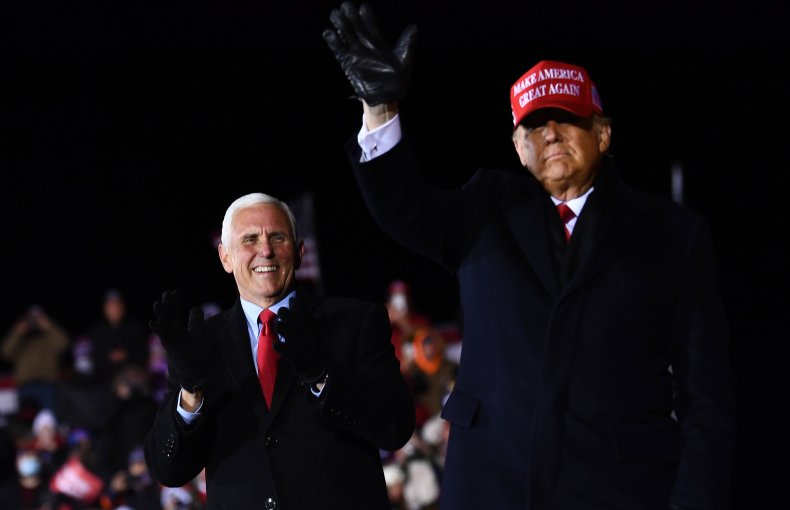 Since the election, Pence has made very few public appearances and has yet to take questions from reporters, CNN notes. Instead, the main public face of Trump's unsuccessful attempts to overturn the election has been Rudy Giuliani who will now likely be absent from the cameras due to his recent COVID-19 diagnosis.
Publicly, Pence has refrained from repeating the president's allegations of unprecedented widespread voter fraud, stating instead that he and Trump are fighting to ensure that "every legal vote is counted."
Though Pence is also the leader of the White House Coronavirus Task Force, he has also been absent from public coronavirus briefing amid a dramatic recent surge in new COVID-19 cases and deaths. On December 4, the U.S. reported its highest-ever daily toll of newly confirmed coronavirus cases, with 229,077 in a single day. On December 2, the U.S. reported its highest-ever number of coronavirus-related deaths, with 2,885 in a single day.
Pence's schedule following the election has included meetings with Republican candidates who won their Election Night races, meetings with state health officials to discuss distributing the COVID-19 vaccine and campaigning for the Republican senators involved in the Georgia runoff election that will determine party control of Senate, CNN reports.
If Pence would like to try and run for president in 2024, he would likely need Trump's blessing as Trump himself is considering re-running for president then as well.
Newsweek contacted the Trump campaign and Pence's office for comment.