Lincoln Project Mocks Donald Trump Note to Joe Biden: 'Will You Pardon Me?'
Donald Trump may have been happy to share his Twitter missives with the world, but the contents of a note he left his successor are a secret, inspiring The Lincoln Project to take a parting shot at the former president.
After the White House confirmed that Trump had left President Joe Biden a message, the political action committee of Republicans joined in light-hearted social media speculation over what the outgoing president might have said with paper rather than pixels.
Following Biden's inauguration on Wednesday, the Lincoln Project tweeted: "Trump's note to President Biden just leaked." It shared an image of a message written in purple marker pen that reads: "Will you pardon me?"
Below the child-like scrawl, which a stickler might notice does not use upper-case letters, are two roughly drawn boxes with "yes" and "no" next to them and an instruction to "check one."
Almost as an afterthought and in a different color pen, it says: "PS: I Won," mocking Trump's refusal to concede to Biden.
The Lincoln Project targeted Trump during the 2020 campaign and mocked him until his final day in the Oval Office. Its tweet was among a large number of messages and memes about the note on Twitter, which the former president is barred from using.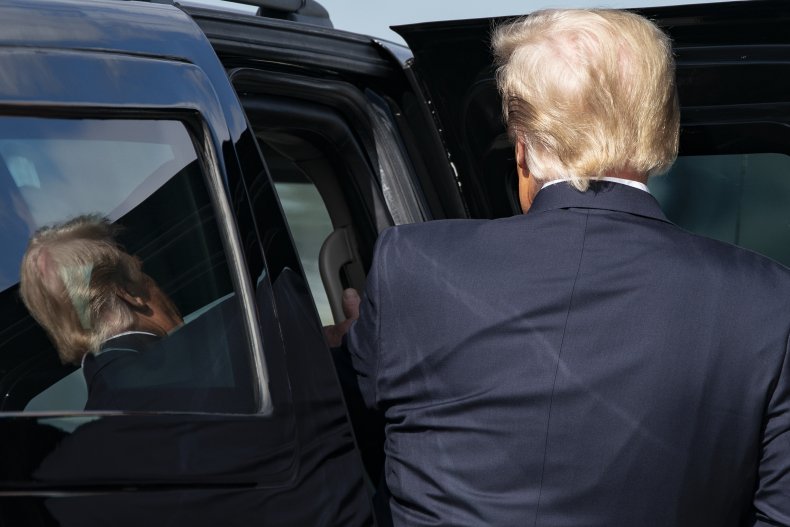 The Chaser, a Twitter user in Sydney, posted an image of a note saying: "Bin night is Thursday." Chuck Groundhog tweeted a note with the message: "I'm angry at you and I'm not talking to you today and tomorrow."
Another user posted an image of a paper bag with a note that read: "Dead dove do not eat!"
Trump's deputy press secretary Judd Deere did not reveal what was in the note. President Biden said: "Because it was private, I won't talk about it until I talk to him. But it was generous."
Mike Pence also left a note for his successor as vice president, Kamala Harris, USA Today reported.
Past presidents have left notes for their successors, typically wishing them well regardless of partisan differences and warning them of the hardships of the country's top job.
The letter that George W. Bush left for Barack Obama warned of "trying moments," but said the president would have a "country that is pulling for you, including me."
Bush's father, George H.W. Bush, left a note for Bill Clinton in 1993 that went viral after his death in 2018. It read: "I'm not a very good one to give advice; but just don't let the critics discourage you or push you off course."