The Lincoln Project Releases Trump Remix: 'Everybody's Going to Die'
The Lincoln Project has released a musical remix of President Donald Trump by cutting a quote and looping his words "everybody's going to die."
Using footage from the president's recent NBC News Town Hall, the video begins with his full comments on having spoken of downplaying COVID-19 in the early stages of the pandemic.
"I don't want to panic this country, I don't want to go out and say, 'Everybody's going to die,'" the president said.
In The Lincoln Project video, one of many released by the anti-Trump group which is made up largely of Republicans but who do not want the president to be re-elected, as Trump says "everybody's going to die" the music kicks in and this sentence is looped.
It then also features other quotes from the president including "I don't know if that's so good" and "the good news, I didn't eat it, I decided not to eat it."
The video also featured clips of him dancing and had the president saying "retweet" over and over at another point.
The Lincoln Project shared the video on its Twitter alongside the words: "His closing message."
Newsweek has contacted the Trump campaign and The Lincoln Project for comment.
Trump has defended having downplayed the virus, after comments on doing this made in interviews with journalist Bob Woodward, of Watergate fame, were released earlier this year. The president said his remarks were "good and proper" and said he did not want to scare people.
"I'm the leader of the country, I can't be jumping up and down and scaring people," he told Fox News' Sean Hannity in an interview after the quotes emerged.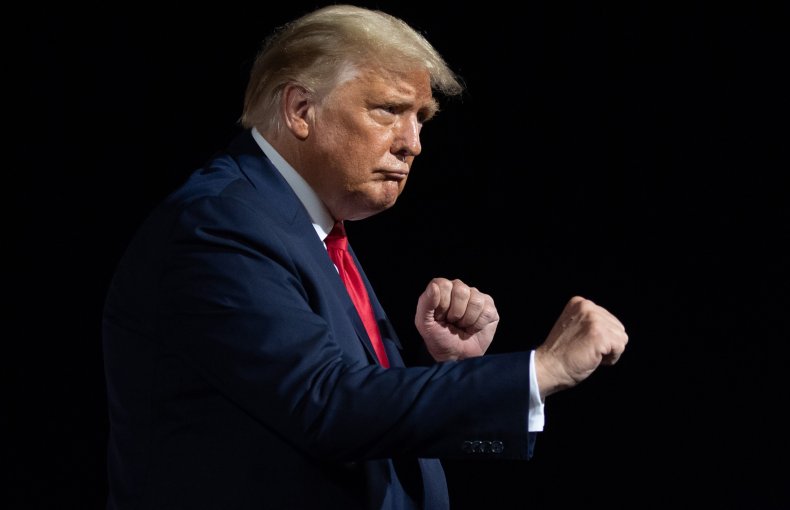 Videos from The Lincoln Project have long been critical of the president's response to coronavirus.
After Trump spoke of having learned about COVID-19 after having it himself, the group told him it was "too late," and referred to infection numbers and deaths in the United States.
When the president and first lady tested positive for COVID-19, The Lincoln Project insisted it would continue its attacks upon Trump despite this.
After his return to the White House, an ad from the group said Trump "will never change" and criticized his comments on coronavirus, stating: "Trump is still trying to convince us that the greatest public health threat in over a century isn't a big deal."
Recently the group has persisted with its stance against Trump, with members outlining no intention to curtail attacks on the president.
The United States has seen more than 8.3 million confirmed COVID-19 cases throughout the pandemic, according to Johns Hopkins University figures.
The below graphic, from Statista, shows the nations with the most confirmed cases as of October 19.