Anti-Trump group The Lincoln Project has told the president it is "too late" after he spoke of learning "a lot about COVID" having tested positive for it along with his wife Melania Trump.
The Lincoln Project, a group made up mainly of Republicans who wish to see Donald Trump defeated, shared an attack ad targeting the commander-in-chief late Sunday—having insisted it would not let up on its criticism of him following his COVID-19 diagnosis.
At the start of the clip, there is footage of Trump in which he says: "It's been a very interesting journey, I learned a lot about COVID."
It then goes on to highlight figures surrounding the number of cases in the U.S., jobs lost, business closures, those at risk of eviction and deaths amid the COVID-19 crisis.
It then goes back to Trump saying he learned about COVID-19 by "really going to school."
White text on a black background reading "It's too late" then appears on the screen.
Newsweek has contacted the White House and the Lincoln Project for comment.
The footage of Trump comes from a video shared by the president on Sunday in which he gave an update to his followers as he continues to be treated at Walter Reed National Military Medical Center.
He spoke of "great reports from the doctors" and praised the work of those in the facility, adding his thanks to them.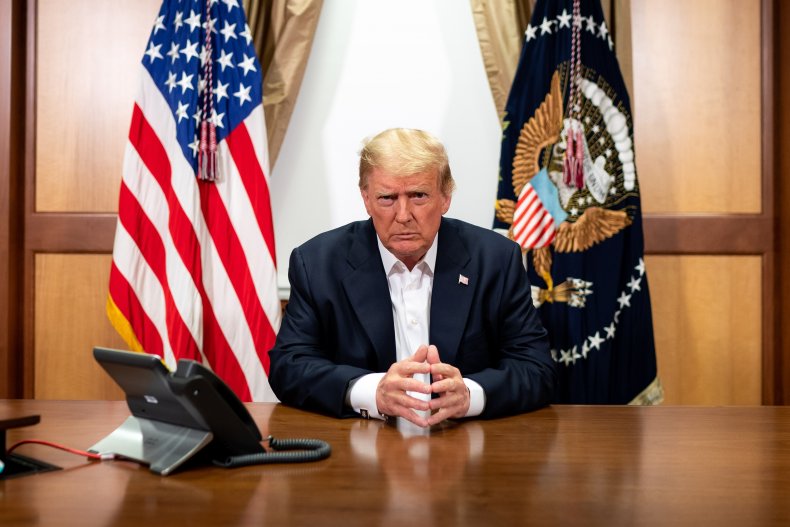 As well as this, he announced a "little surprise visit" to the supporters outside—ahead of him being driven past those gathered by the hospital.
On COVID-19, he said: "It's been a very interesting journey, I learned a lot about COVID, I learned it by really going to school—this is the real school, this isn't the let's read the book school, and I get it, and I understand it. And it's a very interesting thing, and I'm going to be letting you know about it. In the meantime, we love the U.S.A. and we love what's happening, thank you."
Trump has previously been questioned over comments about the virus, having told journalist Bob Woodward he wanted to downplay its seriousness. The president said he did so as he did not want to panic people.
There have been more than 7.4 million confirmed cases of COVID-19 in the U.S., according to Johns Hopkins University figures. Of those infected, more than 209,000 have died. Worldwide, its figures show more than 35 million confirmed cases.
Among those to be stricken with COVID-19 are several world leaders. The graphic below, from Statista, shows a timeline of leaders who have contracted COVID-19.