The fallout from President Donald Trump's interviews with Bob Woodward could damage him less on election day than controversy surrounding his comments might suggest.
Adversaries have been highly critical of remarks emerging from Trump's discussions with the journalist, of Watergate fame, which were recorded for his upcoming book Rage.
Speaking to Woodward, Trump said he chose to downplay the virus stating this was to not cause panic among the public. He has questioned the timing of the release of his quotes, suggesting his remarks were "good and proper."
Speaking to Sean Hannity on Fox News, following the emergence of the quotes, Trump said: "I'm the leader of the country, I can't be jumping up and down and scaring people."
Trump's unfavorable rating has been fairly steady throughout his time in the White House, at between around 50 and 58 percent according to Real Clear Politics' tracker.
Richard Johnson, a lecturer in U.S. politics and policy at Queen Mary University London, said he thinks it is unlikely the Woodward revelations, or much else, could majorly worsen these ratings.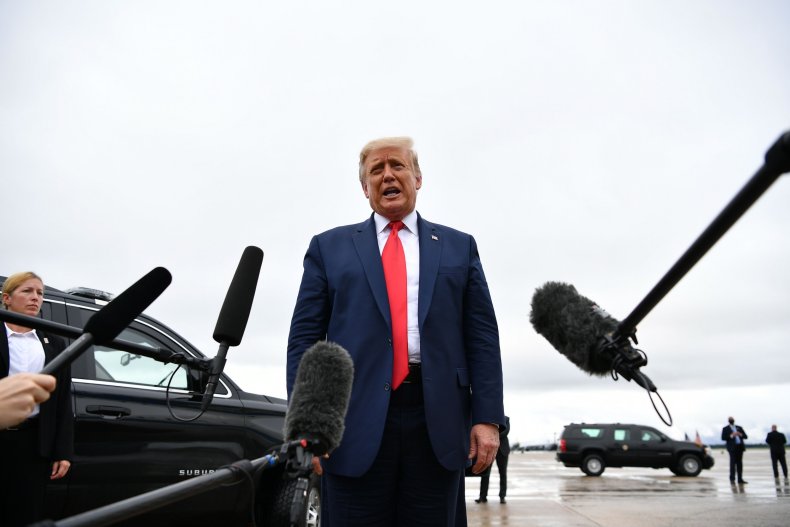 "Given that nothing in the past three years has budged up Trump's unfavorable rating, it seems almost nothing can, including this Woodward book. I think Trump has 'maxed out' his unfavorability rating," he told Newsweek.
David Andersen, assistant professor of United States politics at Durham University, similarly said he does not think there will be much tangible impact from the book when it comes to the election result.
"The Woodward interviews and book are not likely to make much of a difference to the election," he told Newsweek.
"That is due less to the timing of their release and more to the nature of the electorate right now. Trump supporters and opponents are simply locked into their viewpoints and no new information is going to shift their opinions."
Thomas Gift, a lecturer in political science and founding director of the Centre on U.S. Politics at University College London, said that the quotes will likely "fade into the background after the current news cycle."
"For any other president, the kinds of revelations chronicled in Woodward's book would be enough to seriously damage any re-election campaign," he told Newsweek.
"Yet for Trump, any political fallout will likely fade into the background after the current news cycle. The reason is simple: With this president, much is shocking but little is surprising. It's hard for many voters to sustain a level of outrage over such accusations when they add to an already long list of examples of the president prioritizing his own interests over those of the American people."
In regards to the impact in November, he said the interviews may add to an accumulation of incidents which impact Trump, though alone may not have a large impact.
"The accumulated weight of these scandals will matter in November, but any single instance will likely have minimal impact on whether Trump wins a second term. Put simply, the Woodward book will affirm the priors of Trump critics, while Republican supporters will brush it off as yet another instance of an 'establishment' journalist being out to impugn the president," he said.
On the matter of reports being against him, Trump commented on what he branded "Fake stories and investigations," branding Woodward's work a "political hit job."
He has previously criticized the journalist's work, branding him a "Dem operative" in 2018, though sat down for 18 interviews with him for his book Rage.
Trump has said he "probably almost definitely" will not read the book.
In recent polling from Yahoo! News/YouGov, 77 percent of 1,577 asked September 9 to 11 said Trump's comments to Woodward on COVID-19 had not made them change their opinion on how he handled the crisis. Though among the 23 percent who said it did, 64 percent said they were less likely to vote for him.
Newsweek has contacted the Trump campaign for comment.
Trump is trailing Biden in national polling in the lead up to the election, behind by 7.2 points on average according to FiveThirtyEight's poll tracker and 7.4 points per Real Clear Politics' tracker.
On average, polling has not seen a major shift in recent weeks, though some individual polling has indicated a further loss of support for Trump.
Biden has also been put ahead in Trump target states Wisconsin, Minnesota, Nevada and New Hampshire in recent polling.