Trump Questions Woodward Holding Quotes, Says They Were 'Good and Proper'
Donald Trump has questioned journalist Bob Woodward's timing in releasing quotes from interviews in which the president discussed coronavirus and the risk it posed earlier this year.
Trump spoke with Woodward between December and July for his upcoming book Rage, with quotes from these discussions having begun to be publicized.
There is a section in which it is proposed Trump said he understood COVID-19's threat earlier in the year but downplayed its seriousness publicly.
In audio said to be from March released to CNN, Trump can purportedly be heard saying he wanted to "always play it down."
Trump is also said to have spoken of how deadly COVID-19 was in an interview on February 7—days after which, at a campaign rally in New Hampshire, he said he thought things would "work out fine" and suggested it would "go away" by April.
In his latest comments on the matter, he questioned Woodward, of Watergate fame, for not having released the remarks earlier "if he thought they were so bad."
Trump tweeted: "Bob Woodward had my quotes for many months. If he thought they were so bad or dangerous, why didn't he immediately report them in an effort to save lives? Didn't he have an obligation to do so? No, because he knew they were good and proper answers. Calm, no panic!"
He has said this was due to not wanting to create panic and on Wednesday said he did not want to "scare people."
Speaking to Sean Hannity on Fox News he said: "I'm the leader of the country, I can't be jumping up and down and scaring people.
"I don't want to scare people. I want people not to panic, and that's exactly what I did."
The commander-in-chief also previously branded Woodward's work a "political hit job."
Trump is not the first to question the timing of the release, with several critics having asked why he did not detail the remarks from Trump earlier.
Newsweek has contacted the White House, the Trump campaign and the publishers of Rage, Simon and Schuster, for comment.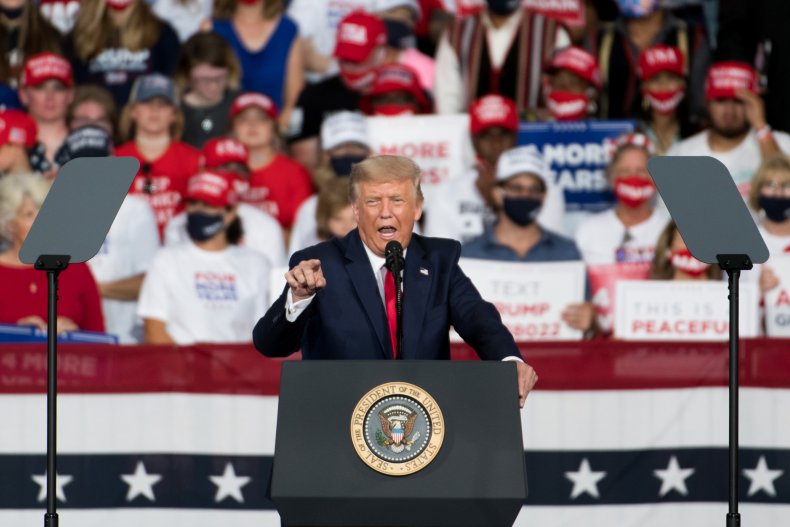 Trump's interviews with Woodward come after having prior criticized the author over his last book, Fear.
In 2018 he labelled the journalist a "Dem operative," while dismissing the veracity of contents of his book. Despite this, he spoke with Woodward 18 times for his latest work.
The president has faced mounting criticism following the release of the quotes, with adversaries such as Democratic presidential candidate Joe Biden and House Speaker Nancy Pelosi (D-CA) commenting upon the reported remarks.
Former CIA Director John Brennan has also been a high profile critic, labeling Trump an "absolute abomination," before pressing for the president to resign.
The below graphic, from Statista, shows predicted figures estimating how many lives could have been saved if control measures amid the pandemic were implemented sooner.