Is Lindsay Clancy Paralyzed? Duxbury Mom Faces Charges From Hospital Bed
A mom accused of strangling her three young children to death before throwing herself from the top floor of her home will appear remotely in court on Tuesday—from her hospital bed.
Lindsay Clancy, a 32-year-old labor delivery nurse who was on maternity leave after having her third child, stands accused of attempting a murder-suicide on January 24 at her home in Duxbury, Massachusetts.
Details of her own injuries had sparked speculation that she had been left paralyzed by the fall from the top floor of her home. However, it later emerged in court this was not the case.
Further details of her wounds were revealed this week, when a recording of a 911 dispatch call, made between emergency responders, was released. It revealed that Clancy had also cut herself, apparently on her throat, before jumping. An unnamed responder can be heard saying: "A female party jumped off the top floor of the house. Impact injury, neck lacerations—she's conscious at this time... It was over a 20-foot fall." During the conversation, dispatchers said it was unclear whether their patient had used a knife, and—if so—where it was. They described the incident as a "suicidal situation."
As the scale of the tragedy became clear upon further investigation, the dispatchers began to request more ambulances due to "pediatrics" found in cardiac arrest. Later it was confirmed there were four patients in total.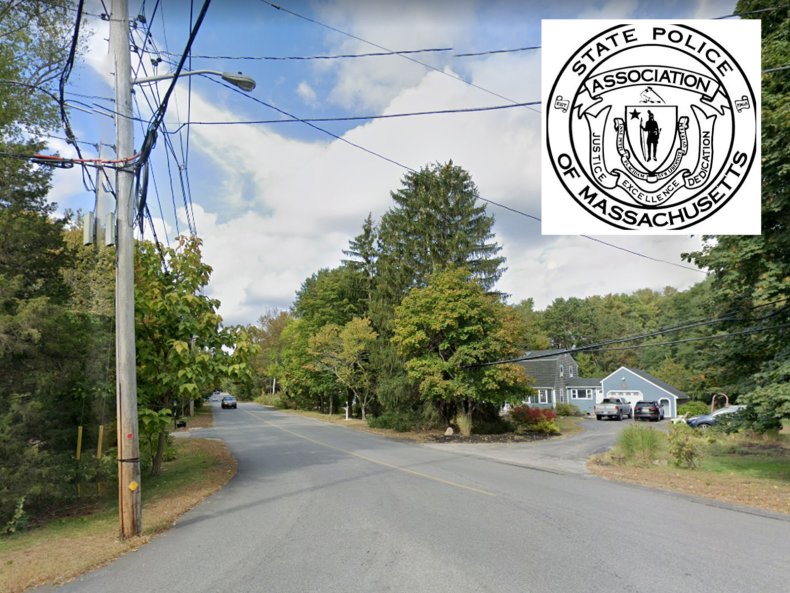 It was Clancy's husband, Patrick Clancy, who made the initial 911 call, although that has not been publicly released. He found his wife lying outside their home when he arrived with the family's takeout dinner.
Lindsay Clancy is now accused of killing their 5-year-old daughter Cora and 3-year-old son Dawson, who both died that day, and 7-month-old son Callan, who died at the hospital three days later. She remains under police guard at the hospital.
Assistant District Attorney Jennifer Sprague clarified the extent of Lindsay Clancy's injuries during a hearing to debate whether she posed a risk to others. Sprague said: "She is not paralyzed. She can move her legs and feet. She can move her arms." Lindsay Clancy has also been writing and is able to verbally communicate, she added.
Detectives were reportedly investigating the possibility that Lindsay Clancy may have been suffering from postpartum depression or postpartum psychosis after the birth of her youngest child. She had posted about suffering from anxiety on her social media accounts.
Her attorney, Kevin Reddington, also suggested postpartum depression may have been a factor, and claimed she was also suffering from 'overmedication.' She was taking 13 different prescription drugs that left her "turning into a zombie," he told the Boston Globe. Discussing her current condition, he said: "She's not in good physical shape. She's not in good emotional shape." He added that his client has so far only had contact with her medics and her legal team, and has not spoken to her husband or parents.
Her husband has previously begged for forgiveness and compassion for his wife. He issued a statement saying: "My family was the best thing that ever happened to me. I took so much pride in being Lindsay's husband and a dad to Cora, Dawson, and Callan."
Alluding to his wife's "condition," he added that "we stuck to the rule that when one of us got lost, the other was always there to bring them home, always... nothing matched her intense love for our kids and dedication to being a mother. It was all she ever wanted.
"Her passion taught me how to be a better father. I want to ask all of you that you find it deep within yourselves to forgive Lindsay, as I have. The real Lindsay was generously loving and caring towards everyone—me, our kids, family, friends, and her patients. The very fibers of her soul are loving. All I wish for her now is that she can somehow find peace."
The family also set up a GoFundMe page to cover medical bills, funeral expenses, and legal help. It had raised over $1 million by Tuesday.
Lindsay Clancy will appear at Plymouth District Court over the video call platform Zoom at 2:00 p.m. on Tuesday, while Reddington, a prosecutor and a judge will meet in person at the court.
She will be arraigned on two counts of murder—expected to be upgraded to three counts following baby Callan's death—and three counts each of strangulation, assault, and battery with a dangerous weapon.
If you or someone you know is considering suicide, please contact the 988 Suicide and Crisis Lifeline by dialing 988, text "988" to the Crisis Text Line at 741741 or go to 988lifeline.org.